I would be hard pressed to think of anyone in the visual arts who has done more to make public the centuries old discrimination of race and gender, the oppressive effects of power, the intricacies of domesticity and our general sense of place as human beings than Carrie Mae Weems.
As we are only about one year apart in age, I can remember quite well the level of racial inequality that Ms. Weems was born into. I can also remember very clearly, the buzz created when a non-stereotypical, everyday African American housewife appeared in a laundry soap commercial for the first time. It was a 1970, Wisk detergent television advertisement, and since I lived in a largely white community defined by hardworking blue and white collar husbands paired with stay-at-home, home-maker wives, the vocal backlash that ensued could generally be placed into the category of "what is the world coming to?"
When you think about how systemic and ingrained the feelings, subtle or profound, were regarding race, gender and the system of power built upon those prejudices that Ms. Weems addressed all those years ago a very different, very intense level of strength and courage emerges. Yes, it's true that the Civil Rights movement had already begun, and was gaining worldwide recognition and ground every day. The art world too, very much mirrored all of society as it was dominated by white males of European descent who afforded little room for women, especially women of color, to thrive and succeed.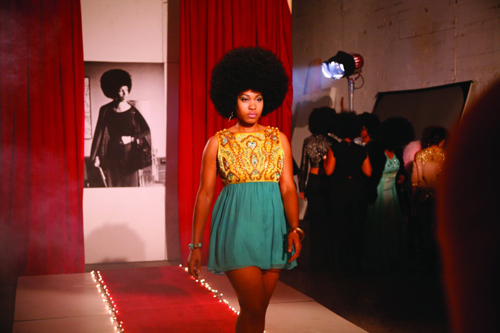 Carrie Mae Weems. Afro-Chic (video still), 2010. DVD, 5 minutes, 30 seconds. Courtesy of the artist and Jack Shainman Gallery, New York. © Carrie Mae Weems
In viewing Ms. Weems' vast body of work, one has to remember that her art should be seen as a representation of all the oppressed and marginalized, no matter what their background, faith, gender or race. Her art looks at, in innumerable ways, the true aspects of human behavior whether or not we want to be reminded of them. We very much need those who tells it like it was, is and may be in the future and Carrie Mae Weems is one of the brightest lights to come out of the darkness of lies and false truths.
Carrie Mae Weems: Three Decades of Photography and Video is a landmark exhibition curated by Kathryn E. Delmez for the Frist Center for the Visual Arts in Nashville, Tennessee. The exhibition will include numerous examples of all of Ms. Weems most impressive series from the Family Pictures and Stories (1978-84), where the artist confronts black cultural myths by representing her own middle-class African American family; to Slow Fade to Black (2010), which honors, with very soft focused images, the fading memories of the careers of some of our nation's greatest female performers such as Josephine Baker, Marion Anderson and Nina Simone.
DDL: I can't imagine how difficult it must have been for you to make your selections, considering the volumes of work created by Ms. Weems. Is there anything in particular you would like to share with our readers with respect to the process?
KED: You are right to point out that Weems is a very prolific artist; she is always thinking about and working on new projects. My goal for selecting objects for our exhibition was to provide an opportunity to really go deep with this important and in many ways underrepresented artist, to see both well-known works such as the Kitchen Table Series and From Here I Saw What Happened and I Cried as well as previously unpublished surprises like her earliest documentary photographs from the late 1970s and early 80s or selections from less exposed series such as Black Women, Monuments, or Dreaming in Cuba. We've also been able to include work that she has finished only in the last few months, including a new video project entitled Cornered, which offers insight into her most current direction. To see over 200 photographs, videos, text pieces, and even one of her large scale fabric installations together provides an unprecedented chance to really trace her evolution as an artist and the conceptual links between her many varying bodies of work.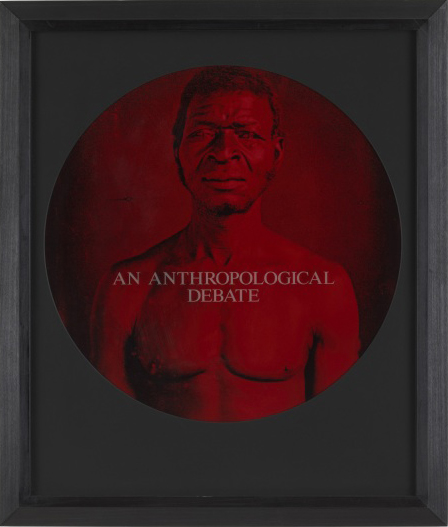 Carrie Mae Weems. An Anthropological Debate from From Here I Saw What Happened and I Cried, 1995-96. Chromogenic print with etched text on glass, 26 1/2 x 22 3/4 in. Collection of The Museum of Modern Art, New York. Gift on behalf of The Friends of Education of The Museum of Modern Art. From an original daguerreotype taken by J.T. Zealy, 1850. Peabody Museum, Harvard University. Copyright President & Fellows of Harvard College, 1977. All rights reserved. Digital image © 2012, MoMA, N.Y.
DDL: I'm glad you pointed out the conceptual thread that weaves through her work. Ms. Weems has managed, while working through an impressive variety of subjects and settings, to maintain her vision and goals against all odds. She never wavers with her dedication to uncovering and exposing the truth about who we are, what we have always been and how we see each other is no less than inspirational. This brings me to think about the person behind the work. I know she has looked at and been inspired by the photographs of James Van Der Zee and Roy DeCarava as you mention in your catalog essay. Has Ms. Weems ever shared her thoughts with you on how she has, or hopes to continue to inspire ensuing generations to seek the truth about social, political and racial issues? I ask this question because I believe that the most important aspect of creating thought provoking art is how it speaks to and inspires others.
KED: Weems's driving force truly IS to inspire others to seek a more complete truth, as you state, and she is particularly interested in engaging youths in that process. She recently told me that more and more college-aged students are approaching her and telling her how much of an impact her work has had on them. She seemed a little surprised but was of course delighted, as this is what it is all about for her. In addition to speaking to a younger generation through her art, she personally connects with many students through various guest appointments at universities. When I was visiting her last year, for example, she was teaching two classes at Syracuse University and invited me to sit in on the classes. The level of engagement was very palpable and it was clear that Weems takes her role as an educator and mentor very seriously. Sometimes she even includes her students in actual bodies of work, as she did with Constructing History: A Requiem to Mark the Moment when she was an artist-in-residence at Savannah College of Art and Design. She felt like it was important to include these young people in her staged recreations of important moments in the struggle for Civil Rights for, even though they did not experience the history first-hand like their parents or grandparents, "through the act of performance, with our own bodies, we are allowed to experience and connect the historical past to the present--to the now, to the moment...we live the experience; we stand in the shadows of others and come to know firsthand what is often only imagined, lost, forgotten."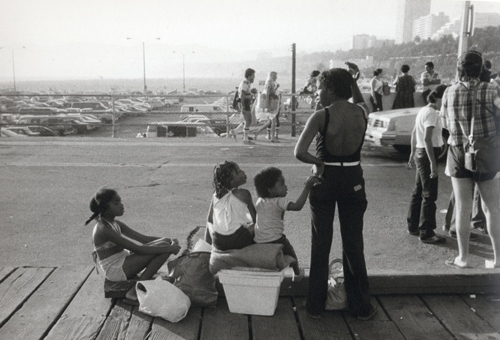 Carrie Mae Weems. Mother with Children from Boardwalk, Santa Monica, 1980-82. Gelatin silver print, 9 1/16 x 13 1/8 in. Courtesy of the artist and Jack Shainman Gallery, New York. © Carrie Mae Weems
DDL: In closing, I would like to hear your thoughts about how Ms. Weems art has affected you on a personal level.
KED: From a young age, I have been interested in learning more about people who are different from me and various "hidden histories," as Weems calls the stories not written into mainstream accounts. I was the child, for instance, who was always more intrigued by the servants' quarters when touring grand homes than the owners'. Weems's art has provided a meaningful way to continue this desire as an adult to see the world through other perspectives. In doing so, I have also been able to see the many connections that cross cultural, racial, and generational boundaries. Her work has also made clear the importance of digging deeper to find a more true truth and challenging the status quo when needed. I believe that I now see the world with greater awareness and compassion.
Carrie Mae Weems: Three Decades of Photography and Video opens at the Frist Center for the Visual Arts in Nashville, Tennessee on Friday, September 21st, 2012. After it's run at the Frist ends on January 13th, 2013, it will travel to the Portland (Oregon) Art Museum, the Cleveland Museum of Art, the Cantor Center for Visual Arts at Stanford and the Guggenheim Museum in New York.
Related
Popular in the Community