Kathryn Hahn loves the cast of "This Is Where I Leave You" just as much as you do.
"When I drive by and see myself on the poster around those people, I feel like Peter Sellers in 'Being There.' It's like, 'Who's sticking out?'" Hahn joked during a recent interview with HuffPost Entertainment at the Toronto International Film Festival. "It's so exciting to be on a poster, and surrounded by those people ... it's nuts."
Directed by Shawn Levy and written by author Jonathan Tropper, who adapted his best-seller for the screen, "This Is Where I Leave" doubles as the best dinner party you've never attended. In addition to Hahn, the cast roster includes Jason Bateman, Tina Fey, Adam Driver, Connie Britton, Timothy Olyphant, Corey Stoll, Rose Byrne, Dax Shepard, Ben Schwartz and Jane Fonda.
"Tina reminded me that on day three, myself, Corey, Ben and Connie were laying on the bed checking our iPhones together," Hahn recalled of how the cast came together during production. "It felt like a theater company."
The closeness of the cast was necessary, as Bateman, Fey, Stoll and Driver play siblings who return home following the death of their father to sit shiva. Hahn plays Alice, Stoll's onscreen wife, who also happens to be the ex of Bateman's character, Judd. A mini-love triangle forms between the trio due to the fact that Alice is having trouble conceiving a child with her husband.
"After reading it, I thought, 'How could they adapt it?'" said Hahn, a self-professed fan of the book. "It's so specifically in Judd's brain. How are you able to keep the heart of it alive, and not feel like all the story lines diffuse? When you see it, does that negate its potency? Because you can't really give every single storyline the weight. I thought Tropper did an amazing adaptation."
Hahn also credited Levy with being able to give each cast member a moment to shine amid the ensemble, but joked that she wasn't worried about that during the production.
"As an actor, I have to just focus on myself. Literally just myself," Hahn said with a laugh. "It's just me and the mirror. That's how I perform. I don't even like the other actor being there, because it's distracting." Asked if she prefers having a tennis ball on a stick as a co-star, Hahn fired back: "It's a lot of tape marks."
The 41-year-old is one of Hollywood's most beloved character actresses, with a varied and eclectic resume that spans film and television, comedy and drama. On the occasion of "This Is Where I Leave You," HuffPost Entertainment asked Hahn about some of her most prominent roles and co-stars.
"How to Lose a Guy In 10 Days" (2003)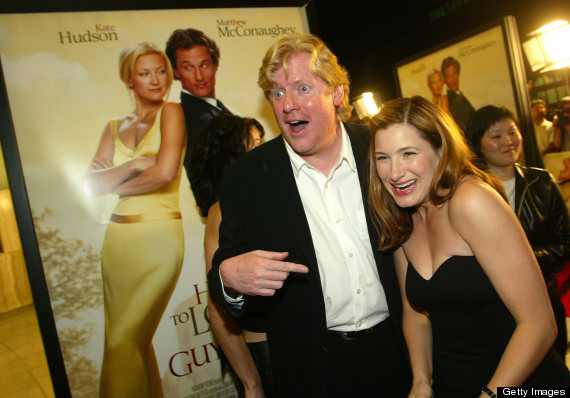 Including projects still in development, Hahn has 57 film and television credits to her name. Her first major film role, however, only dates back 11 years: 2003's "How to Lose a Guy In 10 Days," with Matthew McConaughey and Kate Hudson.
"Talk about aiming to please, I was tap-dancing my heart out," Hahn said. She was starring on "Crossing Jordan" at the time. "I was so excited. I felt like I was going to turn into a pumpkin when I took my makeup off."
"Revolutionary Road" (2008)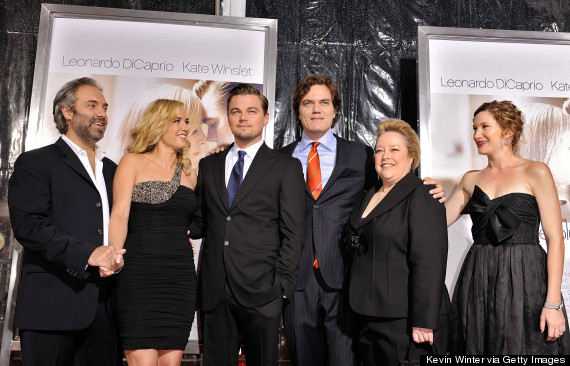 Hahn followed "How To Lose A Guy In 10 Days" with supporting roles in "The Holiday," "A Lot Like Love" and, most notably, "Anchorman: The Legend of Ron Burgundy." But 2008 was when Hahn experienced a mini-breakout with co-starring parts in "Step Brothers" and "Revolutionary Road." Hahn shot both films in the summer of 2007.
"I had a very small young son, who was much less than a year old," Hahn said of making "Revolutionary Road," which paired her with director Sam Mendes and stars Kate Winslet, Leonardo DiCaprio and Michael Shannon. "I remember I would have to go up to the house and pump and come down again. My memory of watching the movie, I can see when I pumped and when I had not."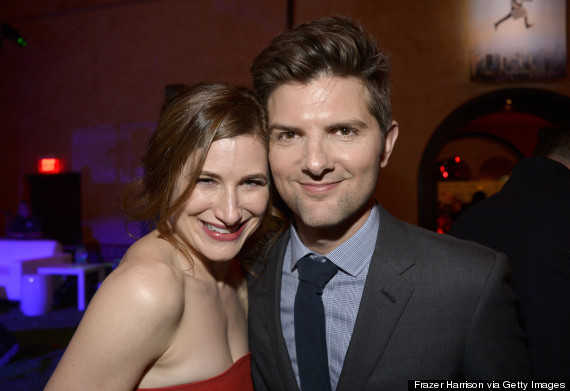 "Step Brothers" was not only a lighter affair for Hahn when compared with "Revolutionary Road," but it paired her with Adam Scott for the first time. The two, who also worked together on "Parks and Recreation" and "The Secret Life of Walter Mitty," have remained close since then.
"Annie Parisse, who was the other best friend in 'How to Lose a Guys in 10 Days,' stayed best friends with me after that film. She had done 'Monster in Law' with Jane Fonda and Adam Scott. She said he was the best and hilarious, and she was right," Hahn recalled. "I love Adam Scott and his wife. Our kids are the same ages. We went to Disneyland."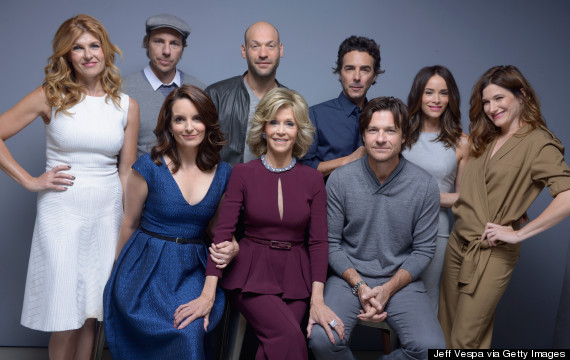 In a bit of six degrees of separation that would make Kevin Bacon proud, Hahn and Fonda would later share the call sheet for "This Is Where I Leave You." Fonda plays the Altman family matriarch, a celebrated author with surgically enhanced breasts.
"She is a magnificent human being. I want to be Jane Fonda," Hahn said. "Her curiosity is so inspiring to me. After all that she's accomplished, she still asks questions. She's amazing, and her ass is crazy. It's nuts. You're like who is that 17-year-old walking around the set and why is she wearing those heels? Oh, it's Jane Fonda."
"Afternoon Delight" (2013)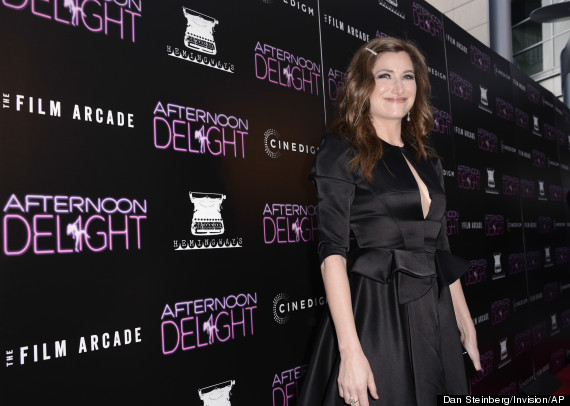 Hahn earned strong reviews for her portrayal of a sexually frustrated, stay-at-home mom in Jill Soloway's comedy-drama, which made its debut at last year's Sundance Film Festival. "Afternoon Delight," a film Quentin Tarantino named as one of his favorite movies from 2013, provided the actress with her first true leading role, and Hahn says it changed the way she views herself within Hollywood's infrastructure.
"I feel more of a shift in terms of myself as an actor. Maybe because of that, things are coming my way that I feel are much more interesting than they were," Hahn said. "I feel like a lot of my 20s and most of my 30s, I was so excited to be invited to the party that I was aiming to please. I was maybe trying too hard because I was so excited to be there. It's a confidence in myself. Maybe that sounds douche-y, but it's just that now I'm not trying to be something else. I'm thrilled to be who I am."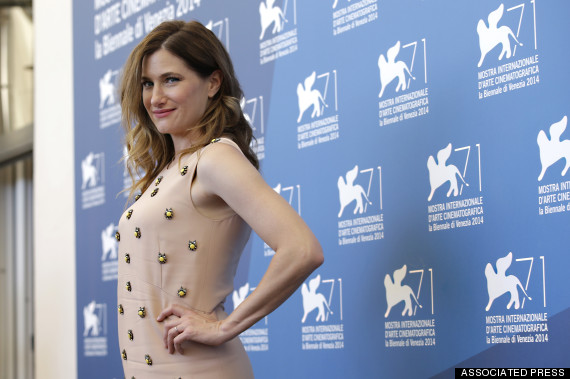 Hahn's future includes M. Night Shyamalan's "Sundowning," Jason Bateman's next directing effort, "The Family Fang," with Nicole Kidman and Christopher Walken, and Brad Bird's "Tomorrowland," with a script co-written by Damon Lindelof and George Clooney in a starring role. Of that forthcoming Disney film, which remains cloaked in secrecy and speculation, Hahn was tightlipped to the point of exuberance.
"I don't think I can even say. It's so exciting to me!" Hahn said. "I love it. It's my one secret. Ask me anything else, I'll tell you."
"This Is Where I Leave You" is out on Sept. 19.
Before You Go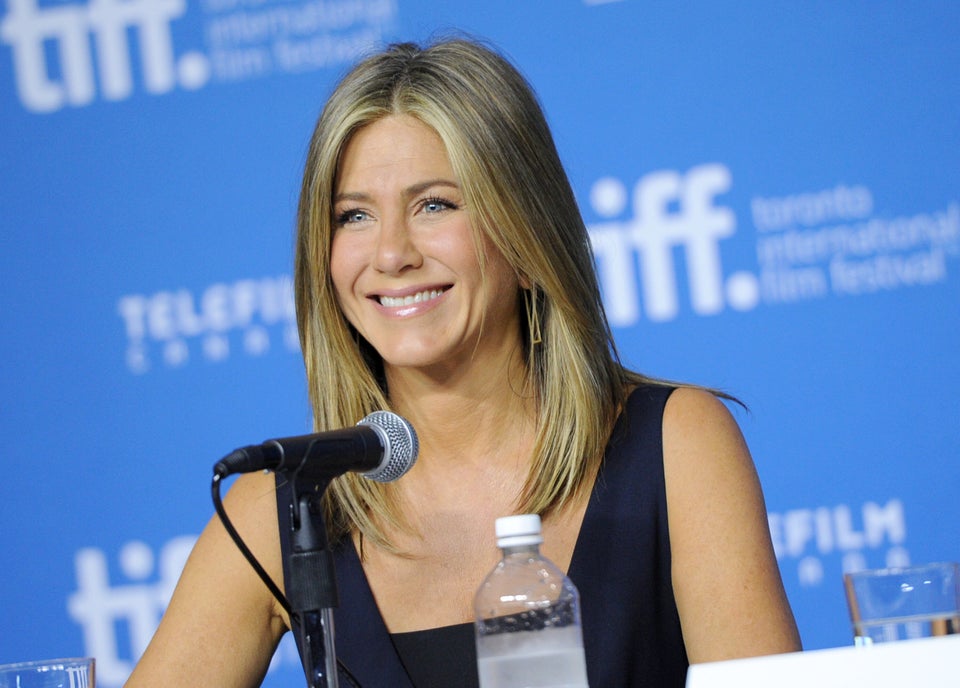 TIFF 2014
Popular in the Community