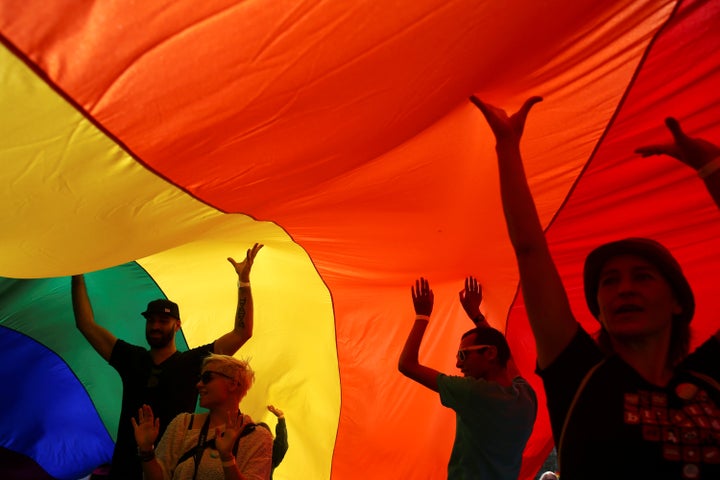 Kathryn Knott, 25, "shook and wept" when she learned of her sentence Monday, The Philadelphia Inquirer reports. In addition to jail time, she was also ordered to serve two years' probation, attend anger management treatment and pay $2,000 in fines. 
As the sentence was issued, Common Pleas Judge Roxanne Covington that she considered the anti-gay epithets used by Knott and others in her group during the attack to be hate speech. A former health care worker, Knott was known to have insulted gays, Middle Easterners and non-English speakers on social media before the assault. 
Witnesses said that someone in Knott's group shouted an anti-gay slur at Zachary Hesse and his partner, Andrew Haught, who were reportedly walking to a nearby pizza parlor at the time. A violent fight that left one of the victims with a broken jaw ensued. 
"While these were homophobic slurs that started this incident, it could have been any type of hate speech," Covington said, according to the Associated Press. She went on to note that Knott and her group "walked away from this. Until those faces appeared on the news no one responded -- and did so only to save themselves from prosecution."
In December, Knott was found guilty of simple assault and conspiracy to commit simple assault against Hesse, as well as reckless endangerment against Hesse and Haught. However, she was acquitted on aggravated assault charges, which are considered a felony. Kevin Harrigan, 26, and Phillip Williams, 24, pleaded guilty to assault charges and conspiracy in October and received a plea deal including probation and community service at an LGBT community center.
Before the sentencing came down for Knott, she read a prepared statement to both Haught and Hesse, who were seated in the front row of the courtroom, but did not admit to attacking them or making homophobic slurs. The statement read:  
"I am so sorry to what happened to you both on the night of Sept. 11, 2014. I ask you now for your forgiveness and I hope that you some day will be able to provide it. … Again, I apologize to you and your families. I wish you nothing but the best."
Later that year, she was charged with two members of that group -- Kevin Harrigan, 26, and Phillip Williams, 24 -- in the beating of the two men.
PHOTO GALLERY
Anti-Gay Celebrity Statements
Calling all HuffPost superfans!
Sign up for membership to become a founding member and help shape HuffPost's next chapter