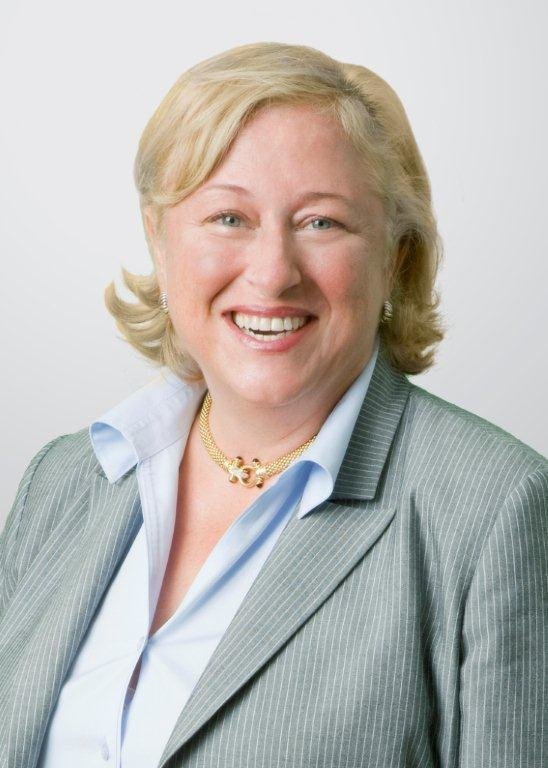 WASHINGTON -- It has been 16 years since Kathryn Lehman was a Republican Hill staffer working on the Defense of Marriage Act (DOMA), the federal law that defines marriage as between one man and one woman.
Now Lehman's back on Capitol Hill, in a new capacity: as a lesbian GOP lobbyist trying to repeal the law she helped write.
Things were pretty different in Lehman's world in 1996. She was engaged to a man. Same-sex marriage wasn't legal anywhere. And the public perception of what it meant to be gay wasn't anything like it is now, she says.
"There was nobody married, it wasn't allowed anywhere," Lehman recalls. "The view of gay people ... it wasn't Ellen [DeGeneres]. It wasn't Neil Patrick Harris. It was kinky sex and women riding around on motorcycles without shirts on. That was sort of the view that the community projected as well."
"It wasn't people that you know, people that you work with, people just like everybody else."
Lehman, now 52, was chief counsel for the House Judiciary Committee's Subcommittee on the Constitution. She says she and her colleagues working on DOMA didn't think it would do much harm. They had two goals in mind: to prevent the federal government from recognizing any marriage between gay couples, and to ensure that states didn't have to recognize gay couples married in other states.
As it turns out, DOMA has hurt gay and lesbian couples in a multitude of ways. It denies medical leave pay for about 43,000 employees who leave to care for a same-sex partner, according to the think tank The Williams Institute of the UCLA School of Law. It denies health care benefits and work/injury compensation for more than 30,000 same-sex spouses of federal employees. It denies about 68,000 veterans with same-sex partners the ability to share their pension and educational benefits. It denies equal treatment in inheritance tax, in filing joint income tax returns, in spousal protections for long-term care under Medicaid and in the process of acquiring a green card for an estimated 26,000 bi-national couples.
None of these things seemed particularly controversial to Lehman since, she says, nobody was even talking about gay marriage as a real possibility 16 years ago. Still, something Rep. Barney Frank (D-Mass.) said during one of the committee hearings on DOMA stuck with her. At the time, Frank was the only openly gay member of Congress.
"I remember Barney Frank saying at the time, 'I don't understand how me being married to my partner hurts your ability to be married,'" she recalls. "And I remember thinking, 'Yeah, I don't either.'"
In the years to come, the arc of Lehman's career and personal journey would come to mirror how, in many ways, the country itself is evolving in its understanding of gay and lesbian individuals and couples.
Lehman, who says she was "totally in love" with her fiancé despite struggling with the possibility that she might be a lesbian, got married after DOMA passed. She says she was "happily married" until 2001, at which point her husband abruptly wanted out. Lehman says she was devastated, but put herself in therapy and made a commitment to herself to pick up the pieces and start anew.
"I think I'd always been afraid to go to therapy because I thought they were going to say, 'You're gay,' and I didn't really want to hear it," she says. It took her a year just to tell her therapist that she'd once been with a woman. As time went on, she came to terms with her sexuality and eventually embraced it.
In the meantime, Lehman's career was taking off. In 1997, one year after DOMA's passage and eight years after starting her work on the House Judiciary Committee, she became special assistant to House Speaker Newt Gingrich (R-Ga.). From there she became policy director to House Majority Whip Tom DeLay (R-Texas), and then director of coalitions and outreach for House Speaker Denny Hastert (R-Ill.). In 2003, she took over the top post under House Republican Conference Chairwoman Deborah Pryce (R-Ohio), helping to craft legislative and floor strategies for House Republicans.
At the Republican National Convention in 2004, Lehman ran into someone she had known for years, Julie Conway, a political fundraiser. They had been friends in the past, but Lehman says something shifted for her when she saw Conway this time, and they soon began dating -- and are still partners today. President George W. Bush was also at the convention, of course, and Lehman recalls that as sparks were flying for her, Bush was giving a speech about protecting traditional marriage. At the time, she says, she only "sort of" laughed at the irony.
Lehman, who was and still is staunchly conservative, decided after several months to start telling her peers about her relationship with Conway. Many worked for powerful Republican leaders in Congress. The first friend she told was in Hastert's office; the next was in House Majority Whip Roy Blunt's office. Both were supportive of her relationship. She went on to tell more friends, and none had a negative reaction. In fact, many were more concerned about something else besides her sexual orientation.
"They were like, 'Well, tell us about Julie. Is she a Republican?' I'm like, 'Yes.' And they were like, 'Oh, okay,'" she says. "Honestly, that was it."
Her family was not as supportive. She says the news wasn't "particularly easy" on her father, a high school choir director in Pittsburgh, Pa., where Lehman grew up. But he was still "happy that I found someone that I was happy with," she says, and he was proud of her career success. As for Lehman's mother, Lehman says only that the two are not close. "She knows about Julie and I," Lehman says. "She always says to say hello to Julie."
Lehman, who graduated from Oral Roberts University in 1982 and earned her law degree from Catholic University, left Capitol Hill in 2005 to join the law firm Holland & Knight, where she works now. She has about half a dozen clients and lobbies House Republicans on policy issues ranging from energy to health care to appropriations.
Lehman's turning point on DOMA came when she read a 2009 legal brief by Ted Olson, the Republican attorney who surprised many by helping to bring a lawsuit against Proposition 8, California's constitutional amendment banning same-sex marriage. In his brief, Olson, who was formerly President George W. Bush's solicitor general, mapped out various groups of people who are allowed to get married -- people in prison, convicted rapists -- while gay and lesbian couples cannot.
A lot of things in the U.S. that had been done one way "were crap and we got rid of them," Lehman says, thinking back to Olson's brief. "Traditionally, women didn't work outside the home. Traditionally, in the South, black people sat in the back of the bus. It's all part of things traditionally that have changed for the better."
Lehman says she began to think about what had motivated GOP leaders to pass DOMA in the first place. She says she realized "the great threat" they were all worried about never materialized. Asked what they were so afraid would happen if gay people got married, she says she wasn't really sure.
"Maybe we thought it was going to be more married people in ass-less chaps?" she says.
As Lehman was going through her personal transformation, so too was the culture around her. Homosexuality was being talked about more openly. Gay and lesbian public figures were coming out, putting a familiar face on what had previously been a taboo subject. In the legal world, the U.S. Supreme Court issued a landmark ruling in 2003 striking down sodomy laws and making same-sex sexual activity legal everywhere in the country. And in 2004, Massachusetts became the first state to legalize gay marriage. As of this month, same-sex marriage is now legal in eight states.
Changes have also been taking place on Capitol Hill. House Republicans have gone virtually silent on the issue -- a stark contrast to even just a few years ago, when it was common for conservatives to give speeches on the House floor railing against gay people for trying to destroy traditional marriage.
Even GOP leaders don't appear to want to have much to do with the issue. When Attorney General Eric Holder announced in February 2011 that the Justice Department would no longer defend DOMA in court because the Obama administration had determined it to be unconstitutional, the responsibility fell to House Speaker John Boehner (R-Ohio) to decide whether he would defend the federal ban on behalf of the government. Boehner quietly put out a statement indicating that the House would indeed defend DOMA in court, but that was all. There was no political posturing. There were no angry speeches.
Senate Republicans have also been backing off the issue. When Senate Judiciary Committee Chairman Patrick Leahy (D-Vt.) last summer held the first-ever hearing on repealing DOMA since it had become law, many Republican committee members didn't even show up. Among those who did, few questions were asked.
"They were too embarrassed to show up. Because they know," Lehman says.
So in May 2011, when Lehman was approached by the group Freedom to Marry to lobby House Republicans in support of repealing DOMA, she says she couldn't say no. Freedom To Marry, which launched in 2003, is among those leading the effort to overturn the federal ban on gay marriage.
"I sort of feel like I'm uniquely suited to do this," Lehman says of her newest lobbying gig. Indeed, her relationships with House Republicans run deep. She was embedded in the top echelon of congressional GOP leaders for more than a decade. She knows people in every House Republican office and her reputation precedes her.
"Top-notch staffer and (now) lobbyist," said one House GOP leadership aide who has known Lehman for years. "Solid rightie."
Lehman has already met with a couple dozen Republican lawmakers' offices to make her DOMA repeal pitch: that she helped to write DOMA, that people at the time didn't really know the impact the law was going to have, that all it's done is hurt gay families and not threaten marriage for anyone else. She wouldn't reveal which lawmakers she's met with, but she said they all listen and some have told her privately that they support repealing DOMA but don't feel comfortable saying so publicly because they're worried about getting re-elected in November. In that same vein, others say that before they consider going out on a limb on the issue, they want to wait to see what their districts look like after congressional redistricting.
Most surprisingly, says Lehman, is that many of the GOP lawmakers she meets with tell her it's the first time they've ever been approached on the issue of DOMA repeal.
Until now, lots of Republicans "really have not heard what we're telling them," she says. "I don't think [the Human Rights Campaign] is going to meet with these people."
Fred Sainz, vice president of communications for the Human Rights Campaign, said the leading gay rights group has, in fact, been lobbying Republicans on DOMA for a while. But he gave credit to Lehman for incorporating her "compelling" personal story into her lobbying.
"It's one thing when you speak in numbers and statistics. People's eyes tend to glaze over," Sainz said. "When you establish common, human bonds with people and you show them that your story is one of change and evolution, people find that they, too, are capable of that. So to that end, her personal narrative ... is definitely value-added."
Still, convincing Republicans to sign on to the current House bill to repeal DOMA is an uphill battle. The bill was introduced by a liberal Democrat, Rep. Jerrold Nadler (N.Y.), and has next to no GOP co-sponsors, which makes it politically dicey for Republicans to put their support behind it. Lehman speculated that more might be willing to attach their names to a DOMA repeal bill next year--something she plans to keep pressing for.
The bottom line, she said, is that many Republicans believe it's only a matter of time until DOMA is repealed and that it's most likely to happen in the courts, not in Congress. So the key for marriage equality advocates like her is to make sure Republicans will be there to support such a court ruling, if and when it happens.
"At that point, you've got to step up and basically realize it's the right thing and to be on the right side of this," Lehman says.
She hopes that even President Barack Obama will endorse the issue by next year. "He's pretty much there. That's the part I don't get," she says of Obama's still-evolving stance on the issue. "Most people think he's kind of there anyway, so that's what's so weird about it."
Lehman appeared to find it only mildly amusing that, at least for the moment, she is politically to the left of Obama on an issue. "It happens," she says.
Not everyone in the lesbian, gay, bisexual and transgender (LGBT) community is welcoming of Lehman. Congressman Frank, for one, accused Lehman of "doing more harm than good" if she is lobbying for a DOMA repeal while simultaneously supporting anti-LGBT Republican candidates to get elected over Democrats who support gay rights.
"If you work with them [on a DOMA repeal], that's a very good thing. But then if you help elect people who are still anti-LGBT, then it's a bad thing," Frank said. "Kathryn remains a partisan Republican ... From the standpoint of LGBT issues, helping Republicans getting re-elected outweighs any good she can do on the issue."
Lehman defended her party affiliation. "Am I supposed to embrace higher taxes because we're gay? Am I supposed to embrace big labor and additional regulatory authority because I'm gay? Then why the groupthink and the presumption if one is gay they should be in one political party?" she asked.
"I guess there are folks who can't understand that someone can be a lesbian and conservative and a Republican."
Lehman leads a relatively quiet life these days. She and Conway live with their dog in Alexandria, Va. If Lehman feels guilty for helping to write DOMA, she never actually says so.
"I would think you'd want the person who did help to write it to help you make the fix," she says.
Asked if she struggled personally as she flipped from being someone who helped to ban gay marriage to someone fighting to make same-sex marriage a reality, Lehman says, "Would you prefer that I not flip? I would feel guilty if I didn't do it, I suppose."
She says she's not sure if she wants to get married.
"Julie and I talk about it. I think Julie's a little skittish about it. I'm not sure why," she says. "I fully expect we're going to spend the rest of our lives together. If I had to guess, I would say we wouldn't get married. That's where I notice part of the cultural thing. People my age find it kind of odd to talk about being married to your 'wife.'"
Still, she says, she wants that choice.
Conway says she is proud of Lehman and that she has been consistent in one clear way over the years: in fighting for what she believes in.
"No element of this struggle is easy, and the decision to put yourself in the spotlight is always a difficult one, whether it be personal or professional," she said. "Obviously, for Kathryn it is both."
As a Republican with a long-standing reputation on Capitol Hill, Lehman has taken "some fire" for her efforts to repeal DOMA, Conway said. "But ironically, it is from the liberal activists," she said.
As she makes the rounds in Congress talking about the need to repeal DOMA, Lehman says she sometimes thinks back on the Hill staffers who have been openly gay in Republican offices over the years, especially when their other gay colleagues were not out, and how they "fought the good fight" when others didn't.
Sixteen years later, Lehman is hoping to count herself among them.
"I feel like I should at least show up, even if at the end, to try to do something."
Popular in the Community