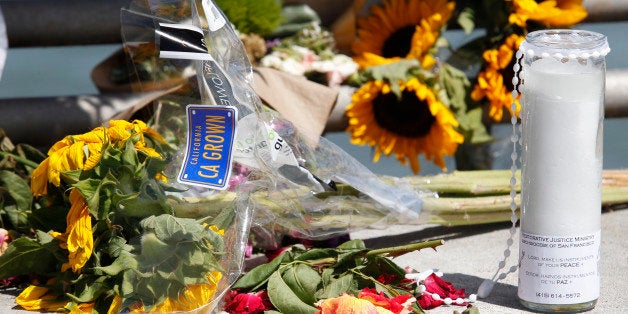 Earlier this month, San Francisco lost Kathryn Steinle, a member of its vibrant community, in yet another senseless act of gun violence. Our condolences go out to the Steinle family, and we pray that God's grace will guide them through this time of grief and provide peace and healing.
This horrific shooting has caused tremendous pain for many. Regrettably, some politicians, media pundits and anti-immigrant groups have attempted to prey upon our collective grief to foster hate and fear toward our immigrant brothers and sisters. The lack of compassion, understanding and integrity demonstrated by those who seek to exploit this tragedy for their own political gain is unacceptable and only serves to further divide our communities.
Despite the misleading political rhetoric of recent days, the City of San Francisco's policies that foster safe and welcoming communities played no role in this tragic event. Policies that build trust between local law enforcement officials and community members are essential to public safety. When all individuals can report dangerous situations and seek protection from violence without the fear of being deported and separated from their families, police can best protect the communities they serve.
Local governments across the country have stopped responding to Immigration and Customs Enforcement (ICE) requests that individuals be held after serving their court-appointed sentences. Federal courts, most recently in the U.S. District Court for Oregon, ruled that such holds violate the Fourth Amendment's protections against unreasonable search and seizure. The use of these unlawful holds have deeply damaged public safety and trust in local law enforcement, leading to the deportations of crime victims and witnesses - including survivors of domestic violence. More than 320 jurisdictions across the United States, including almost all of California, have adopted similar policies that limit or end detainer requests by Immigration and Customs Enforcement. The City of San Francisco is just one of many cities across the country, whose policies promote the safety of all community members, and encourage all victims and witnesses to report crimes.
Sanctuary policies have the proven ability to build trust and safety, and in no way provide safe haven for perpetrators of violence. As faith leaders, we encourage political and community leaders to recognize the real impact of these policies and the values that inspired them.
The concept of sanctuary is one that honors sacred space and provides refuge for individuals in need of safety. In the 1980s, many religious congregations in the United States were pivotal in the sanctuary movement, providing safe haven to tens of thousands of political refugees from Central America in order to prevent the U.S. government from deporting them back to death squads. Recently, in the face of record-breaking deportation numbers, congregations have answered the call to offer sanctuary and stand with immigrants facing deportation orders and family separation. To infer that this isolated tragedy is related to or caused by the values of the ancient tradition of sanctuary is to ignore the most foundational ideas behind the sanctuary movement -- to stand in the gap with those forgotten, marginalized and in need of solidarity.
As members of the faith community, we are called to love our neighbor -- all of our neighbors. Generations of immigrants have made this country great with their ideas, hard work, resilience and traditions. We must resist the inclination to allow grief and despair to turn us against one another, or to blame an entire community for the actions of one individual. It is unjust to take an isolated, tragic incident committed by one individual and implicate millions of our undocumented community members.
As we mourn with and pray for the Steinle family, let us also channel our grief by uniting around solutions that can prevent incidents like this from happening again. We must have a conversation about drug rehabilitation services, preventing unlimited access to firearms, creating greater access to mental health care and models of justice that are restorative and not just punitive. We do need policy changes -- immigration reform as well as policies that prevent gun violence. As we work toward these real solutions, let us in all of our actions embody the idea that has been interwoven throughout our American history -- that to welcome is to be whole.
Related
Popular in the Community