Star as god: David Bowie has proven that transcendent transmutation, complete with a constellation named after him. Yet even before Bowie's death, artist Kathy Aoki was exploring the divinity of the pop idol, using celebrity Gwen Stefani as her devotional cult figure.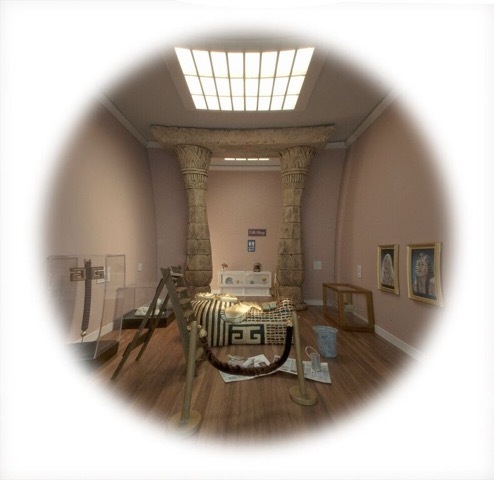 Aoki will debut in its entirety her installation, "The Gwen Stefani Grand Burial Exhibition" at StARTup Art Fair Los Angeles, a new art fair premiering January 29 to 31 at the Highland Gardens Hotel in Hollywood. Tellingly, the hotel, formerly known as the Landmark Motor Hotel, was where another female singing star still idolized to this day, Janis Joplin, overdosed and died.
Aoki's cenotaphic multi-media exhibition questions the deification of celebrities within pop culture and how this idyllic idolatry shapes women's perspective on beauty and self-worth, while at the same time identifying Gwen Stefani as a creative and savvy businesswomen whose influence will continue to reign even unto the afterlife. Included in the elaborately decorated hotel room are paintings on velvet of Stefani as various Egyptian queens, canoptic (burial) jars, a votive mummy foot in a high-heeled shoe, and the immortalization of the singer as a Chia Pet.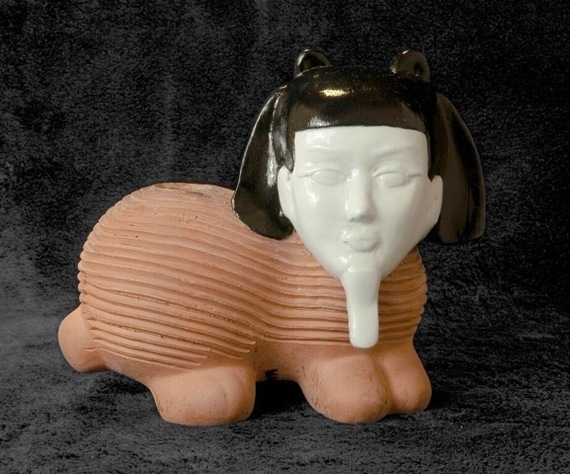 Created from found objects, Aoki's Chia Gwen carries multiple levels of meaning. The Chia Pet, an inexpensive gift item sold in drug stores and on TV, has evolved from a simple clay ram into a variety objects, like Chia Obama and Chia Zombie, that capitalize on pop culture. Stefani herself has evolved from a teen-age singer in a struggling band to become a highly (self) marketed woman with a huge recognition factor whose "relics"--CDs, clothing lines, and items with her image--are found in malls.
Stefani, who began singing with her older brother's start-up band in 1991, achieved global stardom when that band, No Doubt, became a multi-platinum selling machine, due in a large part to Stefani's poppy vocals and fashion-forward persona. Stefani has turned herself into an icon for young women, popularizing subculture styles from henna bhindis and chola looks to Japanese Harajuku. She capitalized on on her fans' adoration and imitation by creating her own fashion lines, L.A.M.B. and Harajuku Lovers, as well as fragrances and dolls. An animated series is in the works based on the latter. She is also a spokesperson for L'Oreal Paris. Stefani acted in films and is currently a judge on the television show The Voice, as well as being a standard fixture in the tabloids, most recently for divorcing English rock star husband Gavin Rossdale and her subsequent relationship with fellow Voice judge Blake Shelton
The Chia Pet commercial theme with its "Ch-ch-ch-chia" refrain is a catchy and well-known jingle that has entered popular consciousness; Stefani's No Doubt songs like "Don't Stop," and "I'm Just a Girl" are now radio standards. Chia seeds--once only known as what you would soak and then spread on the Chia Pet in the hopes of sprouting a green coat of seedlings--are now a highly touted, easily obtained super-food, often recommended as part of health and weight loss diets. Stefani's vegan lifestyle and her vigorous workouts are recommended in women's magazines as ways to stay healthy and lose weight.
Most tellingly, Aoki connects the Chia Pet with universal myths of the Dying and Reviving God. Before being sown with chia seeds, the ceramic Chia Pet figurine is submerged in water, recalling the Egyptian god Osiris whose corpse was cast into the River Nile by his brother Set. To honor the Mediterranean pre-Christian dynamic dying duo, Adonis and Tammuz, seeds were ritually sown, or at times buried in cloth or dirt figures, and nurtured to life, symbolizing resurrection, an active theme in cultures long before the Nazarine rolled away the rock. Chia Pets are faithfully watched and watered, joyfully delighting us as their sprouts transform a figurine from a bald animal or human into a living force of nature.
"The Gwen Stefani Grand Burial Exhibition" is complete with educational guides and an audio tour, placing it in the same lofty realms as the traveling King Tut's tomb museum show, or the more recent "Mummies" at the Natural History Museum of Los Angeles. Aoki's installation casts both a sweet fan's eye and a deeper, academic (and possibly playfully jaded) look at Stefani's--and all celebrities'--place in popular culture, something that has never been more evident than in David Bowie's death.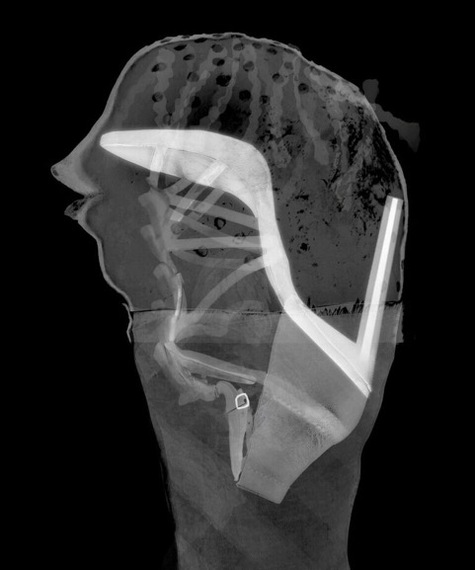 "The Gwen Stefani Grand Burial Exhibition"
StARTup Art Fair LA
January 29-31, 2016 | Highland Gardens Hotel
7047 Franklin Avenue | Hollywood
VIP Opening Gala
Friday, January 29 7:00 PM - 10:00 PM
A Benefit for TAMA - Torrance Art Museum Advocates
VIP Ticket $125, includes entry into the event, a tour of "The Gwen Stefani Grand Burial Exhibition" conducted by Kathy Aoki, full access to the fair all three days during public hours, and a one-year Individual TAMA membership!
photos via Kathy Aoki, used with permission
Calling all HuffPost superfans!
Sign up for membership to become a founding member and help shape HuffPost's next chapter