Kathy Benn believes her older daughter, Shelby Starner, had an epiphany on the night of June 22, 2003. Shelby, 19, had been struggling with bulimia for two years. That night, after having dinner with a good friend, she returned to their home in Stroudsburg, Pa., and confessed that she had purged once again. "This is not getting better. I want to change doctors," Benn remembers her daughter saying. Then Shelby went upstairs to study for the summer classes she was taking to prepare for her enrollment as a freshman at the University of Pittsburgh that fall.
Two hours later Shelby was dead. As a result of her eating disorder, Benn says, Shelby was getting so few nutrients that her brain swelled, trying to create more surface area for maximum absorption. That swelling proved lethal.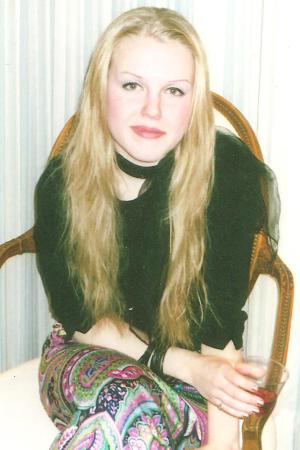 Benn's daughter, Shelby Starner
The moment of clarity Shelby had about her disease that night came too late to save her, but it inspired her mother to post a petition on Change.org this spring, nearly 10 years after Shelby's death, asking Google to run a banner with the number for an eating disorder helpline at the top of search results for content known as "thinspo" or "thinspiration" –- images, tips and "success stories" shared online by those who suffer from eating disorders to motivate themselves and others to lose weight.
The idea is that those who go to Google seeking content that will only encourage their unhealthy thoughts and behaviors will see the banner and consider reaching out for help instead. "With eating disorders, too often the voice of reason is overwhelmed by the voice of the illness," Benn wrote in the petition, which she addressed to two google executives, Amit Singhal and Ben Gomes. "Your support can help change that."
NEDA representative Claire Mysko said in an interview that the organization is "hoping that Google will be receptive to this and understand the seriousness of it."
Benn told The Huffington Post that she is "hopeful" that Google will see her petition and add the banner, especially since there's precedent for such action. In the petition, Benn notes that Google runs the number for the 24-hour American Association of Poison Control Centers hotline at the top of poisoning-related searches and the 24-hour number of the National Suicide Prevention Lifeline above suicide-related searches.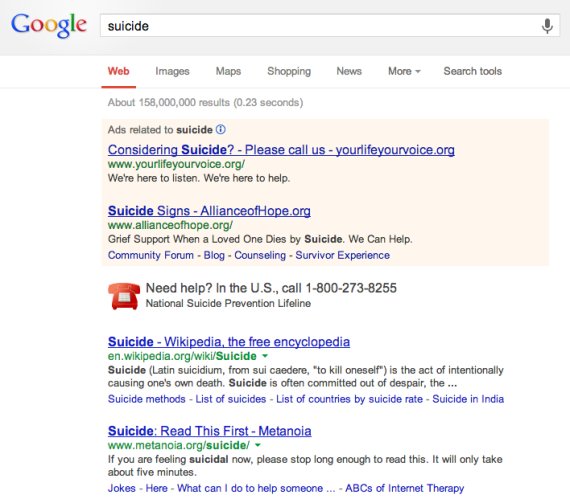 Whether or not the world's most popular search engine will take up Benn's request remains to be seen. Google spokesperson Krisztina Radosavljevic-Szilagyi said in an email to The Huffington Post that the petition is "not something we'd comment on."
It's not clear whether or how such a banner would help combat eating disorders. For one thing, it's hard to gauge if such ads pointing search users to assistance hotlines boosts those services' call volume. When The Huffington Post contacted both AAPCC and the Mental Health Association of New York City, whose subsidiary Link2Health Solutions, Inc. operates the National Suicide Prevention Lifeline, neither had data on whether call volume increased after Google added the respective banners pointing to their hotlines in early 2010.
And in the case of an eating disorder helpline, the people the banner is intended to help are by the very nature of their disease unlikely to abandon their thinspo search and call the number provided.
"The No. 1 thing we know about eating disorder treatment is that the person has to want help," said Dr. Mary Pritchard, a Boise, Idaho-based psychologist who specializes in treating eating disorders. "If you are looking for [thinspo] content, seeing that banner is not going to suddenly be the light that goes off in your head and says, 'Maybe I shouldn't do this.'"
Benn acknowledged that at times a person struggling with an eating disorder is "not really looking for the challenge of recovery." But that's no reason not to run the banner, she said. "Just because they're not in a place to help themselves doesn't mean you shouldn't provide them with options. If they take it, great. If they don't, you tried and maybe they will next time."
Mysko, the NEDA representative, agreed. "Even if one person out of the thousands who are searching is in a vulnerable moment where they might be feeling like, 'Hey, I'm tired of feeling this way,' [having] that information be readily available to them is important," she said.
Pritchard thinks the banner would mostly benefit concerned parents, rather than the people suffering from eating disorders themselves. "If parents are trying to monitor their child's Internet surfing and using Google to try to find [thinspo] sites and then they want to know what to do about it, having a banner like this is going to be useful," she said. "They stumble across it because they are searching for what their kid has searched for. I think that's who it's going to help."
When asked if Shelby frequented pro-ana and pro-mia sites -- those hosting thinspo content -- Benn said she wasn't sure. "We weren't savvy enough parents to check search histories," she explained. "We wanted her to feel trusted. So I don't know. I have no indication that she did or didn't."
Mysko acknowledged the rise of social media use among those looking for thinspiration, but still pushed for the Google banner. "That demographic does tend toward [social media sites], but it certainly can't hurt to have it available wherever anyone would be searching, and that's our goal," she said.
"It just seems like it doesn't cost Google anything to [show] that there is an option that's positive and helpful," Benn said.
Mysko said that even though the helpline is not manned around the clock, what those struggling with eating disorders receive when they call is invaluable. Volunteers are trained to assist people with eating issues and can refer them to doctors, nutritionists and therapists who specialize in treating these diseases.
Mysko also suggested that Benn's proposed banner would have benefits beyond providing specific services to an individual in a receptive moment; it would communicate to the culture at large how lethal eating disorders can be. A Google banner would help "legitimize" eating disorders, she said.
"These are serious illnesses. If Google recognizes that and that people who are searching for this kind of contact are very vulnerable and oftentimes actively struggling with eating disorders, that really proves that they're taking it seriously," she said.
And if Google, one of the world's most powerful and visible companies, takes eating disorders seriously, perhaps the very people convincing themselves that they don't have a problem might start to take them more seriously, too.
This story has been updated to reflect the NEDA helpline's new hours starting July 1.
CORRECTION: This piece originally identified Kathy Benn and Shelby Starner's home as being in Strasburg, Pa. instead of Stroudsburg, Pa.
Before You Go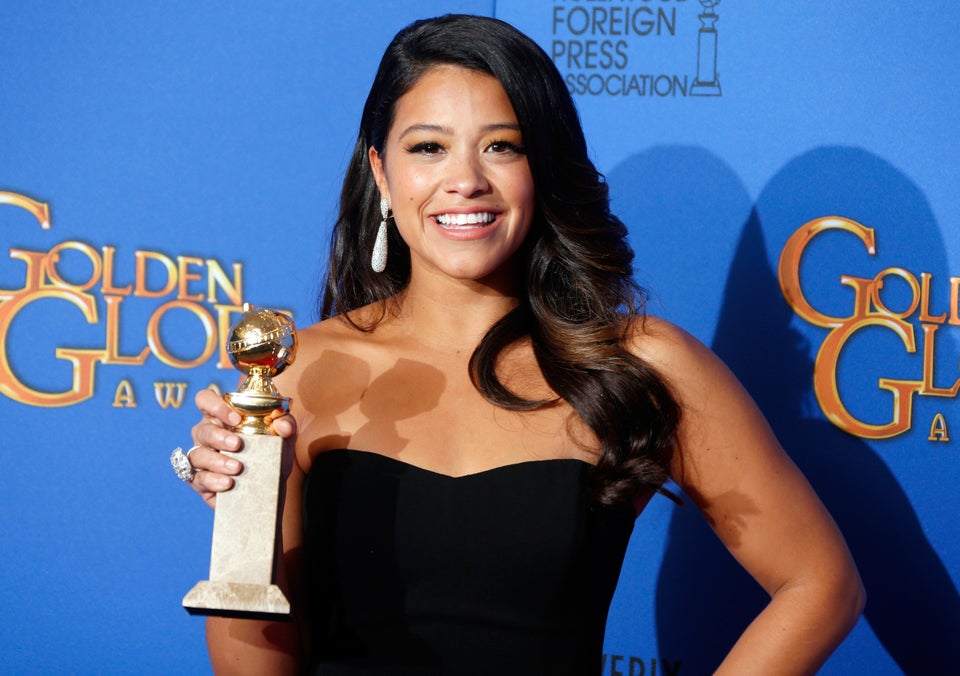 Meet Our Body Image Heroes
Popular in the Community