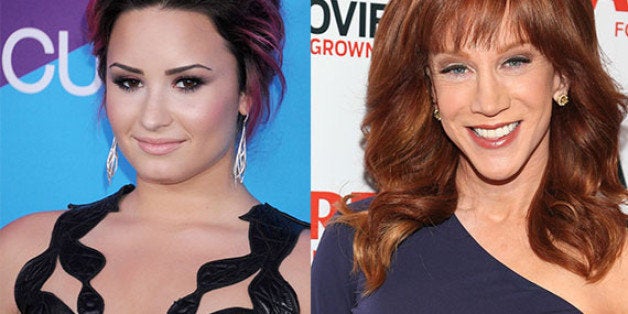 When Kathy Griffin responded to followers in a Twitter AMA, she probably didn't anticipate that she could excite a whole army of angsty teens. Clearly, she's never encountered a Lovatic (aka a diehard Demi Lovato fan).
Calling Lovato by the wrong first name was the least of Griffin's worries as she referenced the 21–year–old's accusation that Lady Gaga's controversial SXSW performance promoted bulimia. Lovato responded on Twitter by posting a photo of herself pointing to Griffin and sticking her tongue out.
Lovato's angry tweet was taken as a call to action by her many fans and followers, who began aggressively harassing Griffin on the social media site. Of course, Griffin's sense of humor is still intact and she's been responding to the hate by retweeting some of the more absurd insults that the Lovatics have been throwing her way.
After a string of huge outbursts, Lovato was forced to respond to her fans and quell the upset.
The "Neon Lights" singer's full message reads:
I love you guys so much but y'all gotta chill with sending hate towards other people. Regardless of what they say or do.. The cruel things some of you are saying can really, REALLY hurt people. It's called cyber-bullying and somethings should NEVER be wished upon EVER. No matter WHAT. It makes me so sad to see how mean people can really be after all I've spoken out about anti-bullying. Be an example for other haters. I know my #Lovatics are better than that. I really appreciate you guys always having my back but this is going way too far. Please spread [peace] not hate....
Lovato's message definitely sends the right idea to her hot–headed fans, but there really is only one takeaway from all of this: Let's not upset the Lovatics.
REAL LIFE. REAL NEWS. REAL VOICES.
Help us tell more of the stories that matter from voices that too often remain unheard.
BEFORE YOU GO
PHOTO GALLERY
Demi Lovato