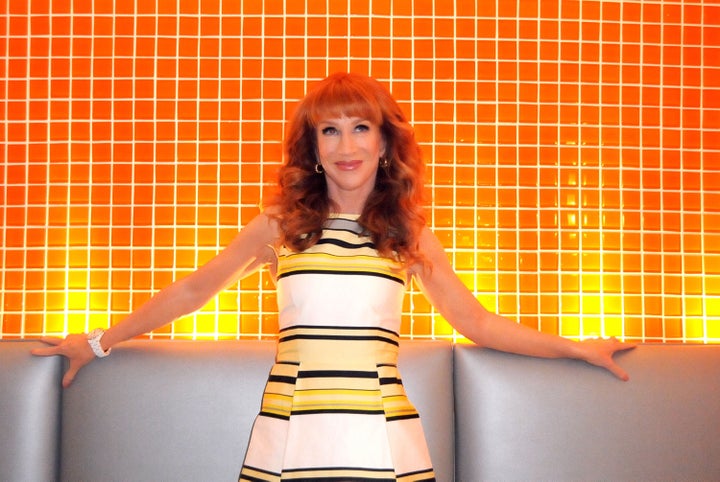 Kathy Griffin would love to see Hillary Clinton as our next president, if only a morbid sense of curiosity didn't keep her from wondering just how much damage Donald Trump could inflict if he somehow managed to win. 
"The dream scenario is that [Trump] gets elected and then gets impeached 48 hours later and we just have two days of utter chaos and then Hillary comes in and makes it all better," the 55-year-old joked to Billboard magazine in a new interview.
I'm supporting Hillary. It's gonna be a struggle. If you think sexism is dead, wake up America. Look how hard we've been on the black guy. The black guy has had eight years of straight-up racism and I think it's going to be harder on the chick. So yeah, I want Hillary to win and I think it's going to be an incredibly difficult presidency for her because as the first woman everyone is going to be so, so tough on her. If I knew her, and I don't, I would say, 'Hillary, are you sure you want this? It's going to be rough.' But I'm voting for Hillary, so I guess that makes me a terrorist if you watch Fox News? I don't know.
"But yes, I'm told by my team, 'Don't say who you're supporting. It'll cost you ticket sales.' F--k that. Yeah, I'm supporting Hillary, sue me," she told the magazine. 
"I'm actually in a fight with my 95-year-old alcoholic mother because now she's not sure if she wants to vote for Hillary because my mom thinks that she's trying to recruit her to be in ISIS because my mom watches Fox News and thinks it's real. Honestly, that's part of my day," she said. "I have to go to my mom's retirement village and reassure her that ISIS isn't breaking through the door."
And while her mother may not have complete confidence in Clinton, Griffin seems very sure she's making the right choice. 
"I think she would crush [Trump]," she told Larry King in late October. "At the end of the day, you can't just talk over somebody. And that's his game; he just talks over people and he says the same thing and he has the ridiculous hat."
PHOTO GALLERY
Celebrity News & Photos
REAL LIFE. REAL NEWS. REAL VOICES.
Help us tell more of the stories that matter from voices that too often remain unheard.