On Saturday Griffin posted to Twitter a 17-minute video called "A Hell of A Story," ripping Cohen and Harvey Levin ― TMZ's founder and guiding force ― in the rant.
She accused Cohen of offering her cocaine in professional contexts and mistreating women in his workplace.
"People like Andy Cohen and Harvey Levin," she said, "they honestly live just to take women down."
Cohen responded to Griffin's attack on Twitter, saying: "I am completely stunned by this story. It is 100% false and totally made up."
Griffin plays a voicemail that Levin left on her phone in which he provides his personal phone number.
"I don't have a minute to call him," she said in the video, "but maybe you do."
Griffin accused Levin of fueling the harassment she faced after she posed with a replica of Donald Trump's bloody, severed head. "My mom got death threats at her retirement village and my sister, while she was dying of cancer, got death threats at her apartment," she said.
She blamed TMZ for the intensity of the backlash. "They have done hit pieces on me to the point where it's actually affected my career," she said. "Harvey Levin, have you ever done anything honorable, ever?"
A representative for Levin did not immediately respond to a request for comment.
The bad blood between Griffin and Cohen began after he was chosen to replace Griffin in her longtime gig hosting the CNN New Year's Eve special alongside Anderson Cooper. Griffin lost the job amid the controversy over the Trump severed head.
For years, Griffin and Cohen worked together at Bravo. Griffin appeared on Cohen's late-night show on the cable network. Cohen also produced Griffin's now-cancelled Bravo series, "My Life on the D-List."
In her tirade, Griffin refers to him as a "miserable boss."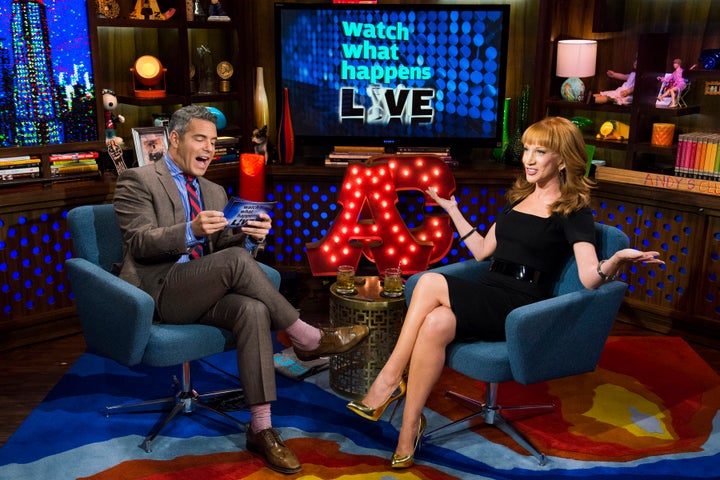 Popular in the Community