The CEO of KB Home, one of the largest homebuilders in the country, recently screamed sexist and homophobic slurs and profanities at his neighbor, comedian Kathy Griffin ― calling her a "bald dyke" and a "cunt" after she and her boyfriend called Los Angeles police to report an hours-long noise disturbance, according to security camera audio obtained by HuffPost.
Jeffrey Mezger has been CEO and chairman of KB Home, a publicly traded company, since 2006, and has worked there since 1993, according to his official biography. Mezger and his wife, Sandra, live in a gated community next to Griffin and her longtime boyfriend, Randy Bick.
The following video contains explicit language.
The audio of the incident, which HuffPost obtained from Bick, was captured Saturday by security cameras after Bick called the Los Angeles Police Department to complain about the noise from his neighbor's house. In the audio, Mezger can be heard calling Griffin a "fucking bald dyke" whom President Donald Trump "kind of put the heat on." Griffin shaved her head in July to support her sister, Joyce, who was undergoing chemotherapy treatments. Joyce Griffin died Thursday.
Mezger went on to say: "Let's declare war, asshole, 'cause we got a lot to go for. Let's bring it on, you bitch." He also called Griffin a "fucking cunt."
"Mr. Mezger regrets losing his temper over a supposed noise complaint involving his three young grandchildren in his swimming pool around 8 p.m. on Saturday, while they were being supervised by their mother and grandmother," a KB Home spokesperson told HuffPost in a statement. "He apologizes for the language he used, as it does not reflect who he is or what he believes."
HuffPost reached out to multiple members of the KB Home board of directors, including BET founder Robert Johnson and Taco Bell President Melissa Lora, for comment. They did not immediately respond to the inquiries.
Griffin and Bick moved into their home a year ago. According to logs obtained from the homeowners association, they filed noise complaints almost immediately. In response to noise complaints, Mezger was said to have told the homeowners association that he and his wife don't host parties often, and that Griffin and Bick "need to adapt." HuffPost has obtained audio and video of previous instances of Mezger hurling profanities at Griffin and Bick. The couple have called the Los Angeles police with noise complaints five times since they moved into their home.
A spokesperson for the LAPD told HuffPost that since the incident was a civil matter and didn't involve a formal police report, it would "take a while" to find any record of the call. But business cards obtained by HuffPost of the officer who showed up after Bick's call confirm that he is a current LAPD officer in the division that covers where Griffin and Bick live.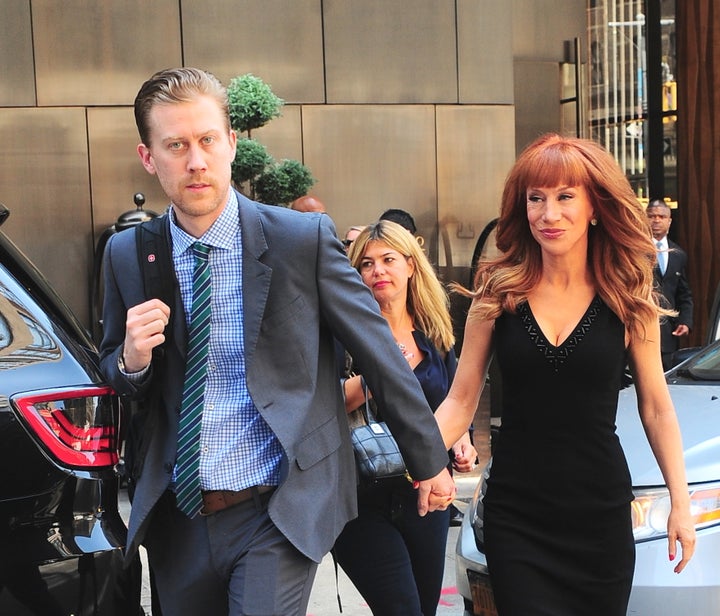 Bick said he called in a complaint to the LAPD late Saturday after hours of excessive party noise, which did involve some children, from the Mezger backyard. While Bick was speaking with police, the security cameras on the Griffin/Bick property recorded the audio of Mezger's profanity-laden comments:
MEZGER: "Hey Randy, go fuck yourself. Seriously? You call on my grandkids at 9 o'clock? You're not even the fucking owner. You're stuck with a fucking bald dyke who Donald Trump kind of put the heat on. Now you're calling the cops? Fuck you and fuck Kathy. You're not our fucking neighbor, you're a fucking asshole."

GRIFFIN [background]: "What's going on?"

MEZGER: "Let's declare war, asshole, 'cause we got a lot to go for. Let's bring it on, you bitch." [cross talk]

GRIFFIN: "Randy, what's happening?" [cross talk] "Randy, what's happening?"

MEZGER: "If you're asking Randy what's happening, he called the cops on my 5-year-old granddaughter, you fucking cunt. Bullshit ― 9 o'clock at night ― oh, this party's loud, this party's really happening. Fuck you. I've done enough trying to be a nice partner ― fuck you, neighbor. War's happening. Don't wait until we're gonna bring some things on you. Now fuck you."
Griffin stirred up controversy in May when she participated in a photo shoot that included a photograph of her holding up a Trump mask covered in fake blood. The controversy led to an investigation by the Secret Service, which was closed after two months with Griffin facing no charges.
KB Home was founded in 1957 by Los Angeles philanthropist Eli Broad and his late business partner, Donald Bruce Kaufman. The public company, whose shares are traded on the New York Stock Exchange, has been named the top homebuilder on Fortune magazine's "most admired companies" list for multiple years.
Related
Popular in the Community