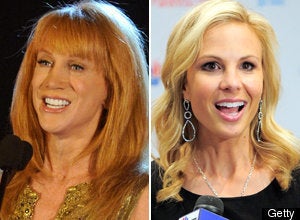 Kathy Griffin isn't backing down from her feud with "View" co-host Elisabeth Hasselbeck.
After the two sparred on-air last month on "The View," Hasselbeck called Griffin "scum" this week for her joke that Scott Brown's daughters are prostitutes.
Griffin's response? Hasselbeck can "suck it."
"Now I have to send Elisabeth Hasselbeck two muffin baskets because she confronted me when I was a guest on the show two weeks ago and then this morning she called me 'scum,'" Griffin told E!. "I have to send two baskets because as a comedian, I'm loving it."
"Suck it!" she added. "As the great Bette Midler said, 'F--k 'em if they can't take a joke.'"
Watch Hasselbeck take on Griffin:
Related
Popular in the Community