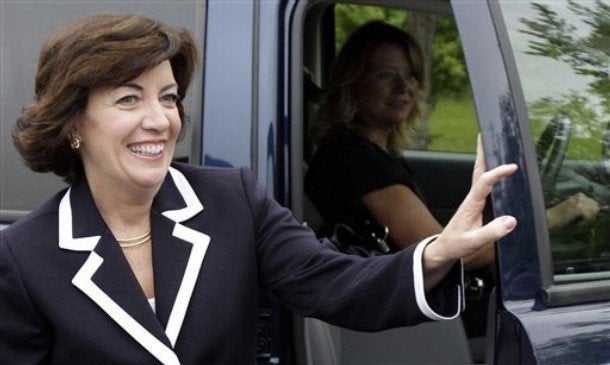 WASHINGTON -- Within minutes of being sworn in to Congress on June 1, Rep. Kathy Hochul (D-N.Y.) cast her first vote, registering her official opposition to Rep. Paul Ryan's (R-Wis.) budget plan. The moment was fitting, considering that the special election in the heavily GOP district in upstate New York largely turned on her opposition to Ryan's plan to turn Medicare into a voucher program.
In a sit-down interview with The Huffington Post on Thursday, she reiterated her stance. "My commitment to Medicare: Solid. Rock solid," she said.
But overlooked in the postmortem debate on the NY-26 race, according to Hochul, was the role that taxes played.
"It wasn't just Medicare, but also the unfairness of the current tax code and how it hurts small businesses in my district," she said. "So it's a tax issue, and it's a Medicare issue. That's the combined takeaway from my race."
She noted that she often spoke about the need to increase taxes on millionaires and billionaires, and many of her ads touched on the same subject.
"The small businesses are the ones we have to protect, and they don't think it's fair they pay more in taxes than the largest corporations who ship jobs overseas," she added.
Yet Medicare does remain a focus for Hochul.
"I invited Rep. Brian Higgins (D-N.Y.) [to the event] to really stake out our claim that we are not going to fundamentally alter Medicare," she said. "That's the message I heard loud and clear from the people in this district. It was reinforced tenfold, because people are very nervous about what's happening with the debt ceiling and whether or not Medicare is going to be on the chopping block."
Indeed, Medicare cuts may be part of the budget negotiations. Senior Democrats have indicated they would be willing to negotiate some Medicare cuts on the provider side as part of a deal to raise the debt ceiling in the coming weeks.
While such a move may make some Republicans happy, it could also cede a strong political argument by Democrats in the 2012 elections.
"I always say in my conversations we need to get our deficit under control, we need to cut the underlying costs of health care that are driving up Medicare and we've got plans to do that. ... I can't just say, 'Leave Medicare alone,' and not come up with some ways to sustain it and make it stronger. What I won't do is cut beneficiaries. I will not cut services to beneficiaries," said Hochul.
Immediately after the special election, there was a significant amount of debate over whether the race was part of a harbinger of Republican losses in 2012, or whether it was an isolated incident in an off-year election.
Hochul argued it definitely wasn't a unique incident, and Ryan's budget plan presented Democrats with a clear opportunity to differentiate themselves with Republicans in 2012.
"I think it was a point in time when people were starting to have buyers' remorse. They were starting to hear the very clear differences between Democrats and Republicans," she said. "In past elections, a lot of people didn't see those differences. They're all alike, they're all the same. The Ryan budget, April 15, gave Democrats the clearest opportunity we've had in years to show the contrast in priorities between the two parties. That's the broader lesson going forward in 2012. Democrats should capitalize on that."
The Huffington Post wants to know about the campaign ads, town halls, robocalls, mailings and other election news happening where you live. Email us your tips, videos and photos to offthebus@huffingtonpost.com.
If you want to be even more involved with our election coverage, please sign up here.
Popular in the Community