BELZONI, Miss. -- J.D. "Bubba" Roseman, the first black sheriff of Humphreys County, is a convivial man. In his office and in casual conversations on the street in this town of 2,200, he engages people quickly and easily, inquiring about a son on the football team, a niece in college or a grandmother in the hospital. He talks loud and fast, always smiling, and works a deep, infectious laugh into just about every conversation.
But when Roseman, 57, talks about Kathy Mabry, the mirth drains from his face. His brow straightens. He speaks softly. He pauses from time to time to swallow the catch that latches onto his words, and his eyes sometimes well up. It's an unexpected thing from a stout man wearing a gun.
Mabry was murdered here in 1997 at the age of 39. This part of America once produced murder ballads about brutal crimes like this one -- blues greats like Pinetop Perkins, Elmore James and Sonny Boy Williamson have all called Humphreys County home.
Kathy Mabry's killer raped her, then slashed her face, head and throat with a rusty razor blade. She was left to bleed to death on the floor of a vacant house. "I think about that case every day," Roseman says. "I told Kathy's momma I wouldn't get an honest night's rest until we got the man who did this."
Roseman was the Belzoni police chief back then, the first black man elected to that position as well. His election to both positions shows just how much the region has changed over the past half century. In what may have been the first assassination of the civil rights era, the Rev. George Lee was murdered here in 1955 while registering blacks to vote. In those years, white citizen councils beat civil rights volunteers with such frequency that the town earned the nickname "Bloody Belzoni."
Today, Humphreys (population: about 9,000) is the seventh-poorest county in America's poorest state. The poverty rate here approaches 40 percent. But it's also a close-knit community, where families go back several generations or more. Violent crime is rare. The county saw all of one murder in 2012. "It just doesn't happen that often here," Roseman says.
Mabry's murder stunned people here in part because it was so unexpected, but also because it was so unspeakably vicious. "She came from a quiet, respected family," Roseman says. "They're well-liked. Most folks around here hadn't ever experienced that kind of murder. So it shook the town. It's still shaking the town."
The case went unsolved for 15 years, until December, after a casual courtroom conversation led lawyers from the Mississippi Innocence Project to investigate it. That two attorneys for an organization better known for getting the wrongly convicted out of prison would take it upon themselves to solve a cold case is remarkable enough. Their search covered the state, from Columbus in the northeast, to Oxford in the northwest, to the crime lab in Jackson, to a dusty attic in the Humphreys County courthouse, deep in the belly of the Delta.
The reason they felt compelled to act is part of a larger scandal currently unfolding in Mississippi. The original police investigation into Mabry's murder hinged on the forensic analysis of Steven Hayne, a longtime Mississippi medical examiner, and Michael West, a dentist and self-proclaimed bite-mark expert. Hayne was a doctor in private practice who at the time performed nearly all of the state's autopsies. West was one of his frequent collaborators. The two men have been at the heart of the Mississippi death investigation system for two decades. West has testified in dozens of cases, Hayne in thousands, including a number of death penalty cases.
Media investigations over the years, however, including my own for The Huffington Post and Reason magazine, have revealed that both Hayne and West have contributed critical evidence that led to the convictions of people who were later exonerated, and routinely and flagrantly flouted the ethical and professional standards of their respective fields. West, for example, once claimed he could match the bite marks in a half-eaten bologna sandwich found at a murder scene to the teeth of the prime suspect. In a more recent case, Hayne claimed the bullet wounds in a murder victim showed that two people held the gun when it was fired, not one. In the Mabry case, West used bite-mark analysis to nab an innocent man for Mabry's murder. That man spent nearly a year in jail. But the Mabry story also shows that the victims in this scandal include not just the wrongly accused, but the families of the victims, the future victims of the actual perpetrators, public officials like Roseman, and even entire towns.
Mississippi officials have thus far resisted calls for a thorough review of Hayne and West's work. In particular, the Mississippi Supreme Court has shown little concern over the possibility that Hayne and West may have put an untold number of innocents behind the razor wire at Parchman penitentiary. Neither has Attorney General Jim Hood, whose office continues to defend convictions won primarily on the testimony one or both of the men have given on the witness stand. To concede there's a problem would implicate many state officials who used the two men during tenures as prosecutors. It would also open hundreds, perhaps thousands of cases to review.
Tucker Carrington, the director of the Mississippi Innocence Project, says he and his colleague Will McIntosh decided to pursue Mabry's killer themselves after they attempted to bring the case to the attention of the prosecutor in Humphreys County, and then to Hood's office, and received no response from either.
"When you take on a case and it reveals a glaring injustice like this -- something that could easily be taken care of if someone would just give it some attention -- you can't just turn a blind eye to that," Carrington says. "In the end, I guess we saw this through because no one else would."
The defensiveness and nonchalance of Mississippi officials over the possible wrongful conviction, imprisonment and execution of innocent people is troubling enough. (Neither Hayne nor Hood's office responded to an interview request. The Huffington Post was unable to reach West.) But the Mabry case shows that the harm Hayne and West have done goes deeper. The same problems that allowed for the conviction of innocents have also left brutal crimes unsolved, leaving those affected to grieve and worry, with little hope of closure.
"Good people live here. They deserve to feel safe," Roseman says. "I took it personal."
And there's another corresponding harm when the innocent are implicated: The guilty often go free. Indeed, Mabry's murderer went on to kill again.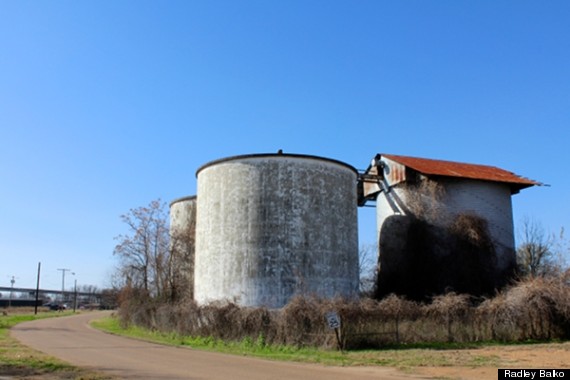 Belzoni, Miss.
Judy Mae Wilson last saw her daughter around 7 p.m. on Saturday, March 22, 1997. "She had just cooked up some fish for the boys and said she had to go out for a while," Wilson says. "She said she'd be back in an hour or so. I never did see her again."
Wilson has lived in Humphreys County all her life. The drive down historic Highway 61 from Memphis, Tenn., to her hometown of Isola slices through the sort of harsh, agrestic beauty for which the Mississippi Delta is known. There are scenes of crushing poverty, gooey marshes and quiet bucolic landscapes. The route south backtracks the great black migration of the middle of the 20th century, when Delta sharecroppers traveled upriver in pursuit of better lives in Detroit, Indianapolis and Chicago. Like its neighbors, Humphreys County lost a good chunk of its population then; it still grows smaller with each census.
Wilson and her husband, now deceased, spent most of their working lives in cotton fields. The two had eight children, including Mabry, and led the typically hardscrabble lives of black farm workers in the civil rights era.
Today cotton has given way to a new business in the area: catfish -- raising them, processing them, eating them and celebrating them. Two-thirds of America's farm-raised catfish are grown within an hour of Belzoni. It's home to the World Catfish Festival and the "Miss Catfish" pageant. At the moment, the downtown features a collection of ceramic flatheads painted in different getups -- overalls, fur coats, top hats -- for "Catfish on Parade," a down-home take on Chicago's popular "Bulls on Parade" public art exhibit. There's also hope that the new "Delta Blues Trail" will bring tourists down from the casinos in Tunica to explore the legacy of the music borne of the area's troubled past.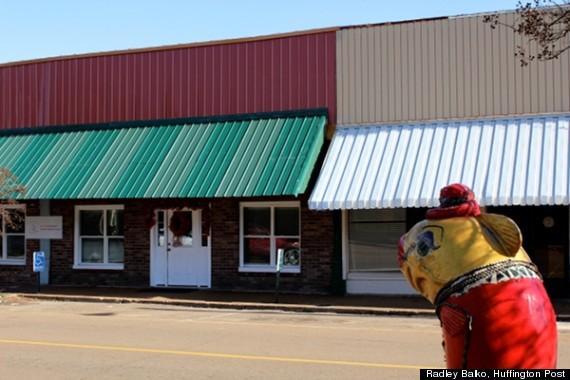 Belzoni, Miss.
But the residents of the county, now about 70 percent black, still continue to struggle economically. All of Wilson's children have left the area and now live in Chicago with their families. She had hoped for better things for Mabry, too. She graduated from high school and had started college, but picked up a drug habit soon after.
"Kathy came up when things started to get better around here," Wilson says. "We had spent a lot of years chopping cotton. But I was working [as a maid] in houses by then. My husband was driving tractors," Wilson says. "But she didn't last long in college before she got into the drugs. Wasn't long before she was back at home."
Mabry battled her crack addiction for the rest of her life. She had some periods of sobriety. She married and had two sons. But her struggle with addiction eventually dissolved the marriage and dashed any hope of going back to school. She fell into a series of abusive relationships. She and her boys moved in with her mother in Isola, the tiny town of 900 people about 10 miles south of Belzoni.
The last of those abusive relationships was with James Earl Gates, who was 48 at the time of the murder. "He was no good," Wilson says. "Broke her arm once. They were in some kind of love, but he had a short, short temper. He would come in here, into my home, and take over like he was the man of the house. I'm just an old lady. Kathy was tiny. The boys were young. There wasn't much we could do about him."
Mabry didn't come home after making dinner for her boys that Saturday night in 1997. When she hadn't returned by late Sunday morning, Wilson began to worry. She knew about her daughter's drug problem, but Mabry had of late managed to handle her addiction while still taking care of her boys and working at the Confish catfish plant. She wasn't one to disappear without a phone call.
On Monday morning, Gates called Wilson to ask if she knew where Mabry was. He'd called Mabry several times over the weekend, he said, and she hadn't picked up. Until then Wilson had worried, but just assumed her daughter had been with Gates. Now she was panicked. She called Roseman and asked him to look for Mabry in Belzoni. Roseman checked around town. No one had seen her.
At 5:30 the following morning, a truck driver named Junior Mitchell pulled his rig up to his house, to fill up from the diesel pump in the front yard. Mitchell had moved out of the place several months earlier to live with his girlfriend, but still came by from time to time to get gas and check on his property. The house had been burglarized several times since he left, and on more than a few occasions he had shooed away drug addicts he found squatting inside. The vacated building had become a gathering spot for them over the winter months.
That morning, March 25, Mitchell noticed that a wall panel under the carport had been kicked out. When he approached the front door to investigate, he saw a trail of blood. He followed the trail inside and discovered Mabry's body.
The murder set the entire community on edge. "You might see someone getting shot after an argument or something, but even that is really rare," says Dim Pyle, the mayor of Isola. "Nobody had ever seen anything like this. Because of the closeness everybody had with Kathy's family, the whole town, both towns, well, we were all just devastated."
The county coroner, Roseman and John Allen Jones, who was the Humphreys County sheriff at the time, arrived at the crime scene about an hour after Mitchell found Mabry's body. Jones called the Mississippi Highway Patrol, who sent an investigator and two inspectors from the state crime lab. They began interviewing suspects that afternoon.
Mabry's body was sent to Steven Hayne for an autopsy. Though he held no official state position, and was never board certified in forensic pathology, between the early 1990s and the late 2000s, Hayne performed 80-90 percent of the autopsies in Mississippi, according to his own testimony in trials and depositions. That amounted to an astonishing 1,500 to 1,800 autopsies per year.
The National Association of Medical Examiners recommends that a single doctor perform no more than 250 autopsies per year. The organization refuses to certify any lab where an individual doctor performs more than 325 per year. Hayne's workload could result in some odd autopsy reports. According to a complaint filed by the Mississippi Innocence Project, in one case Hayne included in his report the weight of a man's spleen, and made comments about its appearance. The problem: The man's spleen had been removed four years before he died. In an autopsy on a drowned infant, Hayne noted the weight of each of the child's kidneys, even though one of them had previously been removed. In another murder case, Hayne noted in his report that he had removed and examined the decedent's ovaries and uterus. The victim was a man.
Mississippi's autopsy system had long been loaded with bad incentives. Because prosecutors and the elected coroners assigned autopsies on a case-by-case basis, doctors had a strong incentive to tell them what they wanted to hear so that they could benefit from future referrals. Sometimes, critics say, pleasing prosecutors meant providing them with findings that would lead to convictions. Other times, it might mean presenting conclusions that cleared a police officer or prison guard when a suspect or inmate died under suspicious circumstances.
The state has made some progress in recent years, requiring that anyone who performs an autopsy for prosecutors be board certified, and Mississippi now has a credentialed state medical examiner. But the damage from the old system is ongoing. It was a system almost designed for abuse. "If hadn't been Hayne," the Innocence Project's Carrington says, "it would have been someone else."
Hayne performed most of his autopsies not in the state-of-the-art crime lab in Jackson, but in the basement of a funeral home owned by longtime Rankin County Coroner Jimmy Roberts. One former state official who had visited Hayne's operation on several occasions likened it to "a sausage factory." Another said that in 2006 he watched Hayne and his assistants eat pork sandwiches and smoke cigars while cutting up multiple bodies at once. For much of his career he held two full-time jobs during the day. So he did most of his autopsies at night, giving his practice a sort of macabre mystique.
One person often present at those all-night autopsy sessions was Michael West, a dentist in Hattiesburg. West often assisted with Hayne's autopsies, and sometimes videotaped them. The two men also wrote articles together, and by the early 1990s, West had established a reputation as either an ingenious forensic specialist far ahead of his time, or a charlatan, depending on whom you asked.
The police investigating Mabry's murder rounded up about half a dozen men who'd been in or near the vacant house around the time of her death and held them for questioning. Roseman and Jones initially focused on a man named Douglas Myers, an addict who'd been in the house and had a fresh scratch on his face the afternoon of the investigation.
"He couldn't give us a good answer for that scratch," Roseman says. But the state officials seemed interested in James Earl Gates, especially after learning that he had beaten Mabry before.
Despite the history of abuse between Gates and Mabry, Roseman never liked Gates for the murder. "If she had been choked, or had hit her head, if she'd been dumped out in a field somewhere, I'd say, 'Okay, that makes sense.' I could see putting that on Gates. Maybe he'd lost his temper again. Maybe he got too rough with her," Roseman says. "But when a man who loves a woman, when he's sleeping with the same woman, he doesn't do her body like that. A mean man will hit a woman he loves, but he won't cut up her face. You just don't see that."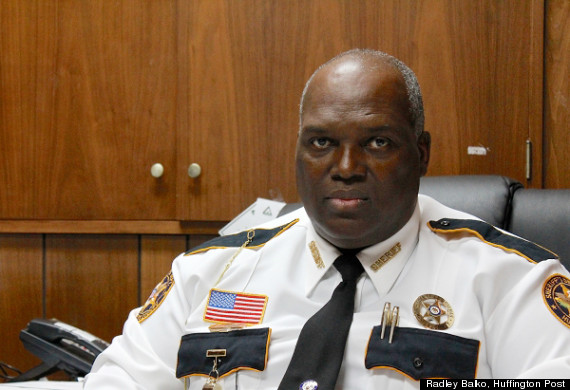 Humphreys County, Miss. Sheriff J.D. "Bubba" Roseman
Roseman also says Gates wasn't defensive about Mabry's death. In fact, he seemed crushed. "He showed real strong emotion when he heard she'd been killed," Roseman says. "He didn't try to give us an alibi. We had to ask him where he was. I don't think he even considered the possibility that he could have been a suspect."
He'd soon become the only suspect. During the autopsy, Hayne claimed to have found bite marks on Mabry's body. As he had done in numerous other cases, Hayne then called in West, who claimed to have pioneered a new way of identifying bite marks in human skin, then matching them to one person, to the exclusion of anyone else. He called it "The West Phenomenon."
West claimed that only he could perform this method of analysis, which involved yellow goggles and ultraviolet light. He said his method couldn't be tested by anyone else. It couldn't be photographed or recorded on video to be scrutinized by other forensic specialists. At various points in the 1990s, West and the prosecutors who used him in their cases compared his bite-mark genius to musician Itzhak Perlman, Galileo and Jesus Christ. The National Academy of Sciences, however, does not consider bite-mark analysis to be credible as evidence in a trial. And even within the already questionable field of bite-mark analysis, concerns about West were already mounting.
On March 27, 1997, West confirmed that what Hayne had found were indeed bite marks. He took photos of them, then drove to Belzoni to make plaster molds of the suspects' teeth. Using only the plaster molds and the photos of the bite marks he'd brought with him, West excluded all of the men then in custody. For dramatic effect, he used the same line each time: "Sheriff, this is not your man."
The police then escorted West to the home of James Earl Gates, who also allowed West to make an impression of his teeth. West then compared Gates' mold to the photos. In his report, Jones wrote that West next "pointed out to me the similarities between the bite marks and impressions. He informed me that this was a possible suspect."
West then drove back to the morgue to compare the mold of Gates' teeth directly to the marks on Mabry's body. At 12:45 a.m., West called Jones. "This is your man," West said.
On April 1, 1997, James Earl Gates was arrested for the rape and murder of Kathy Mabry. He was booked at the Humphreys County Jail.
MISSISSIPPI'S SLOW-MOTION DISASTER
By 1997, Mississippi officials should have known that West was less than credible. He had already been the subject of unflattering profiles in the ABA Journal and the National Law Journal. He had also been suspended by the American Board of Forensic Odontologists for testifying beyond his expertise, including in the infamous bologna sandwich case. In that case, the defendant was convicted, but the conviction was later overturned when West admitted to disposing of the sandwich after studying it. He said that he had thrown the evidence away because, since no other forensic analyst was qualified to replicate his methods, the sandwich was no longer necessary.
Yet West remained a favorite in Mississippi courtrooms, and among law enforcement officials and prosecutors. In 1999, the Mississippi Supreme Court considered the appeal of Kennedy Brewer, who was on death row for the rape and murder of 3-year-old Christine Jackson six years earlier.
As in the Mabry case, Hayne had claimed to find bite marks on the victim's body. He again called in West, who again matched the marks to the dentition of the chief suspect, in this case Brewer, the boyfriend of the girl's mother. In light of the continuing revelations about West, Brewer's attorneys asked the court to overturn the conviction and death sentence, and to suppress West's testimony. In 1997 the court refused. A majority of the justices still believed West possessed the "knowledge, skill, experience, training and education necessary to qualify as an expert in forensic odontology."
West can sound convincing to juries and to those without scientific training. "I should have gone with my instincts about Gates," Roseman says. "But when West showed me the video where he matched the marks, he made a good case. I just thought, this is what the man does every day. All these judges and crime lab folks trust him. He sounds scientific. Who am I to say he's wrong?" Michael West
In fact, in Mabry's case West may not have been wrong, at least about the bite marks. Mabry's previous paramours told Roseman that she enjoyed rough sex, including biting. Gates himself admitted to having bitten his girlfriend a few weeks before she died. That, of course, doesn't validate West's methods. Gates may have bitten Mabry, but there was no evidence he bit her on the day she died (indeed, a competent analyst should have recognized that the marks were weeks old). And old bite marks from her boyfriend certainly weren't evidence that he killed her.
In October 1997, Gates' attorney asked Humphreys County Circuit Court Judge Jannie Lewis to suppress West's testimony, citing the mounting questions about West's credibility, and about bite mark evidence in general. Lewis ruled that there was no reason to doubt West's credibility, but he did give Gates funding to hire his own expert to examine the alleged bite marks.
A few months later, District Attorney James Powell sent the scrapings taken from under Mabry's fingernails to the state crime lab in Jackson for DNA testing. At that time, DNA testing was more primitive. A test could exclude someone as a suspect, but couldn't yet match a suspect to biological evidence the way the technology can today.
The tests came back a few weeks later: Kathy Mabry had scratched someone in a frantic fight to save her life, but it wasn't James Earl Gates. In fact, it wasn't any of the men the police had rounded up as suspects -- not even Douglas Myles, the man with the scratch on his cheek.
On Jan. 21, 1998, Powell dismissed the murder charge against Gates. It was now 10 months after the crime. Memories had faded. Some witnesses had left town. And Roseman and Jones were back to square one.
Judy Mae Wilson was crushed when she heard the news. Her daughter's killer was still on the loose, and with so much time now passed, it seemed unlikely he'd ever be found. But she was also terrified. Gates may not have murdered Mabry, but he had shown he could be a violent man. He was now free, likely angry, and almost certainly knew that Wilson had told the police he beat her daughter, which likely made him a suspect in the first place. Roseman and Jones told Gates he wasn't to go anywhere near Wilson, her home, or Mabry's boys without Wilson's permission.
"We didn't see him much after that," Wilson says. "But those first few weeks, we were awful scared."
In the years that followed, Hayne and West continued to apply their questionable brand of forensic analysis to other cases. At the same time, their work also began to attract more scrutiny, though mostly from outside the state.
In 2001, Arizona defense attorney Christopher Plourd tricked West into matching crime scene photos of a bite mark left on a murder victim's breast to a dental mold taken from the mouth of the attorney's own private investigator, who had nothing to do with the crime. After accepting a retainer fee, West confidently sent back a 30-minute video in which he methodically explained how the bite marks in the photos could only have come from the attorney's "suspect."
It was the best evidence to date that West is a charlatan. And yet Mississippi prosecutors still defended convictions won on West's testimony, and Mississippi judges still upheld them.
(Warning: The video below shows includes post-mortem photographs of bite marks on a murder victim's breast. Video first appeared at Reason.com.)
In 2002, Kennedy Brewer's attorneys were finally able to test the DNA of the semen found in young Christine Jackson's body. The tests showed that the DNA did not belong to Brewer. But rather than release Brewer and declare him innocent, West and District Attorney Forrest Allgood insisted that while someone else may have raped the little girl, West's analysis still clearly showed that Brewer had bitten her.
They posited that perhaps Brewer had held the girl down and bitten her while someone else raped her. Brewer's conviction was overturned, but Allgood promised to try him again. So Brewer remained in prison. Brewer's attorneys next tried to get the DNA profile of Christine Jackson's killer uploaded to state and national databases to see if they could find a match. Allgood fought them every step of the way. (Allgood did not respond to a request for comment.)
In 2004, Tyler Edmonds was convicted of conspiring with his sister to kill her husband. Edmonds was just 13 at the time. The prosecution's theory was that Edmonds and his sister had simultaneously held and fired a gun at the victim while he slept. Hayne testified that he could tell by the bullet wounds in the body that there were two hands on the gun that created them.
But that assertion was too preposterous for the Mississippi Supreme Court. In 2007, the court overturned the verdict -- but also went out of its way to explain that the ruling pertained only to the Edmonds case. The majority made clear that it wasn't questioning Hayne's credentials or credibility in other cases.
The following February, the Innocence Projects of New York and Mississippi, now representing Kennedy Brewer, were finally permitted to search the DNA databases for a match to the semen found in Christine Jackson. The search not only turned up a match, it also found a match to the rape and murder of another little girl in the same county two years before Jackson was killed. Hayne and West's testimony had already helped Allgood convict another innocent man, Levon Brooks, for that crime.
The DNA in both cases matched that of 51-year-old Albert Johnson. Johnson was arrested and convicted for both murders. In both cases, Hayne claimed to have found bite marks other doctors had missed and called in West, who matched the alleged bites to the dental molds of the prosecutor's main suspect (who in both cases happened to be the mother's boyfriend). Johnson was initially a suspect in both cases.
Had Hayne and West not been so eager to affirm the hunches of law enforcement, Christine Jackson could well be alive today. Brewer and Brooks were immediately released, having served more than 30 years in prison between them.
Since then, the evidence against Hayne and West has continued to pile up. In 2009, I reported on the case of Jimmie Duncan, who was convicted in Louisiana in 1993 of sexually abusing and murdering the daughter of his girlfriend. That case produced video of West performing one of his notorious bite mark examinations. The video shows him repeatedly jamming a plaster mold he'd made of the suspect's teeth into the skin of the alleged victim, 18-month-old Haley Oliveaux. Jimmie Duncan was still convicted, and is still on death row in Louisiana.
(Warning: The following video shows a "bite mark examination" on the body of an 18-month-old girl. Video first appeared at Reason.com.)
A similar video surfaced in the case of Leigh Stubbs, which The Huffington Post reported on last year. Stubbs was convicted in Mississippi in 2001 of assaulting Janet Kimberly Williams, in what prosecutors hinted may have been a quarrel between lovers. West claimed that he matched bite marks on the victim's hip to Stubbs' teeth, and also testified that lesbians were more likely to bite one another during domestic disputes.
The videotaped examinations in the Duncan and Stubbs cases show that, at best, West was committing malpractice, tampering with evidence and desecrating a corpse. (In the Stubbs case, West may have committed assault, since he performed his analysis on the alleged victim while she was comatose.) At worst, West was using dental molds of the defendants in these cases to create the bite marks he would then testify proved the defendant's guilt.
In response to the Stubbs video, Attorney General Jim Hood told a local TV station that he had assigned Assistant Attorney General Marvin Sanders to investigate a number of cases involving West -- the first time state officials had spoken of opening any such inquiry into his work. But it appears to have been little more than talk. When asked about that investigation at a subsequent hearing in the Stubbs case, Sanders said his investigation had consisted of "a Westlaw search," basically the legal equivalent of a Google search.
The litigation in the Stubbs case also unleashed another bombshell. In a deposition taken in 2012, West said, "I no longer believe in bite-mark analysis." Hayne made a similar pronouncement.
Stubbs had been convicted largely based on West's analysis. However, after the court threw out Stubbs' conviction last year, because prosecutors failed to turn over an FBI report contradicting West's testimony, Jim Hood's office announced that it would still seek to try Leigh Stubbs again. The state now argues in Stubbs' and other cases not that West is credible, but that the defendants have already argued the issue and lost, and therefore are procedurally barred from raising the issue again.
The total number of convictions tainted by Hayne's or West's testimony could number in the hundreds, possibly higher. Additionally, there are likely cases in which a suspicious death that should have been ruled a homicide was dismissed by Hayne as a suicide or death by natural causes. Civil rights groups have long had suspicions about Hayne's autopsies on people who have died in police custody, for example, or of possible lynchings that were ruled to be suicides. Hayne and West have also testified in numerous civil cases, and West has applied his bite-mark theories to custody disputes.
FINDING KATHY MABRY'S KILLER
In 2007, Tucker Carrington moved from Washington, D.C., to Oxford, Miss., to open the Mississippi Innocence Project, which was started in part with funding from bestselling author John Grisham.
A couple of years later, as Carrington began to learn about the central role Hayne and West played in the state's criminal justice system, his office started assembling dossiers on the two men and filing relief petitions in the cases in which their testimony may have had an impact on a guilty verdict. So far, the office of Mississippi Attorney General Jim Hood has opposed Carrington's office in court in every one of these cases.
Innocence Project attorney Will McIntosh first heard about Mabry in January 2011, from Powell, who had since retired and was working in private practice as a defense attorney. McIntosh contacted the Humphreys County Clerk's Office, which faxed him a copy of the docket -- a list of the Mabry case's procedural history.
That wasn't much to go on. Because the Mississippi Innocence Project's small team was busy at the time with other cases and the broader investigation into Hayne and West, they didn't immediately follow up.
But the following August, at the Lowndes County courtroom in Columbus, Miss., Powell was again chatting about Hayne and West and the latest in the Stubbs case, this time with Andre de Gruy, who heads up Mississippi's Office of Capital Defense Counsel. In that conversation, Powell again casually mentioned the Mabry case. A few days later, de Grey mentioned Powell's comments in passing during a conversation with Carrington.
West had testified in numerous other cases over the years -- including the Stubbs case -- that his method of bite-mark analysis had never been wrong. Yet it had clearly been wrong in the Mabry investigation, in which West had pointed the finger at an innocent man, James Earl Gates. To Carrington, the Mabry case was possibly another opportunity to show that West had knowingly lied on the witness stand.
"I think that's when we really put two and two together," Carrington says. "We realized that not only had West again identified the wrong person, but that this case was still open, and that if there had been primitive DNA testing to clear Gates, there was at least some chance that the biological evidence was still around, and could be retested with more modern technology."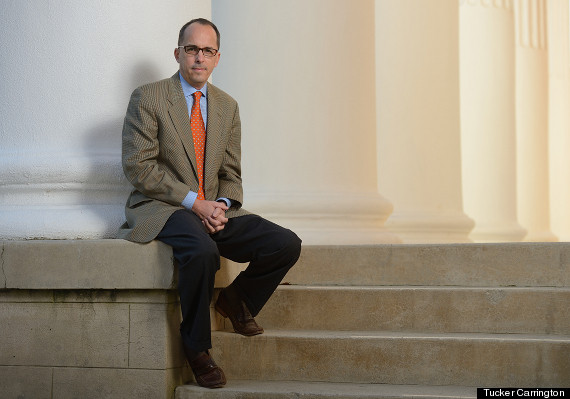 Tucker Carrington
Carrington first spoke with Powell, who couldn't remember the name of the victim. He reached out to the office of the new district attorney, Akellie Oliver, but never heard back. He finally reached out to Ken Winter, the executive director of the Mississippi Association of Chiefs of Police, and then to Sam Howell, director of the Mississippi State Crime Lab.
Howell said there wasn't much he could do without the victim's name and the number the crime lab had assigned to the case. McIntosh went back to the Humphreys County clerk. This time he spoke with Deputy Clerk Sharon Neal, who remembered the case well and said she'd do her best to find the complete file.
"She found it upstairs, in a nasty courthouse attic in a dusty file cabinet with junk all around it," McIntosh writes via email. That file contained enough information to allow Howell to find the case at the crime lab. To everyone's surprise, the biological evidence was still stored at the lab.
"That was remarkable," Carrington says. "The evidence usually gets sent back to the prosecutor or the police department [where DNA evidence isn't necessarily well preserved], especially in a case that hasn't been closed. For whatever reason, in this case no one asked for it back, so it stayed at the lab."
Howell created a DNA profile of the fingernail scrapings and uploaded it to CODIS, the FBI's DNA database. The program spit back a match. Mabry had been raped and murdered by 37-year-old Michael Johnson, a former resident of Belzoni. There would be no manhunt to track down Johnson, who was already in prison. Five years after he killed Mabry, he beat a man to death with a hammer in Rankin County, Miss.
Ken Winter says he's never seen anything quite like the Mabry case. "You don't normally see defense attorneys go out of their way to solve a murder like that. I was just tickled to death when I heard that they got him. It speaks to the integrity of Tucker and that office."
When Roseman learned the results of the Innocence Project's investigation, the first thing he did was call up Judy Mae Wilson. Just the day before, she had put flowers on her daughter's grave.
"Thank you, Jesus," she said.
After hanging up with Wilson, Roseman says he quietly closed the door to his office. At this point in our interview, he stopped talking for a moment, and looked away.
"I just sat at my desk and cried," he says.
'A LOT OF THINGS JUST SLIP THROUGH THE CRACKS'
Roseman says there's little doubt in his mind that if West hadn't effectively ended the investigation he'd have found Michael Johnson.
"We knew she had been dropped off with Johnson to get some dope from him about a week before the murder," Roseman says. "There were some kids we talked to who we think saw Kathy's killer leave the house. They weren't volunteering anything then, but they were scared. Everybody was scared to talk about anything back then, because the crime was so brutal. If a witness is scared, they'll confirm something you already know, but they won't always give that to you on their own. We were going to go back and talk to the witnesses after we learned Kathy had met with Johnson. But West ended the investigation after just a few days. We never got the chance to get that far."
Roseman says that after the charges against Gates were dropped, he continued to investigate the case as best he could, when he could. But after nearly a year, some witnesses were no longer in the area. Many of them were drug addicts. And the ability to identify someone from sight degrades quickly over time. The conventional wisdom, law enforcement officials say, is that the odds of solving a murder are cut in half after 48 hours. A year after putting the investigation on ice due to the mistaken belief that the killer was sitting in a jail cell, the outlook for closing the case seemed dim.
But the biological evidence taken from Mabry was always available. As chief of police -- and then later as sheriff -- Roseman could have ordered the more advanced DNA testing himself, really any time after it had been developed in the early 2000s. In talking to him, it becomes clear that he didn't really understand that more advanced testing was even possible.
"In some of the poorer, more rural counties in Mississippi, your sheriff or chief of police just doesn't have the resources to keep up with the latest technology," says Ken Winter. "They depend on the crime lab, on prosecutors, on state officials to know what's going on. I don't think there's any doubt Sheriff Roseman wanted to solve this murder."
But Winter says a switch in the DA's office, a backlog in the crime lab, and of course, the mess with Hayne and West all worked against solving the case. "I think a lot of things just slip through the cracks."
But of course the DA's office and the attorney general had the resources. So why didn't they take up Mabry's case again?
"I think it's just the old story about the squeaky wheel getting the grease," says Oliver Diaz Jr., a former associate justice on the Mississippi Supreme Court. "If you have a powerful family, an influential family pushing the DA, then the case will get some attention. But if there's no one to champion the cause, the case gets buried under other priorities. It's unfortunate, and I don't think it's a problem that's limited to Mississippi. It's just the way things are."
In fact, the way forensics are handled in the courtroom has become a persistent problem across the country, not just in Mississippi. Forensic scandals have been erupting at crime labs nationwide over the last decade. Most recently, there was a scandal at the state drug lab in Massachusetts that could affect thousands of convictions; another drug lab scandal in Nassau County, N.Y., that could also hit thousands of cases; and misconduct at the state crime labs in Connecticut and North Carolina that have led to reviews of hundreds of cases, including murder convictions. Currently, there's an ongoing controversy involving the FBI's crime lab, in which analysts were found to have vastly overstated the significance of hair and fiber analysis while testifying in court. That too has spurred a review of thousands of cases going back more than a decade. The FBI lab had been considered one of the most elite crime labs in the world.
The one difference in Mississippi has been the obstinacy of state officials to acknowledge the problem. Whereas other states have addressed forensic scandals with task forces and commissions charged with determining the extent of the problems and, as much as it's possible, undoing some of the damage, the response thus far in Mississippi has largely been to pretend the problem doesn't exist. Steven Hayne
Hayne and his defenders have claimed he has been performing a public service all these years, working long hours, often seven days per week to help with the state's continual backup of autopsies, due to a lack of other qualified medical examiners. But there's good evidence that this was all by design. One medical examiner, who now works for another state medical examiner's office, told me in 2007 that when he tried to bid for autopsy contracts in Mississippi in the 1990s, he was told by a county coroner that he'd first need to get permission from Hayne. But Hayne held no official state position at the time.
When Emily Ward, Mississippi's previous state medical examiner, began to question Hayne's practices and credentials in 1993, West circulated a petition among the state's coroners and prosecutors demanding Ward's resignation. It worked. Ward, who was board-certified and well-respected among her peers, was forced out of office. Her predecessor Lloyd White also encountered pushback for attempting to oversee Hayne. After Ward, the state didn't hire another official medical examiner for 15 years -- essentially giving Hayne and West free rein.
In a recent New York Times article on Hayne, former prosecutor and judge John T. Kitchens said, "from a prosecutor's standpoint I don't know anybody who didn't like him. He was always so helpful and useful to law enforcement."
Leroy Riddick, a former state medical examiner for Alabama said in 2007, "All of the prosecutors in Mississippi know that if you want to be sure you get the autopsy results you want, you take the body to Dr. Hayne." Critics say that this is precisely the problem. Medical examiners should be impartial expert witnesses, not part of the prosecution's "team."
Carrington says Mabry's case shows exactly why the state needs to conduct a thorough, soup-to-nuts investigation of Hayne and West. "I can't think of a single case in which West has testified where we didn't find a problem." He adds that in cases where West has testified in court there is usually a record, so his name will at least turn up in legal searches. But in cases like Mabry's -- and likely many others -- there's no such record.
"It was just fortuitous that we found this case," Carrington says. Gates' attorney fought the murder charge, but Carrington says the case easily could have gone another way. "Gates' attorney could well have told him, 'Look, they've got you dead to rights. Plead guilty and maybe they'll go easy on you," he says. "Innocent people can often find themselves in that predicament. If he had pleaded guilty, there'd be no record of West's role in the conviction. How many other cases like this are out there?"
Winter, of the association of police chiefs, agrees. "I've been telling Jim Hood for years that this calls for that kind of investigation into Steven Hayne and Michael West," he says. "At the very least, we need a bona-fide cold case unit that looks for cases like this. And it needs to be done by people with some integrity, people who are willing to look for open murders, but who will also look for cases where an innocent person may have been convicted."
The main reason that hasn't happened is likely because the people with the power to call for such an investigation may have a lot to lose. "The fact is, most of the prosecutors in Mississippi have used Hayne at one point or another, and many of them have also used West," Winter says.
And most of the judges in Mississippi are former prosecutors. The officials with the most authority to acknowledge and address the problem are those who stand to fall hardest should it be fully exposed. Hood, the attorney general, is a former prosecutor who used Hayne in his cases.
The problem extends even to some of the state's defense attorneys. The public defender in Mississippi is usually a part-time position. Many public defenders in the state, then, make their living in private practice. Many of them specialize in wrongful death and medical malpractice cases. Those cases may require autopsies. And for many years, in most of the state, Hayne was the only game in town.
Certainly, many public defenders in the state did and do their jobs well. But the incentive at work is perverse and unmistakable -- aggressively attack Hayne's credibility in your low-paying criminal cases, and you could be putting your livelihood at risk.
Diaz has thus far been one of a few state officials to speak up. While on the Mississippi Supreme Court, he wrote a scathing concurring opinion in the Tyler Edmonds case, arguing that Hayne should be barred from testifying in the future. In fact, the court had originally voted to uphold Edmonds' two-hands-on-the-gun conviction until Diaz's dissent convinced several justices to change their minds. He has been calling for a thorough investigation of Hayne, West, and how the state has dealt with expert testimony every since.
"It's well past time someone put together a task force to look at this," he says during an interview.
One other Mississippi official who took action was Steve Simpson, the state's former commissioner of public safety. In 2008 Simpson effectively fired Hayne from performing any more autopsies in the state. Simpson, however, was a former judge and prosecutor from the Gulf Coast, one of the few areas of the state that didn't use Hayne.
"I'm sure Commissioner Simpson's motives were pure," Winter says. "But it's worth noting that he had nothing to lose in going after Hayne."
If such an investigation does ever happen, it seems unlikely that Hayne and West will suffer much in the way of repercussions. Giving unscientific testimony isn't a crime. A prosecutor would need to show that the men willfully gave false testimony, which is difficult to prove. Both men are currently the targets of lawsuits by Kennedy Brewer and Levon Brooks. So far, similar suits have been unsuccessful, although none of the prior suits involved a DNA exoneration.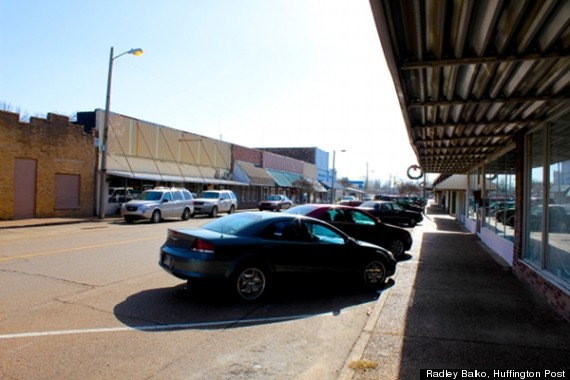 Belzoni, Mississippi
Currently, Hood is not only seeking to retry Leigh Stubbs, he's defending three death penalty convictions won on questionable forensic evidence, two involving Hayne (Jeffrey Havard and Devin Bennett), and the other involving both Hayne and West (Eddie Lee Howard).
"It's just unconscionable," Carrington says. "The state cheated by using West. And even in the unlikely event that they actually believed him at trial in these cases, there's no question they're knowingly cheating by continuing to defend those convictions."
Meanwhile, well-intentioned public officials like Roseman are left with the task of explaining to people like Judy Mae Wilson why her daughter's killer remained free because Roseman and others were duped by Hayne and West.
Wilson sits in her house beneath a big wall covered with photos of her children, grandchildren, and great-grandchildren. She has taken down most of the pictures of Mabry. She'll never forget her daughter, of course, but she also doesn't need the constant reminder. There are just two still hanging, and Mabry's image in each is small enough that she has to pull them down from the wall to point out what her daughter looked like.
"It had been so long, I just thought they were going to wait until everyone stopped talking about it, thinking we'd forget," she says of the investigation. "They made a mistake. Seemed like they were just planning to sweep it under the rug."
James Earl Gates died a few years ago. He dropped dead of a heart attack while working on his car. His death was yet another unexpected jolt -- one of many unpleasant reminders about the murder that have blindsided Wilson over the years. In the coming months she'll get more reminders once Michael Johnson is charged and, if he doesn't plead guilty, as he's tried. She says she'll attend the trial, and if he's convicted, she'll attend the sentencing. She says that maybe once all of that is over she can start thinking about closure, finally safe in the knowledge that there won't be any more unpleasant surprises.
"I'm glad they found out who did it," she says. "But I'm tired."
CORRECTION: The original version of this story misidentified Kathy Mabry's mother as Julie Mae Wilson. She is Judy Mae Wilson.

This story appears in Issue 34 of our weekly iPad magazine, Huffington, in the iTunes App store, available Friday, Feb. 1.

Popular in the Community