In May, Aimee Copeland, a 24-year-old graduate student at the University of West Georgia, went zip-lining with friends on a sunny day. But when the homemade line snapped near the Little Tallapoosa River, Copeland sustained a deep cut.
Tuesday -- four months after the zipline fall -- she walked across the stage of Katie Couric's talk show, "Katie."
How'd it feel? "Really awesome," Copeland -- who made the trip unassisted, using a new walker and the one prosthetic leg she has so far -- told Couric.
The journey across the stage, which brought many in the audience to tears, is symbolic of the greater one: making remarkable progress through stays in the hospital, rehab and time at home.
While in the hospital, Copeland had both hands, her left leg and her right foot amputated, and five of her major organs failed. She spent part of the time on life support, and only began breathing on her own again on May 20.
"I love the night and day comparison when referring to Aimee's progress," her father, Andy Copeland, wrote in his blog at the end of June. "Nighttime is full of uncertainty and often evokes fear ... I am happy to report that as of this past Friday, the sun has once again begun its ascent."
During Couric's interview, which also included Copeland's father, mother and sister (and a surprise car, which will be customized for her to drive, from an Atlanta dealer), Aimee Copeland explained how she knew this wasn't just an ordinary cut. "I'd never heard of necrotizing fasciitis, and yet my body sensed that something wasn't right," she said. As she became sicker, she couldn't walk or speak, but she remembers being able to say, "I think I'm dying."
Later in the hospital, her dad held up her blackened fingers and blood-red hands to help explain why she'd need an amputation. "I said, 'Let's do this,'" she recalled.
When Couric asked if at any point she wanted to give up, Copeland said, firmly, no. "I love life. It's a beautiful thing."
Now the focus is on recovery, as she relearns everyday tasks (including sending text messages with her nose) and works on strengthening her body (like doing 300 crunches in seven minutes) so she can use a walker and move on her own. She recounts standing for the first time in front of her boyfriend, Ben, who responded, "I've missed you up here."
Copeland is also experiencing the sensation of phantom limbs, a post-amputation phenomenon of feeling the removed body parts, she told The Huffington Post in an interview after the taping. "I feel like I still have hands," she said, explaining that they feel like they're stuck in half-closed fists. And sometimes when she sits, it's as if she's sitting on her left foot -- something she said other amputees told her could last for years. "I've just learned not to move my phantom foot," she said with an easy laugh.
And that positive attitude (the music lover mouthed along and danced to Bob Marley's "This Is Love" during one commercial break) has always been a part of Copeland, her parents told HuffPost.
"She's absolutely the same. In many of the good ways and the bad," her father joked.
And one way she's always excelled, he said, is in setting goals, which he thinks will set her up for continued progress. "It's going to be staggering," he said, "what she accomplishes in the next five to six years."
The next goal? After taking September off, she plans to continue working toward her master's, focusing on wilderness therapy. She told HuffPost she hopes to eventually camp and kayak again.
But while some of those activities will surely require adaptive technology, she told Couric that she hopes to learn how to do most daily tasks with what she calls her "nubs," or residual limbs. "If you don't need to adapt, then why adapt?" she said, adding later in the show: "Instead of saying I'm disabled, I say I have a different set of abilities."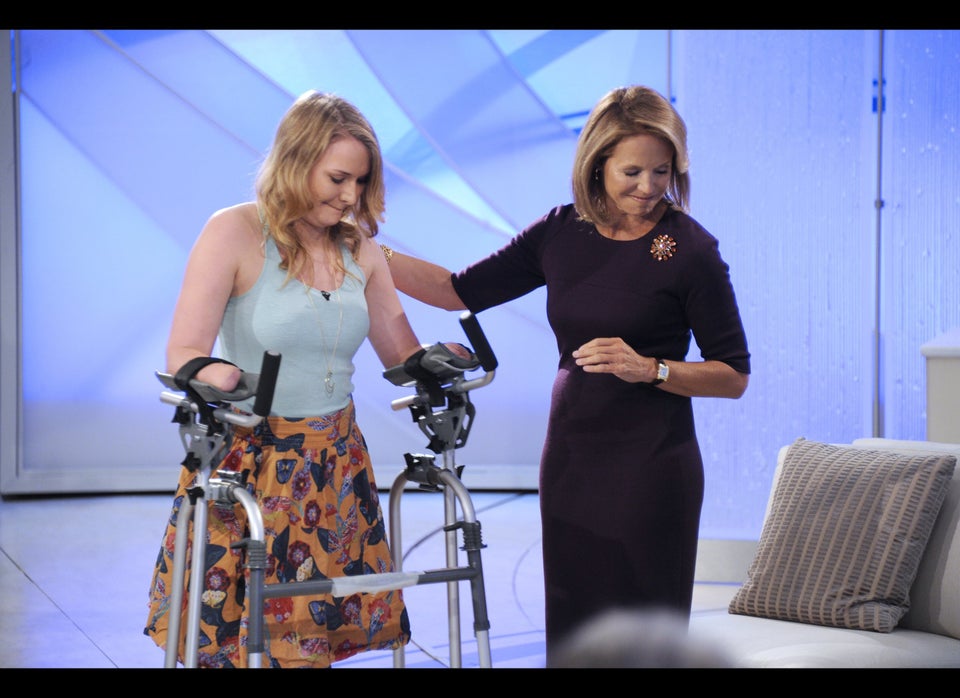 Aimee Copeland On 'Katie'
Related