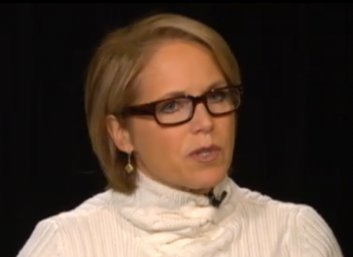 CBS has asked Katie Couric to remain as the anchor of the "CBS Evening News" through the 2012 elections, The Daily Beast's Howard Kurtz reports.
Kurtz says that negotiations haven't started yet, but that CBS chief Leslie Moonves has made the first move by letting Couric know he wants her to stay on.
The proposed contract would end after the 2012 elections are over--a much shorter contract than Couric's current deal, which has been in place since she came to CBS in 2006. It would also come at a much lower price; all sides agree that Couric's current $15 million annual salary will not be renewed.
Kurts writes that Couric will test the waters in the coming months while she continues to talk with CBS. One interesting wrinkle he brings up is the newly appointed chairman of CBS News, Jeff Fager:
Fager, who was named chairman of CBS News on Tuesday, does not have as strong a relationship as Moonves does with Couric, who does occasional pieces for 60 Minutes. Network insiders say Fager would not have accepted the job unless he had been assured that he would have a major role in the upcoming decision. And unlike McManus, he would not be as invested in Couric's continued tenure.
Fager, who will assume his new duties on Feb. 22, dodged the Couric question in an interview with Broadcasting and Cable on Tuesday. Asked if she wanted to stay at CBS, he said, "I don't know whether she does. It's a good question. It's high on the list of things to do to spend some time with Katie to find out what she wants to do and what she sees is best for her and what's best for CBS News."
Related
Popular in the Community