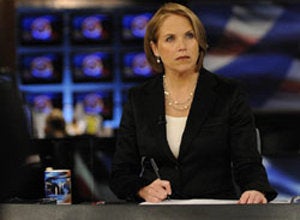 After two years of record-low ratings, both CBS News executives and people close to Katie Couric say that the "CBS Evening News" anchor is likely to leave the network well before her contract expires in 2011 -- possibly soon after the presidential inauguration early next year.

Ms. Couric isn't even halfway through her five-year contract with CBS, which began in June 2006 and pays an annual salary of around $15 million. But CBS executives are under pressure to cut costs and improve ratings for the broadcast, which trails rival newscasts on ABC and NBC by wide margins.

Her departure would cap a difficult episode for CBS, which brought Ms. Couric to the network with considerable fanfare in a bid to catapult "Evening News" back into first place. Excluding several weeks of her tenure, Ms. Couric never bested the ratings of interim anchor Bob Schieffer, who was named to host the broadcast temporarily after "Evening News" anchor Dan Rather left the newscast in the wake of a discredited report on George W. Bush's National Guard service.
CBS News shot down a report Wednesday that implied that anchor Katie Couric was preparing to leave the network and her post on its flagship evening newscast as soon as next January, saying no such decision had been made.

"We are very proud of the 'CBS Evening News,' particularly our political coverage, and we have no plans for any changes regarding Katie or the broadcast," a spokeswoman said in a statement.
One possible new job for the Ms. Couric: succeeding Larry King at CNN. Mr. King, who is 74 years old, has a contract with the network into 2009. CNN President Jon Klein, a CBS veteran with close ties to some at the network, has expressed admiration for Ms. Couric's work, and the two are friends. They had lunch in late January, and the anchor attended Mr. Klein's birthday party in March. Time Warner Inc.'s CNN said, "Larry King is a great talent who consistently delivers the highest profile guests, and we have no plans to make a change." Through a publicist, Mr. King declined to comment.
The Philadelphia Inquirer's Gail Shister reported a similar story in April 2007 (in a story that has since disappeared from the Philly.com website but can be accessed through the cached report):
CBS executives deny it, but there's a growing feeling within the network that Katie Couric is an expensive, unfixable mistake.

So unfixable that Couric - the first woman to anchor a network nightly newscast solo - may leave CBS Evening News, probably after the 2008 presidential elections, to assume another role at the network, CBS sources say.

Despite her A-list celebrity, her $15 million salary, and a promotional blitz worthy of a Super Bowl, the former star of NBC's Today has failed to move the Nielsen needle on No. 3 Evening News since her debut seven months ago.

In a bottom-line business like television, that's a cardinal sin. Already-low morale in the news division is dropping, says a veteran correspondent there.

"It's a disaster. Everybody knows it's not working. CBS may not cut her loose, but I guarantee you, somebody's thinking about it. We're all hunkered down, waiting for the other shoe to drop."

Seven correspondents, producers and executives at CBS and other networks interviewed for this story spoke on condition of anonymity, given the sensitive nature of the Couric situation.
April 22, 2007
Related
Popular in the Community