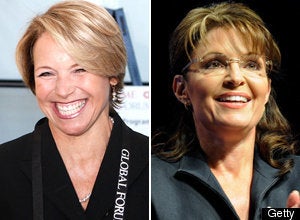 Katie Couric has fallen victim to leaked footage again.
This time, Couric is seen rehearsing for the "CBS Evening News" during the 2008 Republican National Convention and mocking the names of Sarah Palin's children.
"Where the hell do they get these names?" Couric says after mentioning Palin's youngest son, Trig, and her oldest, Track.
Couric also jokes about the pronunciation of Wasilla, Palin's Alaskan hometown.
WATCH:
This video was taped several weeks before Palin's notorious interview with Couric, during which the Vice Presidential candidate struggled to name a single publication she read regularly. That interview set off something of a feud between the two high-profile women, with Palin saying she was annoyed by Couric's questions and telling Couric she's "not the center of everybody's universe." Palin would later say she thought Couric was "exploiting" her, and add that she would love to interview Couric to see what she has learned about Alaska since their infamous encounter. Couric has since won several awards for her interview with Palin.
Popular in the Community