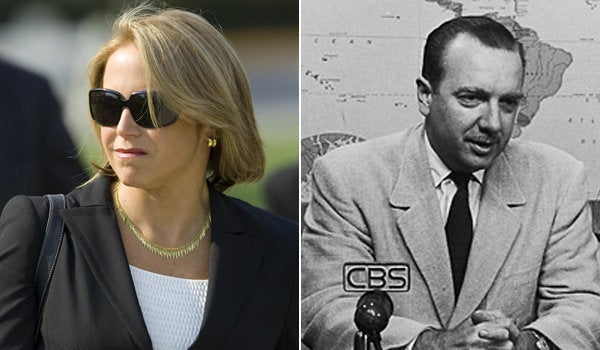 A polished, multi-millionaire, American woman in a gray pants suit, subtle makeup that highlights her blue eyes, and a winning smile is not an unusual sight in the executive lounge on the 17th floor of Tel Aviv's Hilton Hotel. But this particular woman is none other than Katie Couric, who is referred to as "the biggest fish in the American television news pond."
Just like Winfrey is simply "Oprah," Americans young and old just call her "Katie." And there is only one Katie. She spent 15 glamorous years as the host of "The Today Show," the NBC network's morning news program, where she achieved unprecedented ratings records. Viewers accompanied her during her time there through all her joys and sorrows, including parting from her husband and the father of her two daughters, who died at the age of 42 of intestinal cancer, and from her sister, the senator, who was struck down by pancreatic cancer. Katie became "part of the furniture in every American home," as she describes herself, before breaking out in her famous guttural laugh. ...
In Tel Aviv yesterday, she offered the following informative monologue: "I have no doubt in my heart that I made the right move, accepting the CBS offer. I would have regretted it otherwise. It's true that the pressure was immense and the expectations almost impossible. One person cannot perform such miracles and transform a whole network on his own.
"It's also true I'm not doing today exactly what I've been brought to do, and that my chance to express myself is fairly limited in the 22-minutes format, but I still enjoy my work, I think it's important and fascinating, and do believe we can make a change with time, bit by bit.
"Unfortunately I have found out that many viewers are afraid of change. The glory days of TV news are over, and the media landscape has been dramatically changed. News is available now for everyone, everywhere, all the time, and everybody fights for the last pieces of the shrinking pie. The corporate pressure and the ratings terror are intensifying all the time, and the situation is not simple. I find myself in the last bastion of male dominance, and realizing what Hillary Clinton might have realized not long ago: that sexism in the American society is more common than racism, and certainly more acceptable or forgivable. In any case, I think my post and Hillary's race are important steps in the right direction."
REAL LIFE. REAL NEWS. REAL VOICES.
Help us tell more of the stories that matter from voices that too often remain unheard.