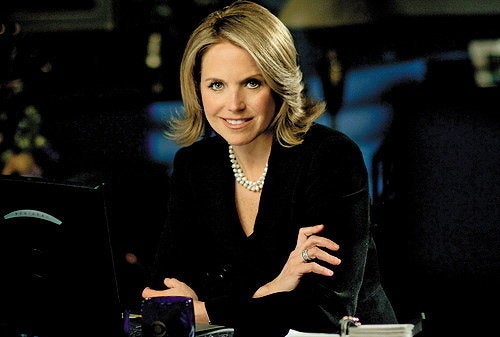 Frustrated by the program's performance, Couric discussed the possibility of leaving her post several months ago with CBS Corp. Chief Executive Leslie Moonves and CBS News President Sean McManus, according to people familiar with the conversations.

In their talks, which centered primarily on ways to bolster the newscast and Couric's profile, the anchor and the executives agreed to table discussion about her future until after the November election, said the people, who stressed that no decisions have been made.

"The reality is, it's not the newscast she came to do, and she's disappointed," said a network source close to Couric. "But she's one of those people who says, 'This isn't what I signed up for, but for right now, I'm in it 190%.' "

After the presidential inauguration next January, Couric may consider leaving if the ratings haven't improved, said the source, but added: "She's in the here and now, and focused on right now."
The discussion took place in New York on Feb. 28 and involved four people: Ms. Couric; her agent, Alan Berger of the Creative Artists Agency; Sean McManus, the president of CBS News; and Leslie Moonves, the chairman of CBS. The meeting took place in Mr. Moonves's office.

The conversation included what one participant said was some "idle talk and musings" about the big question hanging over CBS News: should Ms. Couric leave her position as the news anchor after the presidential election, a development that had long been rumored.

No one involved in the meeting or briefed on its particulars would be identified for attribution because of the delicate nature of the talks. But Ms. Couric discussed several things she might do if she left the anchor post, according to the executives, including a daily talk show to be syndicated by CBS, or replacing Larry King in a prime-time position on CNN. (Ms. Couric was said to have dismissed out of hand the suggestion that she could return to morning television on the network's perennially troubled "Early Show.")...

Another associate said Ms. Couric would hardly have to worry about a new job, no matter what happens at CBS. "She'd have a job in five minutes," the associate said.

But it might not be Larry King's job -- a position that executives who were present at the February meeting in Mr. Moonves's office said she discussed as a possible exit strategy. Ms. Couric is close personally with Mr. King's executive producer, Wendy Walker Whitworth, and Mr. King's latest contract will expire next summer -- seemingly perfect timing for Ms. Couric to step in. But an executive close to Mr. King said CNN would soon extend his contract at the network.
Related
Popular in the Community