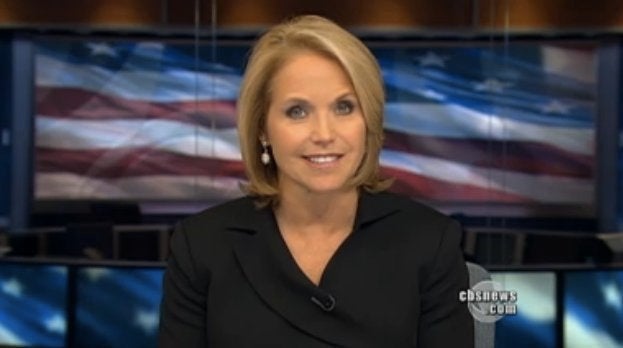 Katie Couric ended her nearly five-year tenure as the anchor of the "CBS Evening News" on Thursday. Couric looked back at some of her biggest moments during her historic run as the first solo woman anchor of a network newscast.
The greatest hits included her iconic interviews with Sarah Palin, as well as sit-downs with a long list of presidents, celebrities and boldfaced names and reports from around the world, with events leading right up to the killing of Osama bin Laden and the royal wedding.
Couric kept things simple in her sign-off. She called it an "extraordinary privilege" to anchor the newscast, and said, "thank you so much for coming along with me on this incredible journey."
Coincidentally, Couric's final show opened with a preview of a "60 Minutes" report by the man who will replace her, Scott Pelley. That fact was not mentioned during the report--and the fact that this was Couric's last broadcast was not mentioned by her or any of the correspondents she spoke to until the last minutes of the show.
Couric came to CBS in 2006, with a mandate to shake up the evening news format and bring some star power--and higher ratings--to the network. Her show was critically acclaimed, and won many awards. Her interviews with Sarah Palin in the run-up to the 2008 election became television landmarks. But the audience she sought never followed her to CBS, and the show remained in third place throughout her tenure. Both Couric and CBS have given every indication that they are eager to move on.
With Couric's departure, one of the most prolonged and winding television exits in recent memory comes to an end. Her decision to leave CBS News was trailed by months of reports and leaks, and by the time she officially announced that she was leaving, she admitted that it was "the worst-kept secret" in the news world.
Couric will now head into the syndication market. She has acknowledged that she wants to start a syndicated talk show; the latest rumor is that she will strike a deal with ABC that will give her not only a syndicated show but also a platform on all of ABC's news programs.
Calling all HuffPost superfans!
Sign up for membership to become a founding member and help shape HuffPost's next chapter