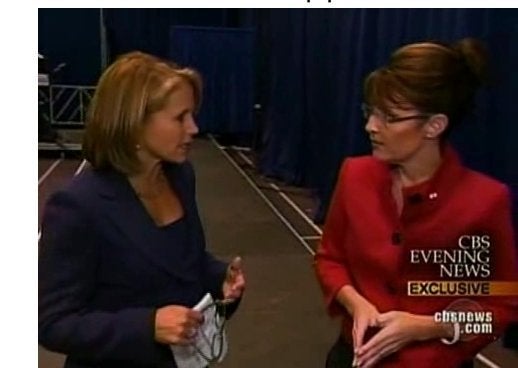 Katie Couric has won a Cronkite Award for her revealing, multi-part interview of Republican Vice Presidential candidate Sarah Palin.
The Cronkite Awards have been presented biannually by the USC Annenberg School for Communication, in honor of CBS News legend Walter Cronkite, since 2000.
Couric won her award in the category "Special Achievement for National Impact on the 2008 Campaign." In the awards announcement, judges called Couric's interview with Palin a "defining moment in the 2008 presidential campaign," and described it as "extraordinary, persistent and detailed."
The interview — in which Palin spoke about Alaska's proximity to Russia and was unable to name a single national publication that she read — was an instant classic, and would be parodied on "Saturday Night Live," with Tina Fey playing Palin against Amy Poehler's Couric.
ABC News' "This Week with George Stephanopoulos" also won a Cronkite Award, for its "On the Trail" series.
"Judges praised the incisive and compelling nature of the reports, as well as [Stephanopoulous'] thorough preparation," the announcement said.
Watch Couric's full award-winning interview with Palin below:
Popular in the Community