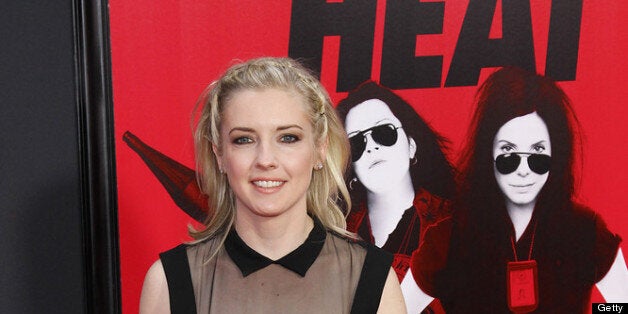 "I loved 'Bridesmaids,' but I thought he wouldn't want to do another big female comedy," Dippold told HuffPost Entertainment at New York's Ritz Carlton Hotel on a recent Sunday. "But that's all he wanted to do."
Indeed it was. Feig signed on to direct "The Heat" and brought with him two high profile actresses: Sandra Bullock and his "Bridesmaids" breakout star, Melissa McCarthy. The film, out June 28, focuses on the pair's unlikely relationship as two law enforcement officers trying to bring down a drug ring.
"I feel good about it," Dippold, who worked on "Parks and Recreation" for three seasons, said. Which doesn't mean she's without nerves as her first screenplay heads to theaters: "You know, I don't know if I should be saying this, but I grind my teeth when I sleep and I realized my jaw has been in excruciating pain over the last couple of days."
Despite that hindrance, Dippold spoke to HuffPost Entertainment about her "Parks and Rec" beginnings, how a head injury helped with "The Heat," and what she's thinking about for a possible sequel.
You wrote one of the best "Parks and Recreation" episodes: Andy and April's wedding. What went into that? I get credit for that because my name is on it, but it's such a collaboration. The idea of them getting married was Mike Schur, but we all brainstormed it together. It's a huge process. When I first started on "Parks and Rec," I came from sketch comedy and didn't know anything about story arcs and character arcs. So when they would talk about that stuff, I would be like, "Oh, no, I don't know what to say here." But I feel like I learned in the best possible way. Mike and Greg Daniels wanted me to learn. It was really nice. It took a long time but I remember when I started debating people about the show and got really passionate, I felt, "That's great; I learned something."
Was it easier to write this script on your own? Yes and no. In some ways, it was fun to just do spin out whatever I wanted to do. But then I also missed having this room of the funniest writers I know to be like, "What would you do here?" I almost wish I could dial in and be like, "What should I do?"
"The Heat" contains a lot of action, which may surprise people. What movies did you watch as research for this script? I've seen "Lethal Weapon" now about 2,000 times. "Running Scared" and "48 Hours" were big ones for me. The action stuff is really hard, especially because it just wasn't my strong suit. When I see a movie that has an amazing action sequence or some really thoughtful idea of how to do it, I'm so impressed. I never realized how hard it was. Like, "The Dark Knight Rises" -- now when I watch those movies, I'm like "Holy shit."
Did you learn anything from watching those movies? I hope I learned something. Well, it's a daydream thing. When I was a kid, I would daydream all the time. I had several bad concussions, which may have caused this.
Oh, no. The first one was on a swing. I was on my stomach and I was pretending to be Supergirl. This was last year. No, this was when I was in second grade. This was before schools got really safe. Now there would be sand or grass, but this was cement. I flew off the swing and cracked my head. I was in the hospital for two nights. Everything was blurry. It was truly terrible. On my report cards after that, they would say I daydreamed too much. So there wasn't anything from those movies that I could take, but seeing how they did action scenes and then daydreaming about something fun that could happen was helpful.
Who did you have in mind while writing the script? Bruce Willis. [Laughs.] No, I tried not to get my heart set on someone in particular too much, but I was really hopeful it would be two funny women and not, like, two hot women who are not funny. I remember when I first met with the producers, they were like, "You know, Sandy and Melissa are looking to do a movie together. What do you think about that?" I was like, "Sandy? Sandy Bullock? Sure. Let's get Sandy on the phone. That sounds great." So that was very exciting.
How did you find the whole pitching process in this post-"Bridesmaids" world? I got very lucky. Because it all happened so fast, I got to skip a lot of that thing. I think because of "Bridesmaids," this process has been a lot easier. I have no idea what would have happened without "Bridesmaids." That, also, is such a weird thing for me. I remember before "Bridesmaids" came out, if you had an idea for a female comedy, the general talk was, "We should wait to see how 'Bridesmaids' does." Which is crazy to think that so much banked on that movie. As if, "Bridesmaids" had bombed, people would be like, "Well, we tried. That's it! It's over! Maybe in another hundred years, we'll give it a shot."
Are you worried that if "The Heat" fails, studios will be reluctant to make other female-led comedies? I hope not. I know that could be how a lot of people think, but I would just disagree with it. I feel like everyone knows that there are so many strong female comedians right now who could star in any movie and be amazing. So, I would hate for people to think that [studios would be reluctant to make more female comedies]. But I live in terror every day of my life anyway. This is just a whole other level.
You've got two other scripts that Paul will produce: a mother-daughter adventure and a possible sequel for "The Heat." I have full treatments for both of them. I've been working both at the same time, because we still don't know what will happen with "The Heat." If the movie is not a big hit, then there won't be a sequel. So I'm going back and forth between the two.
What are you planning for the sequel? I really like the idea we have for the sequel. I'm really excited about it. I can't say what it is. I wish I could. I really wish I could, but I can't: I would be immediately fired and murdered. But I really think it could be so fun. So I'm hopeful that we get to do it.
This interview has been edited and condensed.
Calling all HuffPost superfans!
Sign up for membership to become a founding member and help shape HuffPost's next chapter
BEFORE YOU GO
PHOTO GALLERY
'The Heat' With Sandra Bullock & Melissa McCarthy