In a world that's full of celebrity stylists and fashion designers, Jeanne Yang is the real deal. She combines an infallible barometer for what's new with what's stylish. She knows intrinsically what makes people feel and look good -- Yang has styled covers for GQ, Vogue, Vanity Fair and Rolling Stone and worked with everyone from George Clooney, Brad Pitt and Robert Downey Jr. to Tom Cruise and Katie Holmes. In fact, in 2008, Jeanne Yang and Katie Holmes combined their considerable forces to launch their own fashion collection, Holmes & Yang. Here, Yang's aesthetic is unmistakable: ultra chic style, understated, tailored yet louche. So it comes as no surprise that Yang's sources of inspiration -from the ballet to vintage polaroids - are as varied as her resume.
Nandini D'Souza, a regular contributor to The Inside Source, eBay's online style magazine, recently talked fashion trends, inspiration and dished styling tips with the stylist-slash-designer. The following is an excerpt of that story. To read the full article and more interviews with fashion insiders, visit The Inside Source.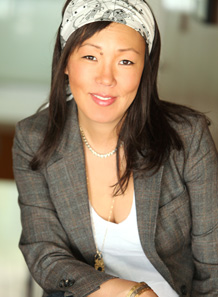 The Inside Source: What are some of your favorite fall 2010 fashion trends?
Jeanne Yang: I am really enjoying seeing nude and camel shades along with lace. Lace, when worn with a tougher piece, like leather or jeans, can be so great looking on everyone and can hide a lot of body issues. Long lace sleeves can cover not-so-Madonna-like-looking upper arms and can hide body bumps.... I love camel because it matches with black, navy, any color. Nude is always great, especially with shoes because it elongates the leg.

The Inside Source: One of fall's biggest fashion trends was feathers and other fluff. Any tips for working in this style trend if it's something new for you?
Jeanne Yang: When wearing feathers and fluff, use caution and moderation. An accent of feather on a dress negates the need for too much jewelry or make-up. You want to look polished and hip and not like a plucked chicken.

The Inside Source: And who are your personal favorite fashion designers?
Jeanne Yang: My favorite designers are Lanvin's Alber Elbaz, Azzadine Alaia , Isabel Marant and many others.
The Inside Source: Do you use eBay as an inspiration or research?
Jeanne Yang: eBay is a fantastic resource to research silhouettes. eBay is like a fashion library, from the patterns to vintage dresses and sketches. If I fall in love with a specific era's skirts, I can look up these pieces on eBay and even get a pattern to break down the construction of a piece. It continues to be an invaluable reference point each season.
The Inside Source: What was your first eBay purchase?
Jeanne Yang: My first eBay purchase was a vintage dress. It was an old YSL piece that I could not fit into but just wanted to keep to look at how it was made.
To read the rest of the article and get the inside scoop on Yang's favorite eBay searches, click here .
Related