Everyone knows how the internet is growing the customer pool for online businesses, but with that change in access has come a revolution on how to best reach potential customers as start-ups and cardboard businesses spring up quicker than weeds in a Florida garden. While many businesses race to understand how to best utilize social media platforms as the new market centers of online industry, one team is innovating by merging the tried and true method of "sex sells" with the new age of digital and social media.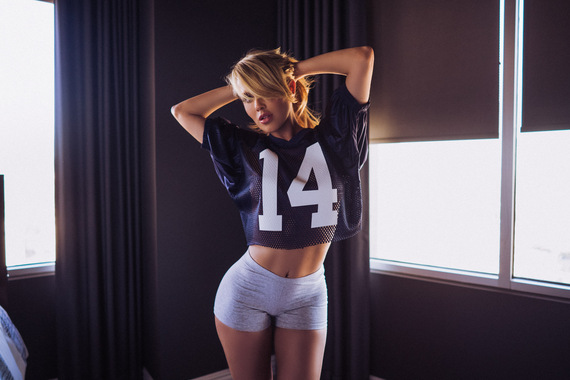 JetBet, a sports betting app, has teamed up with the Queen of Snapchat, Katie May, to carve out a niche for themselves amongst the heavy weight stalwarts of FanDuel and DraftKings. An unlikely pairing, at first glance, this cooperation couldn't make any more sense or seem more natural. Katie May, having already conquered the realm of Snapchat as a model and having accumulated millions of rabid followers, was invited to help make inroads with a similar demographic albeit in an entirely different medium.
Although it is a daunting task, if there is anyone capable of overcoming and seeing the project through to success, it is this once single-while-pregnant mother who refused to accept a life that wasn't on her own terms. Low on money and low on options, she reinvented herself from an out of work Public Relations employee, to the reigning monarch of an entire social media platform, and now sets her sights on a return to the corporate world, royalty returned from exile, with new shores to conquer.
Nicholas Denmon: Let us start at the beginning. What was your childhood like? Did you have many siblings, did you grow up in a wealthy family or did you struggle, growing up in these surroundings when did you realize that you were different and going to take your combination of brains, business savvy, and beauty and do something extraordinary?

Katie May: My childhood was in a very traditional working-American family. I grew up the youngest of four children, my parents were both teachers who worked multiple jobs to support our family. There was a real emphasis in my house on education, primarily the arts and history. We are a bit of an eccentric family I think.We are all very artistic and creative, and being from a small town in Pittsburgh that is definitely not the norm. However, of all of my siblings I felt a desire to be popular and fit in and, so I began cheerleading in the youth program. While still being an artist, I conformed to what the norm was, by my dedication to the sport. Our high school team was the National Champions and I went on to cheer in the Pro Bowl. I always felt that I was extremely different than my classmates. I did not have the same desires. My dreams and wishes for the future always took me far from Pittsburgh. It's an amazing city but I wanted much more.

Nicholas Denmon: Life has a way of presenting obstacles. Every so often there is one challenge that is the one that sticks out as the toughest to overcome. What challenge or series of challenges threatened to derail you, how did you beat it?
Katie May: My life has been an incredible journey thus far with a lot of curve balls and lessons along the way. I would have to say the most valuable would have to be as a single mother. I was just out of college and working in Public Relations for a very well-known and chic fashion house when I met my daughter's father. I was very taken by his presence and extravagant lifestyle and basically dropped everything that I had worked for to be with him. About a year into it I realized it was a nightmare and I had sacrificed everything at this point. I was then a few months pregnant and for me not having the child was not an option. So I left him at five months pregnant and started a life on my own. I started my own boutique lifestyle PR business with a partner, while pregnant, and we did quite well. I managed heartache and this life lesson while scrambling to pay rent and doctor bills. After she was born there were even more challenges as I have no family in L.A. and I was raising a child on my own. We were just barely getting by. I worked hard to have a career that I was proud of and when the economy collapsed, our PR company closed.
I went back out into the workforce and worked my way back up to eventually being a VP of Partnerships for an entertainment company within six months. Having worked for the major fashion house and then on my own for very respected clients with good results, I became a bit of a force to be reckoned with in the business world. I had the most important person in my world, my daughter, to make proud each day and to remind me what I was working towards. Failure was not an option, not putting her in the best school was not an option, not living the lifestyle that I had dreamed of for us was not an option. Then that company was sold and I was unemployed without a penny to my name.
I knew that I no longer wanted to work for someone else in a 9-5 job. I couldn't be without creativity and I had to be true to myself in this next chapter of my life. I was faced with insane overhead and had no idea what I wanted to do with my life. Even worse, I had no time to decide as I had about thirty days left until I was out of money. I couldn't afford a new car lease at this time and I couldn't afford to taxi both ways (home and back) from my daughter's bus stop in the morning. To make it work, I would Uber her the bus stop and then jog home. During my jogs I would listen to mantras or spiritual music and meditate and during this time I decided that I was going to do a photo-shoot. I was going to follow my true desire to be on the other side of the camera, even though I am much older than most of the girls in the industry and really had no experience. Fortunately, that shoot went viral thanks to a feature by Arsenic Magazine. The rest is history.
Nicholas Denmon: That's an amazing story. Hopefully some other people will find that as inspiration to chase their dreams. What do you see as the challenges that face JetBet and how are you and the rest of the team prepared to come out ahead?
Katie May: With JetBet I see the challenges are to find their place among their competitors who are offering bigger winnings. JetBet finds their niche in people who want to play for the fun of the game and competition, not necessarily the monetary side. Also, as JetBet is real-time they need to find a way to fill in the time during the TV timeouts and commercial breaks to keep players engaged.
JetBet is a brand new concept called a second screen experience. While watching a football or soccer game you have your phone or tablet in your hand betting on every single play of the game. Games to date, such as fantasy sports or even traditional sports betting, you spend hours every single day analyzing players, games, teams, etc. to build the best team possible. But with JetBet you're actively engaged and immersed in the game itself while it's being played live. The biggest challenge that I see is how you introduce a brand new concept such as second screen play in a market that's unfamiliar with it. But it's that challenge that really got me interested in JetBet as its cutting edge. It gets the player involved interactively with the game and increases the viewer's happiness while watching the game on television. JetBet is now showing results that prove people watch more sports, and spend more time watching a game on television because they are now a part of it instead of just a viewer.
What really jumped out at me is I'm so focused on engaging with my fans that instantly I realized JetBet has a similar focus. People have been watching sports on television exactly as they did fifty years ago and JetBet is a brand new way for people to engage with their favorite sports on television. Finally there's an evolution happening for sports fan. While we don't view fantasy sports as a competitor, we do think that JetBet compliments fantasy very nicely.
Nicholas Denmon: Being a model and knowing about how sexualized society is, and the pure fact that sex sells, is using sexy ladies, such as yourself, going to be a large component of the JetBet marketing strategy moving forward? Are you and the team there employing more traditional marketing strategies as well, and if so, what are they?
Katie May: Sex definitely sells, there's no question. And sports and sexy women often go hand-in-hand in marketing as we all know. I think that my partnership and promotion with JetBet is interesting though because I am letting my fans see the sexy campaign and billboards while at the same time letting them know that I'm an active and vocal part of the company. I recently did an interview with The Guy Society that showed that I'm not just a model for JetBet but that was how if began and it evolved from there.
I'm showing people you can be intelligent and a model. You can do more than sell protein and tea on social media and you don't have to be a movie star or musician to have influence. I tell the guys at JetBet when something is corny or won't work socially and they tell me when my marketing ideas are too expensive or won't align with their strategy.
There are two sides of JetBet, the first is the direct to consumer model which is JetBet.com and the second is as a platform provider. Operating JetBet.com direct to consumer has allowed us to obtain direct user feedback to ensure the game is great from a user's perspective. However, the real goal is to license the technology to established brands who can offer it to their loyal users.

Nicholas Denmon: You've built an iconic brand for yourself. When you started out on this journey did you ever imagine where you'd be today, partnering with a company as great as JetBet?
Katie May: Honestly Nick, I never thought that my brand would ever become something like this, or that I would be dubbed the "Queen of Snapchat." I was just happy to be taken seriously and there were so many critics from people that knew me from my previous life as a business woman. I have found a way to be both the talent and the business side and I feel really lucky. I feel really lucky to be a partner at JetBet. The social media side was the start of something much bigger than I had envisioned and with JetBet I feel that it's all coming together.

Nicholas Denmon: How did you and the JetBet fellas come together? Who are the key players there? What are their expertise individually? Give us an insight to the driving forces behind the JetBet concept.
Katie May: One of my closest friends, Matt, is a very successful entrepreneur and actively invests in disruptive startups. One day we were having dinner and I asked about some of his newer investments because I always love hearing what he's been up to. Matt started talking about one of his investments, JetBet and I instantly felt his excitement. As we were talking over sushi Matt told me the one question he still had in his head that wasn't answered was how to market a brand new concept like a second screen game. The challenge being that nobody has experienced anything quite like it to date. With my background as a businesswoman. and with a mind for marketing. I started throwing out ideas.
Matt has always valued my opinions and thoughts and our relationship is such that we can totally play devil's advocate, challenge one another's thoughts and in some cases just laugh at each other's ideas as being totally nutty. As we went back and forth on several ideas I realized the best way to launch a brand new concept like JetBet is to leverage new, social based forms of advertising like Snapchat and Instagram. While Instagram is somewhat more of a mature form of social advertising, Snapchat is just starting. Quite frankly I always wondered how valuable Snapchat was so we made a deal to bring me into JetBet as a partner. He also agreed that they would share the results of my marketing efforts so I could best quantify how valuable my Snapchat brand is.
Matt presented me and my ideas to the partners at JetBet and they loved it! The partners are some of the leading names in video games and gambling and after speaking with everyone it was a team that just made sense. Even though we launched late in the football season the conversion rates and player satisfaction ratings have all been incredible and we are actively iterating the software based on the feedback we've received and are creating the best user experience possible.

Nicholas Denmon: You were originally in PR, you mentioned earlier, then left to conquer the world of modeling and now you're back in the corporate world. Which do you prefer?
Katie May: To be honest I prefer them both. Modeling is not as glamorous as one would think, I have learned. It's incredibly competitive. I have learned to love that about the industry as I really take to competition for inspiration. However I was feeling a bit "judged" as being a "model" so being able to grow my business and work with other influencers and brands and negotiate for myself - that really has created a dream job with the marriage of the two sides of the industry.

Nicholas Denmon: You've had a very hands-on role with JetBet, where does your inspiration come from for the marketing strategies and photo-shoots?
Katie May: We have found that Snapchat marketing is much more effective than Instagram marketing. We have also found that an influencer with engaged fans is much more effective than a pretty-face with a lot of followers. The partners at JetBet have really giving me a lot of liberality to test different strategies using social media and they're constantly challenging me to do more, not to mention how much fun it is to work with my close friend. We push each other to do better.

Nicholas Denmon: Partnering with a business must come with its unique challenges. How was the transition from model and Queen of Snapchat to an online betting businesswomen?
Katie May: It honesty feels as natural as breathing for me, I'm really fortunate to be able to use what I know in business and what I've learned in social media marketing over the last year and a half. This partnership could not be more perfect.

Nicholas Denmon: Are people currently betting on JetBet? If so, what is the volume of business they are experiencing now? What was it before they brought you in as key component of their marketing strategy? Do you feel that so far the strategy has been a success?

Katie May: So far the results have been extremely promising, every week we are growing, learning more on how to tweak the product to make it the best possible while we continue to drive customer acquisition.
Nicholas Denmon: What is next for your business empire?
Katie May: I've been thinking about this a lot lately Nick. I am thinking about potentially moving into a bit of travel marketing as that hasn't been expanded on in a "Wild-On" way in a long time and there is definitely a space there in the world of Snapchat. I have also been thinking about a book on my life to help people and inspire people and I want to have a website with exclusive content and an app. Lots of big things to come.
Popular in the Community