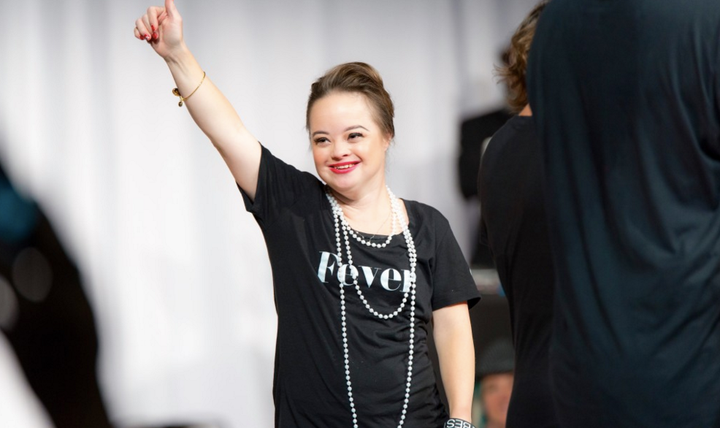 Katie Meade has faced numerous hurdles in her life.
"Being born with Down syndrome can cause many problems, both physical and mental," she wrote in an earlier interview. "Kids would make fun of me. I wasn't always accepted by the 'normal' kids and that hurt."
As a child, Meade battled myriad health problems and had to undergo two open heart surgeries. Later, she overcame bullying in school and became a Special Olympics athlete, competing in several sports including gymnastics and basketball.
"The Beauty & Pin-Ups brand is a celebration of the empowerment of a woman and what it took to be a pin-up in 1935, and carrying that message in a modern sense," Beauty & Pin-Ups CEO Kenny Kahn told People. "So as we were launching this product, in our mind it could have been the next traditional pin-up -- but as soon as we came up with the name 'Fearless.' it was really easy, we were like, 'Well Katie's fearless.'"
"People see me for who I am and they see me not as someone with a disability, but that I have ability," Meade told People. "And I like to try new different things and I inspire women to do that. Beauty belongs to everybody."
"Katie is the most recent model with Down syndrome to make headlines," Sullivan said. "These models are putting Down syndrome in the spotlight and showing the world how capable and beautiful they are while simultaneously demonstrating that people with Down syndrome are competent and useful members of society and can add value to businesses and workplaces."