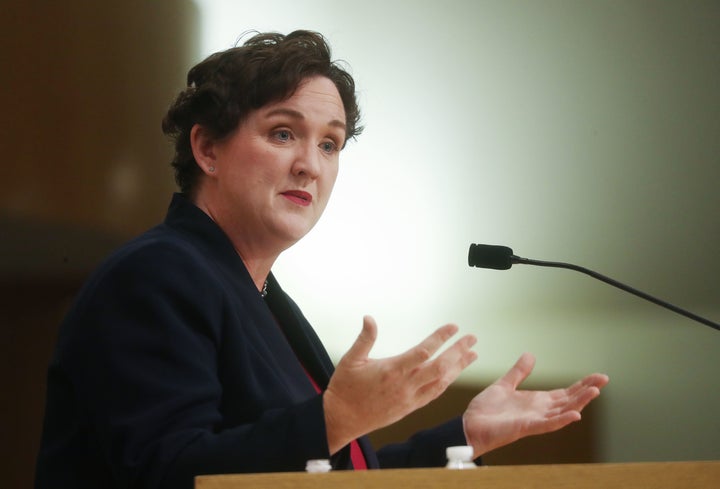 CORRECTION: An earlier version of this story incorrectly reported that Katie Porter had lost her race.
Katie Porter, a consumer law expert and former student of Sen. Elizabeth Warren (D-Mass.), trailed Rep. Mimi Walters (R) as of Wednesday afternoon in California's traditionally Republican Orange County. Walters is up by over 3 percentage points.
The race was competitive because of backlash to President Donald Trump among moderate suburban voters in California's 45th Congressional District ― one of seven Republican-controlled seats in a state that Hillary Clinton won in 2016.
Porter ran as unabashed proponent of Medicare for all, expanded Social Security and tough banking rules, even as she emphasized issues with broad appeal: the damaging effect of Republicans' tax cuts and effort to repeal the Affordable Care Act, tougher gun laws and women's reproductive rights.
Because so many California voters cast their ballots by mail or through absentee voting, it could take days to know the final outcome in the 45th District. But if the results hold, the district's highly educated and affluent residents will have stuck with their fiscally conservative instincts.
Walters, 56, a former investment banker who serves in House Republican leadership, is likely headed to a third term in Congress, while Porter, 44, is likely to return to her post as a law professor at the University of California, Irvine.
Porter, who collaborated with Warren in studying the impact of health care costs on household bankruptcies, was one of just two candidates who Warren endorsed in the Democratic primaries. Warren was also an early backer of former Consumer Financial Protection Bureau Director Richard Cordray's gubernatorial bid in Ohio. (Cordray lost to Republican Mike DeWine, making Tuesday a bittersweet day for the Massachusetts senator as she cruised to re-election in her own state.)
Walters, who was registered to vote in another district as recently as June 2017, is on track to prevail despite weaknesses that made her vulnerable to attacks by Porter. Unlike some other Republicans in vulnerable seats, Walters stuck with Trump on his two major legislative initiatives ― the failed bid to repeal the ACA, as well as the tax cut bill, which became law.
Although California's 45th is an affluent district, the tax law's near-elimination of the state and local tax, or SALT, deduction made it a net tax hike for many of the district's upper-middle-class residents. Porter's support for reinstating the deduction earned her the support of the influential California and National Realtors Associations, which spent heavily on her behalf.
Porter also bucked the California Democratic Party by declaring her intention to vote for a ballot initiative repealing a modest gas tax levied by the Democratic-run state government to fund infrastructure improvements. She argued that Orange County residents had already been hit hard by the federal tax law and that infrastructure funds could be secured through other means.
For their part, Walters and national Republican groups hammered Porter with ads asserting that her support for Medicare for all would require onerous tax increases and disrupt the health care system. They also argued that Porter could not be trusted to break with House Democratic Leader Nancy Pelosi (D-Calif.). Porter would not rule out supporting Pelosi's bid for House Speaker.
REAL LIFE. REAL NEWS. REAL VOICES.
Help us tell more of the stories that matter from voices that too often remain unheard.
BEFORE YOU GO
PHOTO GALLERY
Scenes From Capitol Hill