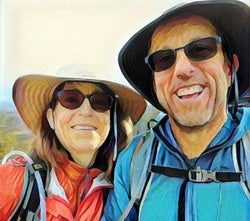 With the Republican leadership meeting behind closed doors last week to consider the future of America's health care system, I want to share a pertinent story. Before the Affordable ​C​are Act (aka Obamacare) ​passed, my wife, Katie, sat with Michelle Obama during the president's speech on health care to ​a joint session of Congress. Three weeks before that, Kate introduced President Obama at the town hall on health care held in our home town. Kate was selected for the town hall because she was once dropped by her health insurance company, something President Obama wanted to highlight that day. But in truth, Kate's story with recurrent cancer includes at least a half dozen of the problems that Obamacare solved.
First let me tell you about Kate. She is an amazing woman. In 1995 we were told that an inoperable tumor resulting from recurrent cancer would kill her within a year. Three years later Kate carried a backpack over 800 miles in a hike along the entire Continental Divide ​as it weaves across Montana. Three months of up and down, of sleeping in a tent, of being thankful just to be alive.

More recently, Kate has had three major surgeries, all associated with the intense radiation treatment she underwent in the mid-1990s. Though these recent events were again difficult, Kate quickly began to refer to each upcoming surgery as resulting "from the radiation treatment that saved my life." Such is Kate's ability to always focus on the positive, on what life offers rather than on what has been taken away. She is an inspiration to all who know her because of this unwavering positive spirit.
It was that spirit of unwavering hope Kate embodies that I also saw reflected in President Obama as he worked to revamp our​ nation's ​health care system. It is not a spirit I feel from the Republican leaders. Instead, sadly, I only feel hate and anger from them. They seem destined to throw 20 or 30 million people under the health care bus, with no medical care waiting for those people after they are run over. ​Kate and I are now among those people.
Over the 20+ years since we first heard those words that no one should ever hear — "You have cancer. This is serious; this could kill you." — Kate and I saw so many ways the health care system could fail. Obamacare addresses those former deficiencies. We ran the gambit of the old health care system before Obamacare came into being.
Here are seven ways from then that Obamacare could have helped, as it now does help us and millions of other Americans:
1. Improved freedom of movement. When Kate and I decided to start our own company, we could not leave our corporate jobs with Hewlett-Packard (HP) because our insurance would not transfer with us. We could not find health insurance because of Kate's pre-existing, recurrent cancer history. Health insurance that transfers with the individual​ — as in Obamacare — solves this impairment to freedom of movement.
2. Creation of insurance pools for those who have none. We finally found insurance through a professional society (i.e., a group or pool that we could join). We were lucky; not all people used to have such an option. Under Obamacare we all do now have a group of people to join with and get insurance — that group is called "the people of the United States of America."
3. Removing unfettered power from the health insurance companies. With (finally) new health insurance, we were able to leave HP and start our own small business in Montana, as we had long dreamed. All was fine for several years until the insurance company raised our deductible from $5,000 to $25,000/year. We had no say in the matter. The insurance company simply unilaterally raised our minimum deductible, presumably in an effort to squeeze us out due to Kate's health care costs. And it did—$25,000/year was un-doable for us. Insurers should not have the power to do that to anyone. Under Obamacare they don't; under a new plan from the Republican leadership it's even odds they will ​once ​again.
4. Elimination of pre-existing condition clauses. So we started another new insurance search. And time after time we were rejected from coverage for Kate's pre-existing condition. Obamacare removed the pre-existing condition clause in health insurance. Now the Republican leaders have put that chip back on the table, just like everything else in their ​repeal​-at-all-costs approach. There is no plan; no one knows what will happen. If you are a two-time cancer survivor like Kate, or name any of a thousand other maladies, you should be worried.
5. Creating certainty. Unbelievably, after many months ​Kate and I did find a provider. They accepted our policy. We waited a for a good deal of time to be sure that we were on their official role and paid our monthly premiums. All seemed well. Then several months later the new insurer called to say that they had decided to rescind our insurance! Seems a clause in the policy gave them two years to review Kate's case and change their minds. Which they did! How could that have been OK? Today Obamacare solves this issue for all Americans! Republican leaders may bring back an insurance company's ability to drop you. Don't think so? Everything is on the bargaining table.​ If you know otherwise the rest of us would like to know, too, because Republican leaders sure aren't telling us.​
6. Allowing the sick to focus on getting well, not on health insurance. But it gets worse. The insurance company dumped Kate retroactively back to when the new policy started, meaning that her record would reflect a long lapse of coverage! The only thing harder than getting insurance when you have a pre-existing condition is throwing in the fact that you have not had coverage for an extended period (or ever). Kate was sick at the time so just when she should have been focusing on her health, she was instead worrying about how we would pay her bills, including a likely major surgery just ahead. Obamacare eliminates this horrible possibility for the truly sick. But Republican leaders don't think Americans deserve that piece of mind. If they do, seriously, then why not keep Obamacare, it's already in there?
7. Improved health care consumer advocacy due to government intervention. We took our case to the State of Montana Insurance Commissioner's office who intervened on our behalf and helped Kate enroll in a pool of high risk Montanans. As we understand it, not all states had such a program. So we were lucky; we were insured again. Today, no one needs to count on luck anymore—under Obamacare you can get coverage. One critical take home point from our story is that in the end government (here state government) worked for us where private insurance failed dismally.

In Bozeman at the town hall meeting before Obamacare was the law of the land, President Obama said, "Katie's story is the kind of story that I've read in letters all throughout the campaign and every day when I'm president. ... When you hear about these experiences, when you think of the millions of people denied coverage because of pre-existing conditions, when you think about the thousands who have their policies canceled each year like Katie, I want you to remember one thing: There but for the grace of God go I."
The Republican leaders don't seem to care about Kate, about you, about me, about Americans. They seem to care about money and power and mostly, for some reason that defies explanation, they care about sticking it to President Obama even in his absence. It was the Republican leaders' sole goal for eight years and repealing Obamacare, as they see it, will be their signature act. It is an act of singular intent; it is not an act that seeks to serve the American people, nor to improve society.
If you have good insurance now, if you're covered under you employer, please pause to consider that there is a real chance that someday it may go away. If that happens then your family may someday — like Kate and me, like many Americans—need the government to help you. With Obamacare, that help is already there today — health care with dignity. If your family is currently well, Kate and I hope that you are never forced to negotiate the same mine fields we've passed through. Obamacare mean​s you d​on't have to, but Republican leaders are working to remove that piece of mind for all Americans.

Kate and I are not, by the way, absolutists. Surely not everything about Obamacare is perfect. But much is. Let's keep what works and fix what doesn't. We are SO tired of the repeated, repeated, repeated, repeated, repeated bad mouthing of Obamacare. It is now a mantra and many who speak it are just parroting the story put forth by Republican leaders as being ​their own​ story​. Well folks, Kate and I recently got our 2017 health insurance under Obamacare and here's how it worked for us in Montana. Might be different for you, I fully grant that, I can only tell you our experience. For the second year running we got on Healthcare.gov to get our health and dental insurance. It worked as flawlessly as one could hope. Here's what happened:
The marketplace presented us with 15 health insurance plans, including our current plan so we could consider what we'd had before and might want to keep or change. Like last year the website had no glitches―it was intuitive and simple to navigate.
We could filter the search on those 15 plans based on different aspects of cost, service, or provider. It was all presented cleanly and allowed for easy comparison of plans.
Each health insurance plan we were offered had different benefit levels, different deductibles. Based on our choices, then, the website showed what our expected yearly out-of-pocket expenses would be.
I made one phone call for a clarification. That resulted in a 10-minute talk to a nice and well-informed man named Perry in Illinois. Perry readily answered my questions. I was put through to him directly; I did not have to wait, nor did Perry ever put me on hold. At the end of our brief discussion, Perry asked me if I was sure that I had all my answers and said to please call back if any other questions come up.
Kate and I selected our health insurance plan, then clicked to add the same dental we had last year (the website knew which one, just as it knew our health insurance plan from last year).
And we were done—1 hour max. And nerds that we be, a good portion of that time had nothing to do with HealthCare.gov; instead it was spent going back to our insurance provider's website to gather data on how much we'd spent last year as part of deciding how to scope our plan for this year.
For 2017 Kate and my monthly expense for health insurance will be 66 percent less than it was in 2016. There is nothing magic about this reduction; we simply opted for different coverage and deductibles than last year.​ So with respect to ObamaCare and HealthCare.gov, we are happy with our experience; happy with our coverage; happy with our premium.

Kate and I are hopeful that ​reason wins out over rhetoric in the current battle again over our nation's health insurance system. We hope that the Republican leadership will heed President Obama's words​, when he said, paraphrasing here, "Let's all lower our voices and see what we can learn from each other.​" Maybe then we might improve Obamacare — not repeal it, not replace it, for goodness sake rename it if it makes you feel better, but improve it — that's the only outcome that helps Americans.
It will take a spirit once again of unwavering hope, the hope embodied by Katie's story.
Popular in the Community