NEW YORK ― Katja Blichfeld was stoned when she had the inspired idea to turn a ho-hum sex scene into a threesome featuring two biological brothers.
It's one of the most memorable scenes in the Season 2 premiere of HBO's "High Maintenance," and in recent television overall. It opens with a man and woman, shacked up in a Brooklyn hotel, who've decided to extend their one-night stand into the next day's afternoon. Unbeknownst to them, America elected Donald Trump president shortly after midnight, and most of liberal New York is reeling. But with their phones dead, and their libido still in hyperdrive, they resume coitus none the wiser. Suddenly, a toilet flushes, and a second, naked man emerges from the bathroom. The three proceed to get it on in a barrage of positions and couplings, all of which rarely make it to mainstream screens.
Just as "Broad City" ended the media's century-long war on pegging in 2015, "High Maintenance" blessed our virgin eyes with an incestuous MMF threesome in 2018. Only later does the female in that initialism realize that her two male bedfellows share the same DNA (spoiler: it involves a call from their mother), making the entire ordeal that much more transgressive. That revelation, along with the inevitable understanding that Trump is commander in chief, requires a cigarette.
I met up with Blichfeld, co-creator of the web series-turned-HBO show, on a sunny day in January to ride the Staten Island Ferry. Appearing glam yet androgynous in a striped turtleneck, floral socks and Cobain-esque tortoiseshell sunglasses, she looked like the star of a millennial reboot of "The Babysitter's Club." Aboard the commuter boat, I asked her how the brotherly love fest that rang in the show's new season came to be. 
"Originally we were going to have a man and a woman fucking the day away," Blichfeld recalled. But after smoking weed with Ben Sinclair, Blichfeld's fellow "High Maintenance" co-creator and ex-husband, and Russell Gregory, the show's executive producer, she had an epiphany: What if the marathon sex romp was a threesome? Sinclair and Russell were down. They smoked some more to celebrate, and then Sinclair sweetened the pot: "What if they're brothers?"
"That's a classic example of how things happen on the show," Blichfeld explained. "We have an idea and smoke some pot until we land on something good enough to shoot." It's a fitting strategy for a show that's loosely based on the adventures of a scruffy, congenial weed dealer and the marijuana-hungry clients who call upon him.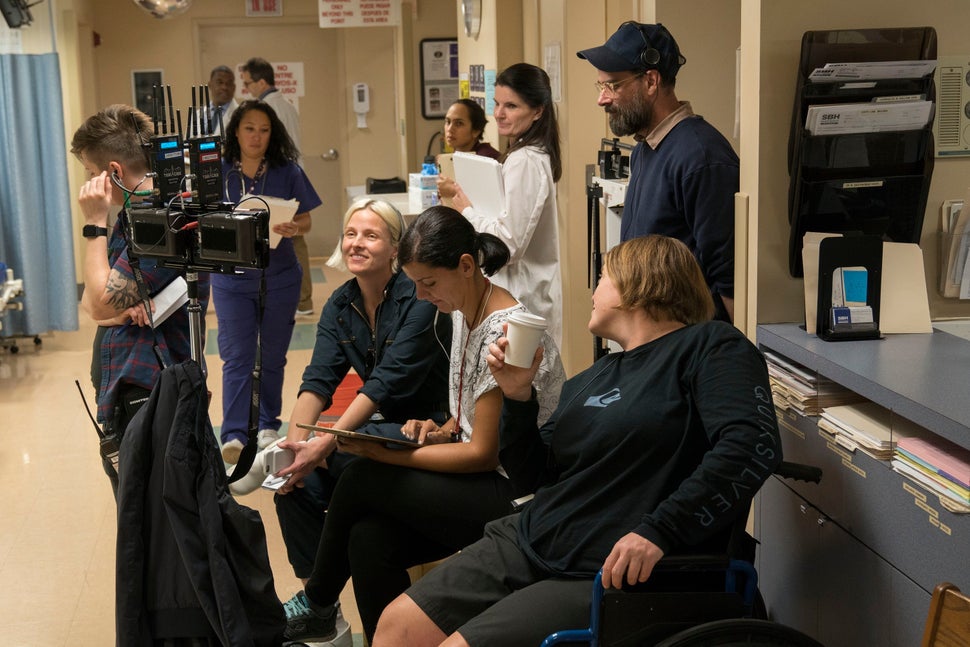 Over the past six years, "High Maintenance" has metamorphosed from a buzzy DIY web series into an acclaimed HBO butterfly. What was once a collection of lo-fi but visually abundant short videos about the lives of interconnected New Yorkers under the influence is now a beloved Friday night segment of prestige television. On Thursday, HBO announced the show was getting a third season. 
"High Maintenance" 2.0 leans even further into its kaleidoscopic view of NYC, a constantly regenerating funhouse of puzzles, dramas and mini-mysteries. It pushes its anthology format to new heights, alternating between various tenors and moods sharpened by the effects of THC. It renders a wide range of personalities ― a defected Hasidic Jew; a doctor-by-day, drag-queen-by-night; a feminist gun owner ― with piercing accuracy.
When asked how he captures the experience of a rebellious Pakistani Muslim teen, Sinclair replied, "When people are like, how can you write about that perspective like, bitch, that was my perspective! We're all going through the same things."
Blichfeld and Sinclair started the show together in 2012 as romantic and creative partners. Blichfeld's background was in casting. (She won an Emmy for her work on "30 Rock.") At the time, she saw untapped potential in Sinclair, an actor whose previous roles on IMDb include Angry Man, Drunk #1, Wild Eyed Guy, Lunatic, and Brooklyn Idiot.
"The roles he was getting were all a little bit spiky — characters that were borderline psychotic or violent criminals," Blichfeld said. "I saw a softer side to him I thought was really appealing."
Together they sketched a rough character known only as The Guy, who Blichfeld described as "idealized Ben" or "Ben on his best days." He'd go on to become the show's central figure ― a friendly guide who faded into the background of other people's stories ― and, eventually, its protagonist.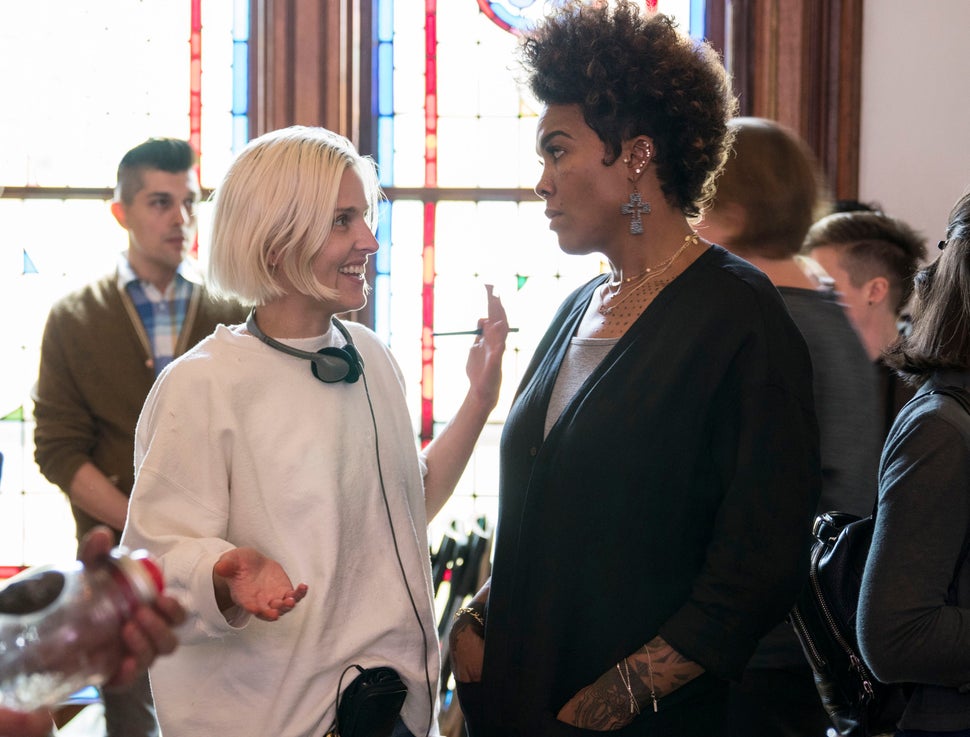 "High Maintenance" Season 2 gives devoted viewers something new: a deeper look at The Guy. It marks the first time Sinclair's character gets a true narrative arc of his own, a peek at his past, his current worries and, most important, his apartment. In Episode 5, called "Scrumple," we meet his ex-wife, a graphic designer named Julia who lives down the hall from him and calls him Scrumple. We learn throughout the course of the episode that she left him for a woman, a plot twist that mirrors Blichfeld and Sinclair's real life.
Blichfeld and Sinclair, who began dating in 2009 and married in 2010, officially broke up the night Trump was elected. In a gorgeous essay for Vogue, Blichfeld describes her journey coming to terms with her sexual identity; she came out at 37, before splitting up with Sinclair and starting a committed relationship with a woman.
"Repression is blinding, is all I can say," she wrote. "Self-acceptance impossibly hard. It can take a lifetime."
On the first day back at work post-breakup, the two announced that they were separated but that the show would go on. They kindly advised their writers' room ― the first for the show (previously written entirely by Blichfield and Sinclair), which includes a mix of comedy alums and playwrights ― to not "be freaked out." Of course, there were still times when both Blichfeld and Sinclair felt like bailing on the project.
"If we didn't have this obligation, I don't know what would have happened," Blichfeld said. "But to come out on the other side together, I feel like we have a very unique bond ― even more so now ― because we were able to weather a breakup together." 
"For all the pain that was experienced, it wasn't as bad as you would think," she added. "Because we were forced to be in the same room together every day, it forced us to have to tap into our higher selves."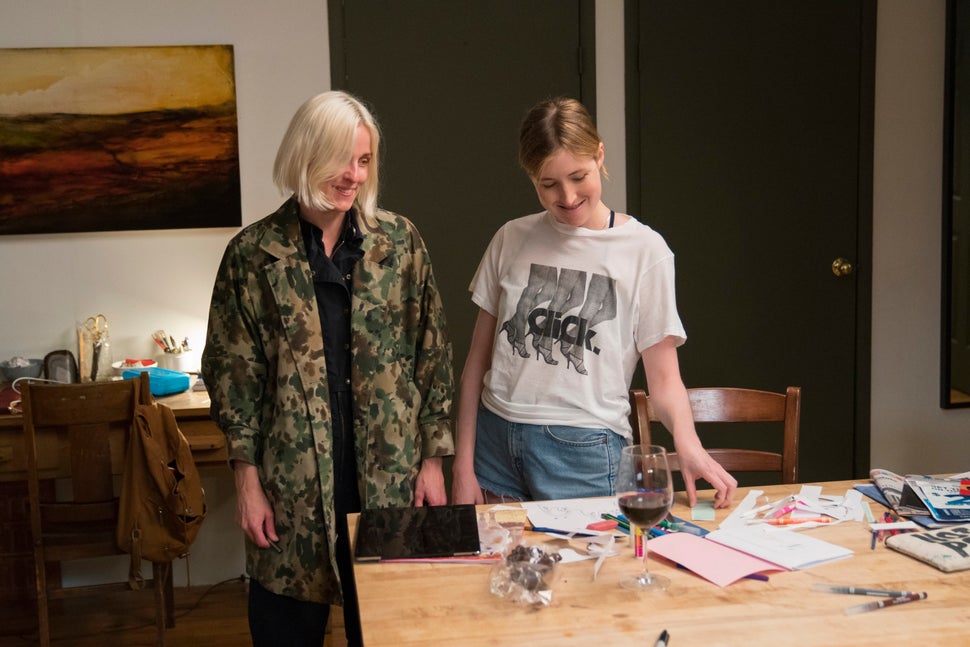 The new post-breakup and -election season of "High Maintenance" manages another update: It infuses its usual carefree comedic tone with an appropriate dose of anxiety and dread. It explores the reasons people might be drawn to pot in 2018 in particular ― whether they're coping with political outrage, a claustrophobic relationship or the aftermath of a bike accident. 
Blichfeld said she's finding herself smoking less and less this year. She started out as a light smoker in high school, taking part in occasional late-night Del Taco trips or Bjork video-watching parties. The habit eventually evolved into morning and midday rituals. "I was really dulling myself," she recalled. But after Blichfeld came out, her desire for marijuana dimmed. She still has a stash and smokes somewhat regularly, but the difference is "night and day," she said.
Interestingly enough, Blichfeld's first film, "if you could call it that," was about weed. In fact, it warned of the dangers of marijuana, specifically that getting high could make you go crazy and jump off a building.
"Super realistic," Blichfeld joked.
The "DARE"-era short ended with young Blichfeld ― 9, "super Christian" and living in Long Beach, California, at the time ― burying a dead smoker in her backyard and throwing red roses onto the grave while "Toy Soldiers" by Martika played. 
Anxiety drove that film and the other writing Blichfeld did as a kid. Her early efforts at journaling, she said, were shaped by fear ― specifically, a fear of being posthumously pored over, Anne Frank-style.
"Every time I sat down to write, I was like, 'someone might read this later, so it better be good,'" Blichfeld explained. "I'd put a weird pressure on myself and then wouldn't do it." 
She now calls writing "the career I always wanted but didn't dare to pursue or even dream of, before."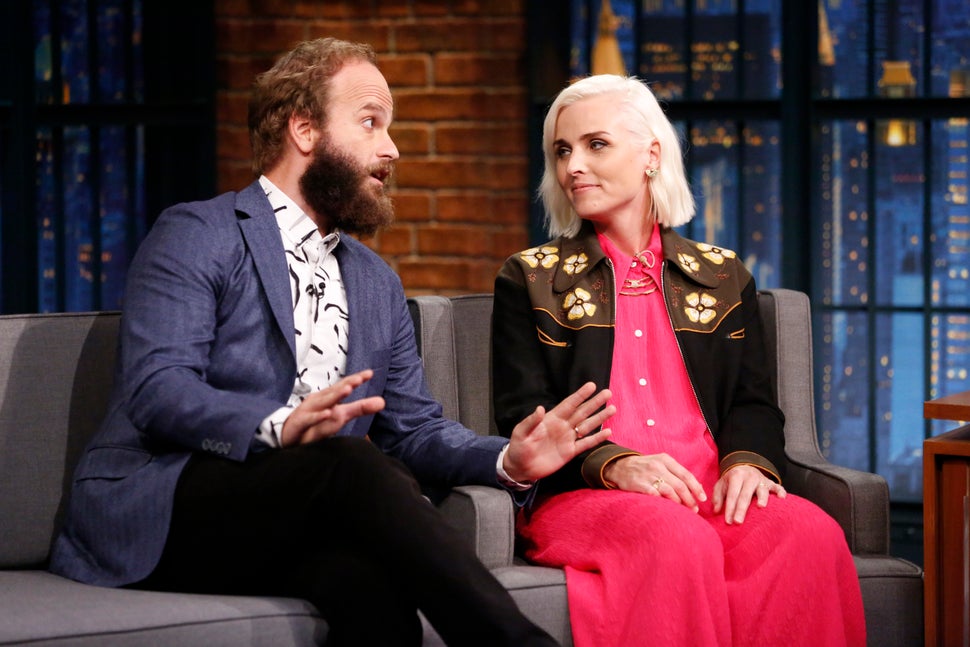 It's engrossing listening to Blichfeld talk about her past insecurities ― which she does, candidly and sans apology ― because today she seems almost magically comfortable with herself. And yet she still possesses the humility and self-deprecating humor of someone who can't quite believe where she ended up. 
Successful people in creative fields often possess a confidence in themselves that's foreign to the rest of us. For some women ― especially queer women and women of color, who've historically had to work harder for recognition and respect ― their drive is especially pronounced. Blichfeld, however, strays from formula. Like "High Maintenance," she seems to have evolved organically and in her own time, according to no model but her own. 
"I've lived so many lives," she told me. 
For the past year, Blichfeld has been dating a writer named Adele, whom she's described as possessing a "smoky voice and a daffy quality that reminded me of Lucille Ball."
Exactly one week before our interview, I passed them on a street in Manhattan's West Village. They were holding hands and skipping in unison like the bubbliest of overgrown children. At the time, I was still trying to lock down an interview with Blichfeld, and crossing paths seemed like an omen, the kind of semi-magical twist that "High Maintenance" might tack on at the end of the episode as the credits rolled.
In that moment, the anxiety Blichfeld would later describe to me seemed totally absent. In its place was radical acceptance and rapture with the city around her, where she can "go literally anywhere and feel either inspired creatively or reaffirmed in my humanity."
Just as Blichfeld has evolved over the past years, so too has "High Maintenance," maturing into a fuller version of itself without ever really growing up. Instead of conforming to the landscape of prestige television, the show reshapes it, clinging to an imperfect aesthetic and silliness that so many feel wandering the streets of New York.
As for what's in store for Season 3, we can only hope Blichfeld and Sinclair continue to invite us into their heads, rehashing pain and delight that's both personal and universal. Perhaps we'll even revisit the incestuous brothers of the duo's pot-stained dreams. The show, like its makers, is at its best when it connects with its former selves.
"High Maintenance" airs Fridays at 11 p.m. on HBO.
REAL LIFE. REAL NEWS. REAL VOICES.
Help us tell more of the stories that matter from voices that too often remain unheard.