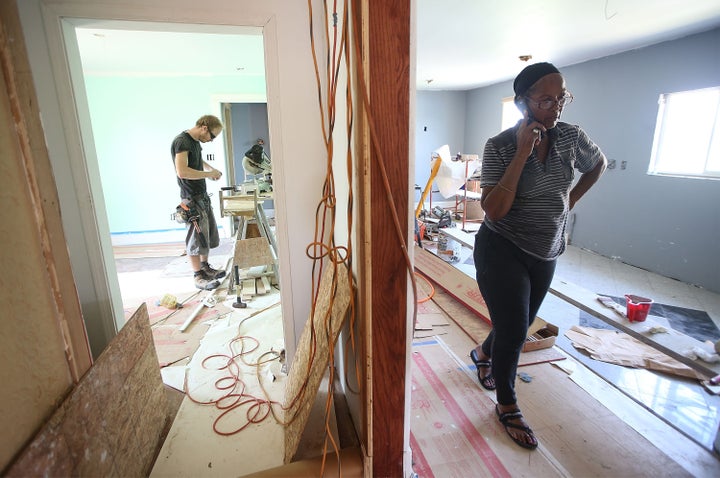 In the decade following Hurricane Katrina, much has been made of New Orleans residents' resilience and growth. For some, especially for those of means, this rings true. But for others who haven't been able to return to New Orleans, unstable housing and the stress of relocation have wrecked havoc on their mental health.
For white families in the new New Orleans, the median income has grown at triple the rate of black families' income. It's no wonder many are insistent that New Orleans is back and better than ever. There are roughly 100,000 fewer black people in the metro area. Old people out; new people in. It is critical not to cede the story at its crossroads.
Research has found that low-income African-American moms faced unique challenges after the storm. Things like feeling unwelcome in a new community or lacking resources or stable housing have a psychological toll. And one study found that when it comes to emotional stress, moms who couldn't come back fared worse than the moms who could.
Stable Housing Directly Affected Mental Health After Katrina
Elizabeth Fussell, an associate professor of population studies at Brown University, looked specifically at how low-income African-American mothers who were displaced from New Orleans fared during the years immediately following Katrina. In her study on the mental health outcomes of these moms, published in the journal Social Science & Medicine last year, she found that specific factors influenced how they fared.
Fussell said four factors largely determined an individual's mental health outcomes in the years following Hurricane Katrina: length of displacement, number of moves, displacement distance and housing stability.
"How long were you displaced?" Fussell asked. "How many times did you move? How far are you, at the moment of the interview, from the ruins? What kind of housing are you living in?"
Fussell found that from a mental-health perspective, low-income African-American mothers who couldn't return to the New Orleans after the storm fared worse than those who came back, even after controlling for factors such as pre-Katrina stress and exposure to the disaster. These moms experienced greater psychological distress and perceived stress than those who could come home.
Mothers who were in unstable housing for one to two years after the storm also experienced psychological distress, though not to the same degree of those relocated permanently.
"There's something about continuing to be displaced that was an ongoing stressor for these women in our sample," Fussell said.
Part of this has to do with a lack of social support after moving to a new city. "Women who were able to maintain intact social support networks after Hurricane Katrina did better than those who were more isolated from their pre-Katrina networks," Fussell said.
Disaster Magnifies Social Inequities That Already Exist
While Fussell's study isn't representative of New Orleans' population as a whole (it specifically examined the experiences of low-income African-American mothers), a different Social Science & Medicine study published in 2012 did look at the general population of New Orleans following Katrina, and found similar results.
Low-income black women had the worst health outcomes in the years following the storm. Researchers attributed these issues to stress-related factors, such as living in communities damaged by the storm, their households breaking up in Katrina's wake and poor outcomes for their children in school.
For Fussell, this larger picture is important. "Disasters expose the vulnerabilities that we all have in normal times," she said. "The people who suffer most in a disaster are also the people who are more vulnerable on an everyday basis."
Unwelcome In New Communities, Unable To Go Home
Social scientists have found that moving out of disadvantaged neighborhoods can have advantages for children, like sparking upwardly mobility and increasing socioeconomic opportunities. But those benefits don't necessarily extend to parents who relocate. Indeed, many Katrina refugees found themselves in limbo after the storm, unable to return to their homes in New Orleans and unwelcome in their new communities, which were experiencing an influx of new people who had been displaced.
"They were willing to be kind for only so long, and then they wanted those people out of there," Susan Sefansky, a first responder who was stationed in Alexandria, Louisiana, about three hours from New Orleans, told The Huffington Post.
"Kids had to go to school and they were not being welcomed into these schools," said Sefansky, who works as a coordinator for the Office of Decedent Affairs at the University of Michigan Hospital. "They were being called 'shelter trash.' They were being told to take out their dreadlocks and cut their hair. It was astounding to me."
"Low-income, African-American mothers who couldn't return to the New Orleans after the storm fared worse than those who came back."
There were also logistical challenges for low-income women in Fussell's study, who relocated to cities such as Houston and Dallas, where public transportation wasn't as reliable as it was in New Orleans.
"It was really hard to get to work, or to the hospital, or to their kids' schools if they didn't have a car," Fussell said. And without family nearby to help with childrearing, many women faced a touch choice: finding work that paid enough to afford childcare, or not working at all.
A Lesson From Katrina: Housing Is Key To Recovery
While FEMA provided temporary housing for New Orleans residents for a few years after the storm, for many people, that wasn't enough time to rebuild and return to their old lives.
"Housing is really key to recovery," Fussell said. "A lot of the reason that this population of low-income African-American mothers seem to be so much more harmed by the disaster is because of their need for stable housing and their lack of access to stable housing."
And for Sefansky, the first responder, inequality made a big difference on the front lines of Katrina. "If you are a pretty well put-together person with a lot of resources, your experience of that disaster is gong to be very different," she said.
"But if you take people who were on the edge before this, this just cracks it open. And that's what any crisis will do to a system. If you are barely hanging on, the crisis is going to blow you apart."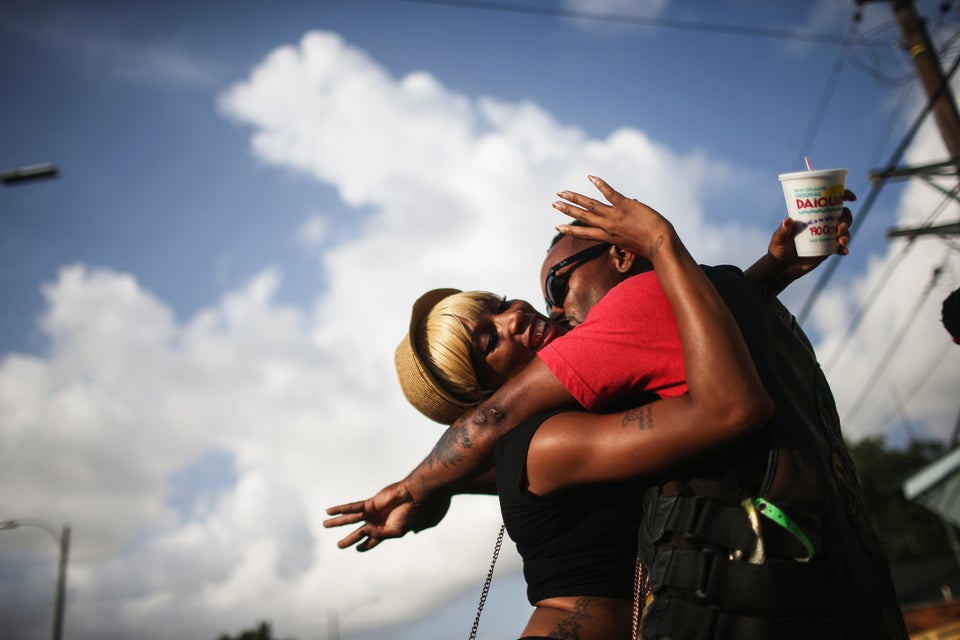 New Orleans 10 Years After Katrina