Blessings, y'all! It is August, 2015, I've been thinking a lot about my Katrina story from 10 years ago.
Rewind 22 years ago. I was a misfit, rebel who ended up in a heap of trouble when I was 16. As a result I was sent to live in a rural town outside of Lafayette Louisiana for 10 months. Despite living in Louisiana for just about a year, I never had a chance to visit or spend any time in New Orleans.
It was 11 years later, and I was hired as the tour manager for a reggae group called the Easy Star All-Stars. One of our stops was New Orleans! We were playing the House of Blues on a Friday night, but not just any Friday night. It was the Friday of the weekend that Katrina was barreling towards the Gulf Coast, and by the time I arrived in New Orleans I had no idea what we were in for.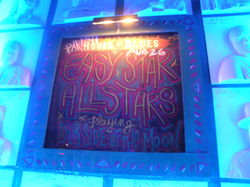 Our show that night at the House of Blues was amazing, and I remember being so excited that we had the weekend off in NOLA! I would finally get a chance to experience this mystical, wild, magical city. Then the calls started coming in...
A man I was seeing at the time called me late that night. He basically said, "Look, I don't want to scare you, but there is a huge hurricane headed straight for New Orleans,m and you have got to get out of there ASAP."
Half of the band was flying back to New York City and four of us decided to stay in NOLA for the weekend to chill before our next gig. I was responsible for getting two of the band members and myself from New Orleans to Las Vegas on Monday for our next show. This was before everyone had cell phones, and as my Rasta bredren departed into the city on Saturday morning I asked them to keep in touch, because we'd most likely be leaving before Monday to avoid the storm.
My intuition and inner guidance was unsettled. There was this eerie feeling in the air, a sense of impending doom, and all I could think about was finding a way to get myself and my people out of harms way.
You know what I'm talking about. When that quiet, still, little big voice inside you is trying to tell you something? Well, mine was telling me I needed to figure out how to leave before Monday, but there was one problem. So many other travelers' little big inner voice was telling them the same thing! All of the flights were booked solid out of New Orleans on Saturday and Sunday, but because I had lived in Louisiana, I knew there was a major airport in Baton Rouge.
Throughout the day anxiety and fear were growing within me. I was on the phone with the label, my family, a few friends, the airline, hotel in Vegas and car rental places while watching the news all day and this humongous storm heading straight for us. I am so thankful the label, Easy Star Records, rallied and helped me come up with an exit strategy.
BOOM. I got the last three seats on a flight leaving out of Baton Rouge at 7AM on Sunday morning. The only thing was... that I need to trust that my bandmates would get back to the hotel in time for us to make it to Baton Rouge and get on that flight. With my bredren not having cell phones, I had to put all of my faith in the powers that be to guide them to me.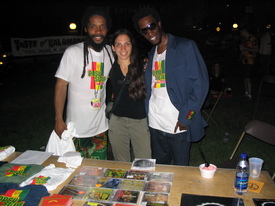 I remember the vibe and environment like it was yesterday. It was so surreal and slightly bizarre because everyone in the hotel and in the French Quarter seemed to be going about business as usual. By Saturday evening, I was just praying that my two bandmates would show up so that we could make our way out of New Orleans and onto to Baton Rouge.
People were dressing for dinner; they were going out on the town. I remember thinking to myself: "Aren't these people scared about this hurricane coming?" I guess coming from the North, I'm not used to tropical storms. Snow storms I can deal with no problem, but high, life-threatening winds, rain, tornadoes, flooding and severe lightening freak me out!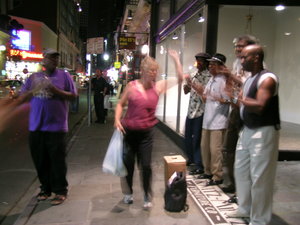 By the grace of creation, my guys showed up around 10:00PM. We got all of our things together and hopped in a cab towards the rental car spot. At this point so many people were evacuating that the traffic on Highway 10 out of New Orleans was chock a block with major delays. We took the back roads to get our rental, so we could drive ourselves Baton Rouge.
When we arrived at Hertz the line-up to rent a car was staggering. It was going to be a four- or five-hour wait. With a 7AM flight out of Baton Rouge, which was still a good hour away, it was going to be tight.
After waiting for one hour I happened to see one of those buses that pick you up at the airport and drop you off at all the different rental car spots. Struck by an "aha" from my inner guidance, I told the guys I was going to try and see if there were cars at any of the other rental places. I hopped on the shuttle, and they took me to Enterprise. There was no line, and when I got to the counter they told me that I got the last car on the lot!
Within 45 minutes I had a car for us. I still remember the look on my bredren's faces as I picked them up. The line they were in had not moved. It was after midnight, and we busted a move to our motel in Baton Rouge.
We arrived at the airport with more than enough time to make our flight, however the security line was extremely long with all of the travelers making their escape. Then, as we finally went through security with literally minutes to board our flight, my Jamaican bandmate was flagged for further searching.
I hauled ass running towards our gate and begged them to keep the door. They were just starting to close it, but agreed to hold the flight for a few minutes.
Luckily both of my guys got through security and we made it, by the skin of our teeth. Had we been even five minutes later, we would have missed the flight.
I cannot even the describe the mixture of emotions that I felt as I felt myself sitting in my seat, watching us pull away from the gate. I remember thinking of all the people on the ground, all of the people who couldn't get out, and those who chose to stay. When took off, and got into the air I felt both this tremendous sense of deep relief and gratitude, mixed with grief and anxiety.
I remember getting to Las Vegas and as soon as we got to the hotel, I laid down in bed watching reports of the storm as it as it began to encroach on New Orleans and the Gulf Coast. I watched as the stories came in that covered the destruction, fatalities and the chaos that ensued. And my heart ached for all those who were missing, dead and displaced as a result of this storm and the busted levies. This experience had an impact on me I will never forget.
As I laid there I cried. I gave thanks to all that is that assisted us in getting out of New Orleans, while my heart ached for the people who whose lives were forever changed. One of my bandmates lost his brother; he was never found.
It took days and weeks for the devastation to be realized. How so many lives were torn apart. I look back now, ten years later and I just give thanks and praises that we were able to escape. We were truly blessed.
Today, I'm sending sooo much love and sooo many prayers to everyone that was (and still is) affected by Katrina. To everyone who suffered loss, to everyone uprooted from their homes, and to everyone who is taking a stand for New Orleans and rebuilding this incredible city.
Check out a documentary my dear friend Rennik Soholt is finishing up about Katrina. It's called Forced Change and you can check it out by clicking here.
Count your blessings, hold your loved ones close, trust and listen to your intuition and keep shining your beautiful love light!
Calling all HuffPost superfans!
Sign up for membership to become a founding member and help shape HuffPost's next chapter