"What do you want from this life/Do you crave world domination/Or do you just want to sleep real good tonight?/Running around in circles/Not getting anywhere/The future is bright purple/With rollers in her hair..."
So sings Helen Dooley, the songwriter and frontwoman for The Cheek of Her--a promising new indie act from London, England--on "The Future Is Purple," the third track from forthcoming EP Black Heart Mantra, out May 2nd.
The above lyrics are just a sampling of Dooley's theatrical and idiosyncratic style, which naturally likens her to artists like Amanda Palmer, Lady Gaga, and Katy Perry. "9 Lives," the EP's lead single, featured above, was even mastered by Perry collaborator Sean Kennedy.
Another standout track, "YOLO," is set apart by the fun, bellowing, jagged chorus which consists solely of the acronym "YOLO" (you've just gotta hear it for yourself) and further distinctive verses like, "If I had a penny for every positive thought in your head/I would not end up with any.../Don't loose yourself wondering/what the hell will the future bring..."
Dooley's dark-yet-playful lyrics are incredibly reminiscent of tracks off Perry's first major release, One of the Boys, like "Mannequin" , "Ur So Gay," and "Hot n Cold." Both women are experts at crafting turns of phrases and riddling verses, leaving the listener both contemplative and entertained. This similarity suggests Dooley could have a bright future ahead of her as a songwriter for other artists, just as Perry and Gaga have done throughout their careers.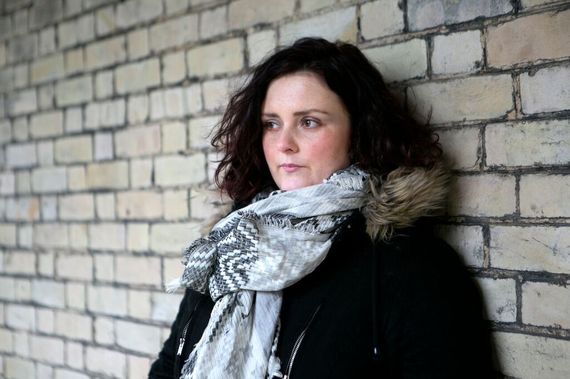 Dooley is backed by Sean Kennedy on guitar and piano, and Chris Hardwick on drums. Previous releases gained airplay in the UK on BBC Radio 2, as well as in Ireland, Switzerland, Romania, and Holland.
For more of her playful and sensitive lyrics, checkout the video for The Cheek of Her's epic 2014 release "Another Guy I Buried in the Woods" below.
Calling all HuffPost superfans!
Sign up for membership to become a founding member and help shape HuffPost's next chapter