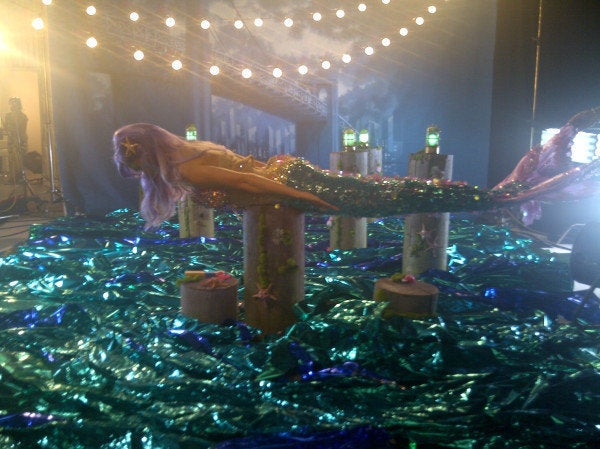 We all know by now that "planking" -- when you lay flat on your stomach with your hands by your side while balancing on a random object-- is the latest bizarre trend to sweep the nation. People have been tweeting pics and posting videos of themselves practicing their best "planking" poses for weeks.
Now, Katy Perry has gotten in on the action, but with a mythical twist. The pop star tweeted a photo of herself dressed head-to-toe as a mermaid, planking in what looks to be an water-themed set. We have seen celebrities planking before, but never like this.
"PROPER planking FTW! #itswhatArielwoulddo" Perry tweeted Tuesday.
So, what's with the 'Little Mermaid' getup? Rumor has it this could be a sneak peak of her next music video, and if we've learned anything from her past videos, ('Last Friday Night,' anyone?) it's gonna be epic.
But it's not all bubbly between Perry and fellow pop star Lady Gaga -- or at least between their respective fans.
According to E! Online, Lady Gaga has been hinting her that next music video might be "something fishy" and we have reason to believe it. The original plan for her 'Edge of Glory' video was mermaid-themed, but the plan was scrapped after it was leaked.
Now that it looks like Perry is in the middle of her own nautical-themed shoot, we may have a mermaid war on our hands.
Gaga's frequent creative partner Laurieann Gibson even referenced the dueling mermaids in a tweet Tuesday, writing, "Proud of my artist #1 in the world @Ladygaga her vision& passion. even though they try to steal a tail theres only 1 Mermaid, Swim On!!!"
Well, you know what they say: there are plenty of fish in the sea.
PHOTO: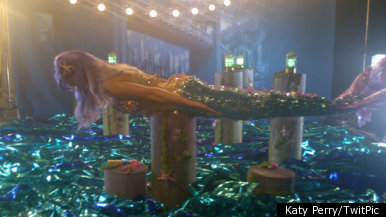 REAL LIFE. REAL NEWS. REAL VOICES.
Help us tell more of the stories that matter from voices that too often remain unheard.