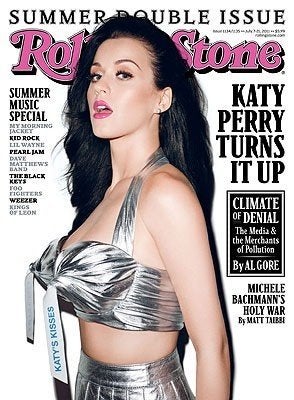 She's one of the biggest stars in the world, but in her music, equal rights activism and, now, politics, Katy Perry is a woman of the people.
"It just feels like the thing running our country is a bank, money," she tells the magazine. "I think we are largely in desperate need of revolutionary change in the way our mindset is. Our priority is fame, and people's wellness is way low. I saw this knowing full well that I'm a part of the problem. I'm playing the game, though I am trying to reroute. Anyway, not to get all politically divulging and introspective, but the fact that America doesn't have free health care drives me f*cking absolutely crazy, and is so wrong."
Perry has already been active in fighting for gay rights; of course, her breakout single, "I Kissed A Girl," teased a sort of "just to try it" lesbianism, but she's been involved in a more serious fight, too.
It's not all serious politics for Perry, though. Though she failed to win a Grammy thus far, she's taken home many fan-voted awards, including People's Choice, and has sold over 10,000,000 albums worldwide. To her, that's the number that matters.
"Whenever people ask me about having bad reviews, I'm like, 'Have you seen the run I've had? Have you see the numbers?'" she tells the magazine. "Numbers do not lie!"
There's also another number at issue: her bra size. And while Perry now flaunts her natural gifts to supplement her hit songs, it wasn't always that way.
"I started praying for [breasts] when I was, like, 11," she says. "And God answered that prayer above and beyond, by, like, 100 times, until I was like, 'Please, stop, God. I can't see my feet anymore. Please stop!'" she recalls. The quick development led to taunts in adolescence. "I didn't know I could use them. So, what I did was, I started taping them down. How long did I tape them down for? Probably until I was about 19. And, no, I don't have any psychological pain because of it."
Popular in the Community