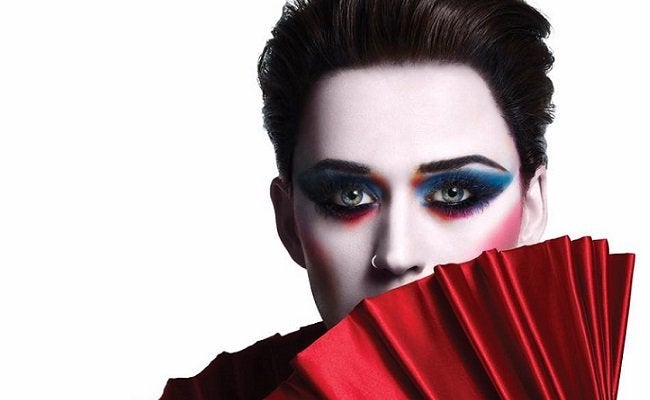 Before Witness even dropped, it seemed like there were dozens and dozens of thinkpieces dedicated to dissecting the current state of Katy Perry's career. Pop music pundits had good reason to assume the 32-year-old singer's political activism would inform the sounds of her next project after seeing her stand on the celebrity frontlines of Hillary Clinton's 2016 presidential campaign. However, there were immediate criticisms ready to call bull on her intentions to create "purposeful pop" after releasing the album's first social-PSA single, "Chained to the Rhythm," and following it up with the blatant, food-as-sex-metaphor bop "Bon Appetit."
And while fans may be confused by the theme of this particular "era" after the release of those two songs (not to mention "Swish Swish," which I'll get to later), listening to Witness in its entirety may help clarify some things.
One thing's for certain: Gone are the easy-breezy flourishes of 2010's Teenage Dream and some of 2013's Prism, which may upset many, especially those looking for some radio-friendly summer jams. Several years later, there's a particular gloom and melancholy that hangs over Katy, and it is apparent on Witness. This is arguably a result of a few things: 1) Katy's no longer a cupcake-bra-wearing 25-year-old in blue wigs and skin-tight jeans getting her boy toy's heart racing. (She's now older, perhaps wiser.) 2) Katy is troubled by the machinations of our current administration and worried about our future (and dammit, she's got something to say about it).
Look, every artist goes through creative stages. Every musician experiments with new sounds. And every pop diva should be allowed to express her mood du jour, even if it results in a less-than-stellar album (a moment of silence for Kelly Clarkson's My December and Britney's Britney Jean).
Unfortunately, we have reached a Katy Perry nadir with Witness. This gloom and melancholy, when paired with some awkward lyrics -- don't get me started on the laughable "Save As Draft" -- simply come off as self-indulgent and terribly misguided.
The album opens with the titular track, a mission statement with a lonely chorus that sees our gal pining for a connection. (Don't we all?) This is Katy basically telling us, "Get ready for me to sing about some big and important themes!" What follows is a mostly forgettable collection of tunes that fails to soar. Rather, it just glides.
There are the dark synths of "Roulette," straight out of the bleak soundtrack to a straight-to-video B-movie from the late 80s. There's the hint of saxophone in "Power," in which she claims she's her "mother's daughter," a hollow attempt to get all autobiographical on us. The production value is strong and appealing here -- Katy's version of, dare I say, Beyonce's "6 Inch" from the vastly superior Lemonade -- but make no mistake: this ain't Katy's Lemonade.
In "Mind Maze" she's "losing all direction, slipping into quicksand," which may best describe how she felt when she first approached the concept for this album. One can't help but interpret this as her coming to terms with her pop heyday losing its luster, and now she's unsure of where she fits in a Top 40 world that has grown increasingly stuffed with one-hit wonders and overcrowded collaborations.
As for "Swish Swish," the Nicki Minaj-assisted track that has received attention for being an alleged clapback to Taylor Swift's "Bad Blood," it's a personal favorite, even though it may not sound original. ("Truffle Butter" and Fatboy Slim sample much?) But when placed within the context of the rest of the album, that allegation weakens. And frankly, do we really care if it's a sass-filled reply to T-Swift? I personally DGAF.
Finally, towards the end, there's "Pendulum," which offers the only glimmer of hope on the album. "Take those punches on the chin," she tells us while an obligatory choir soon joins her for what's supposed to be an uplifting chorus. It's certainly a welcome relief from "Bigger Than Me," a track that finds our gal surrendering to the fates and toying with existentialism ("I'm just another robot taking up oxygen..."). Girl, please.
When a pop star like Katy Perry, who's usually associated with fun upbeat jams, drops a new album during a season designed for revelling in frivolity (summer) without a ubiquitously frivolous jam in sight, it's easy to let disappointment slip in. But then again, one must take into consideration the context of said album release. We no longer live in the carefree and bright pop climate of the early 2010s anymore. Instead, we're now on the precipice of a Top 40 era during which female artists like Tove Lo, Halsey, and Lorde have successfully cornered the market on moody alt-pop with a look and vocal sensibility that can only be described as Wednesday Addams-esque.
This rise in what I call "Dystopian Pop" (with themes of despair and oppression) is only natural; it's reflective of the harsh and scary times we're reminded of every time we check our Twitter feed. But does it sound natural when it's adopted by a pop artist who once lounged naked on a cloud made of cotton candy? Not really.
Calling all HuffPost superfans!
Sign up for membership to become a founding member and help shape HuffPost's next chapter
This post was published on the now-closed HuffPost Contributor platform. Contributors control their own work and posted freely to our site. If you need to flag this entry as abusive,
send us an email
.