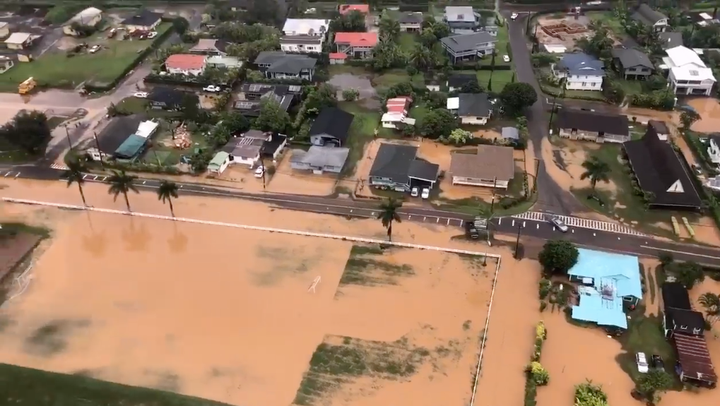 HONOLULU ― Hundreds of people have been evacuated from homes and hiking trails as historic levels of rain pummeled the Hawaiian island of Kauai last weekend, causing multiple landslides and flooding.
The rains have forced families and travelers to leave their flooded properties. Landslides triggered by the rain have wiped out homes and shut down the main highway leading to the island's north shore, stranding residents who live in Kauai's most remote neighborhoods, but no injuries have been reported.
The flooding even created a rare spectacle: scared bison that escaped from a ranch and sought refuge on beaches and in backyards.
"It's the worst natural disaster to occur on Kauai in 25 years, since Hurricane Iniki," Sarah Blane, chief of staff to Kauai's mayor, told HuffPost on Wednesday, referring to a Category 4 hurricane that devastated the island in September 1992, causing six deaths and about $3 billion in damage.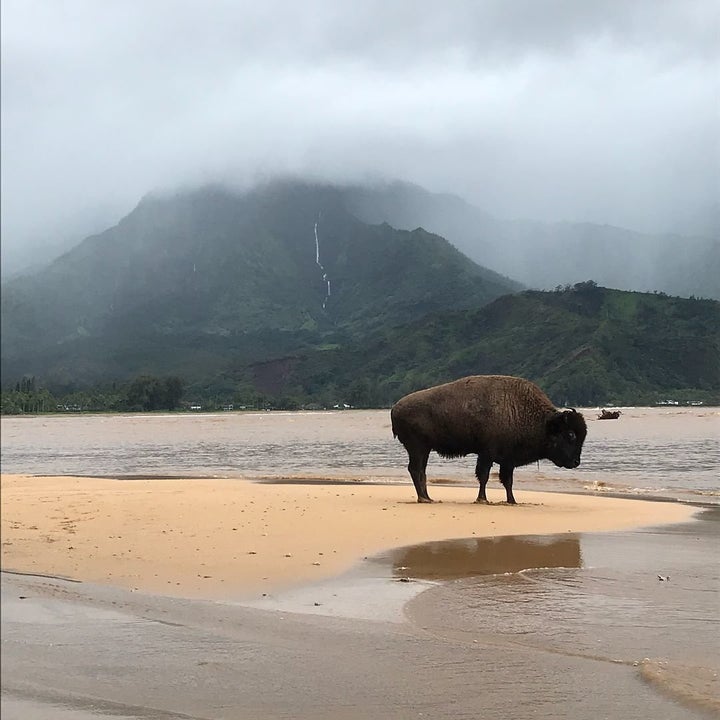 After last weekend's rains, a significant number of homes "were severely damaged and there were several homes that were completely ripped from their foundation," Blane said, adding that the county does not have an official tally on how many homes were damaged. At least 350 people have had to evacuate the island's north shore, while flooding in other parts of the island has displaced families from about 20 homes.
Even more heavy rain is expected across Hawaii as emergency officials and Kauai residents work on recovery efforts in their communities. The National Weather Service has issued a flash flood watch on Kauai and all of the main Hawaiian islands from 6 a.m. Thursday to 6 p.m. Friday local time.
Homes and businesses in the towns of Koloa, Anahola, Anini and Kalihiwai have been damaged, but Blane said remote communities on the island's north shore were the most severely affected.
A river that runs through the north shore town of Hanalei flooded over the weekend and caused widespread damage. Photos of the flooding show a lake in the area where the Hanalei River and adjacent homes and buildings would be.
"These aren't just single-family homes either. They're multi-family dwellings," Padraic Gallagher, director of disaster services for the American Red Cross's Kauai division, told HuffPost.
Kauai County does not have an official number of people displaced, and recovery and relief efforts are ongoing.
Landslides triggered by the heavy rains have completely blocked off Kuhio Highway, the island's main two-way road, cutting off traffic to the more remote coastal towns on the north shore, including Waihina and Haena.
Sinkholes have also damaged roads across the island, damaging cars and stalling traffic in those areas.
Several homes in Wainiha were destroyed by mudslides, though they were vacant at the time, according to county officials. Keala Kennelly, a professional big wave surfer from Kauai who is currently on Oahu, said a massive landslide almost hit her family's home in Wainiha.
She told HuffPost that she has been able to text with her family, who say they are safe.
An estimated 28.1 inches of rain fell in 24 hours in the town of Hanalei over the weekend, according to the National Weather Service in Honolulu.
"For context, the town of Wainiha, Kauai, recorded a staggering 822 mm [32 inches] of rainfall in just 48 hours," CNN meteorologist Pedram Javaheri said. "That amount of rainfall would climatologically take nearly 18 months to fall in London and over 24 months to fall in Los Angeles."
The rain also flooded a bison ranch near Hanalei River, forcing a herd of frightened animals to flee to higher ground or toward the ocean. At least one female bison was frightened by the helicopters and ran into the ocean. Using boats and personal watercraft, Hawaii cowboys, known locally as paniolo, herded the bison back to shore, the Honolulu Star-Advertiser reported.
Ian Nelson, a resident of Princeville, Kauai, shared with HuffPost photos of one of the escaped animals roaming the beach of Hanalei Bay.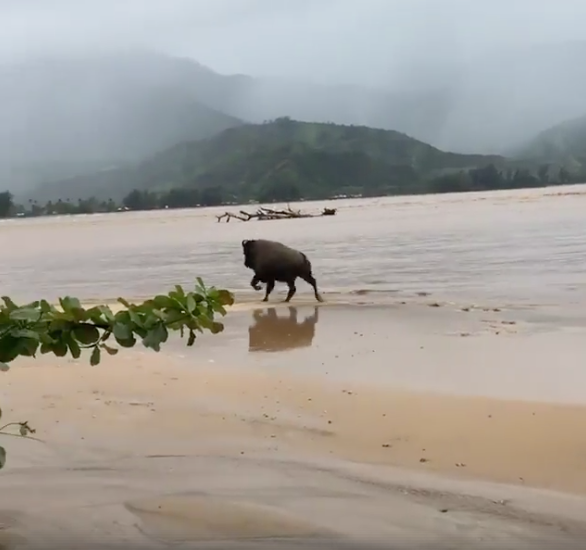 Kauai County officials are working with the U.S. Coast Guard, the National Guard, police and firefighters to evacuate people who are stranded in the remote areas and provide food and supplies to those who have declined to evacuate and are sheltering in place.
"The focus has been on the north shore because they are completely isolated from the rest of the island while the highway is closed, but there are communities throughout the island that were impacted with the same severe damage," Blane told HuffPost. "People are now displaced from their homes and having to clean and rebuild them."
In the face of the devastation, the islands' residents have come together to help those affected by the disaster. Volunteers are using their own boats to deliver supplies to Hanalei, Waihina and Haena.
There are "countless volunteers" who are just "good Samaritans trying to help," Blane told HuffPost. "Community-driven support has [residents] coming in on their own by boats, Zodiac [inflatable boats] and Jet Skis to try and bring in supplies that they are collecting on their own."
Kauai County officials and Red Cross have not fully assessed the damage but are working with the Hawaii Emergency Management Agency to begin relief efforts.
"The road to recovery is going to be a long one for us," Blane told HuffPost on Wednesday afternoon. "But we're making progress, we're working together, we're going to get back up and running."
How You Can Help:
See photos of Kauai's devastation below.
Related
Popular in the Community