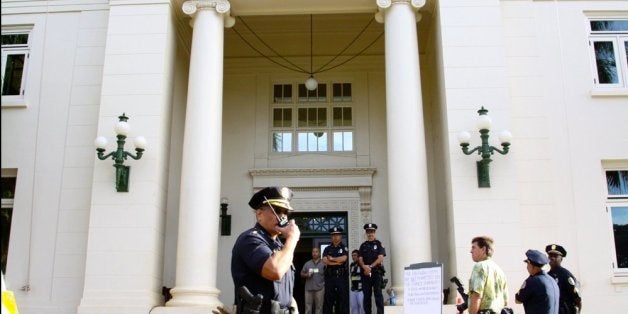 LIHUE, KAUAI — Drama hung in the air at the Kauai County Council as members prepared to vote Thursday on whether they would override Mayor Bernard Carvalho's veto of pesticide and GMO disclosure Bill 2491.
Passions have been fevered enough around the issue that police officers watched from near the door of the packed hearing room during a long day of public testimony, ready to take action if members of the emotional public misbehaved. Dozens of other cops were present outside, checking those entering for weapons.
The measure, which has highlighted a fracture in Kauai over biotech, would allow for the jailing and fining of employees of companies if they don't disclose details about pesticide use and of farmers who don't report growing genetically altered crops.
The veto's prospects looked solid. After all, the county council passed the bill by a six-to-one vote before the mayor vetoed it on Oct. 31, citing concerns that it is legally flawed. Just five votes are needed to override a veto.
But one of the six members who voted in favor of the bill, Nadine Nakamura, has since left the council to become the mayor's managing director. She has yet to be replaced. That meant that a single defection on the bill's day of reckoning might produce a victory for biotech and the farmers on their side; a prospect that troubled many in the room.
Passions ebbed and flowed, but the proceedings didn't go off the rails until after 4 p.m. when each council member was given 10 minutes to speak, prior to the official up or down vote on the veto.
Councilman Gary Hooser, a co-sponsor of the bill, spoke first to an attentive hearing room. He offered a scathing rebuke of Gov. Neil Abercrombie and state officials in charge of regulating pesticides as he declared his support for an override.
The day before, state officials announced a new program, called the Kauai Agricultural Good Neighbor Program. Biotech companies can voluntary comply with new pesticide disclosure rules and buffer zones. Critics say the move was meant to derail Kauai's much more aggressive bill.
"The governor and the Department of Agriculture insults us, ok," Hooser vented to the council. "They insult me, they insult this council, they insult our community. They think we're fools. It's ridiculous. They think they are going to come up here on the last day and save us with voluntary compliance."
State officials said Wednesday that the companies had agreed to voluntary disclose the information, but they could change their minds at any time.
Representatives of the biotech companies previously testified throughout the Kauai County Council hearings that they would not disclose such details, arguing that it was confidential business information.
Councilmembers JoAnn Yukimura and Tim Bynum, the bill's other sponsor, also spoke passionately in favor of an override. Those seated in the hearing room, which by this time was filled primarily with bill supporters, waived their fingers in the air — the silent clap. Dozens of people who gathered around speakers on the lawn because they couldn't fit in the hearing room, cheered loudly in response to their comments.
"I'm not a radical, I'm not out of control," said Bynum. "These issues are very serious to our island."
Earlier in the day, a number of west side residents, where the biotech companies primarily operate, gave emotional testimony about a litany of health complaints — including respiratory problems, cancer and birth defects — that they fear are associated with pesticide use.
Councilman Mel Rapozo, who has voted against the bill twice during past hearings, spoke next. As expected, he said he would not support an override. Rapozo said that the bill unfairly targets the biotech companies and that it rests on shaky legal terrain. He prefers the state's new voluntary program. "At least we have something today," he said. "This is a start."
Most of the councilmembers thought that Rapozo would be the sole dissenter.
This left two council members, Chair Jay Furfaro and Councilman Ross Kagawa.
Kagawa has been something of a wildcard throughout the four-month hearing process. He has repeatedly criticized the bill, but twice voted in favor of it.
The tension in the hearing room grew palpable as he began to speak. And as the minutes drew on, Yukimura and Bynum sat with their eyes closed.
Kagawa said that he was conflicted. He called earlier testimony about health effects "gut wrenching."
But he also said that he was encouraged by the state's new voluntary program.
"Am I happy with what will come about? Who knows," he said. "December one, we will see what is in those voluntary disclosures by the seed companies."
As Kagawa laid out a position that was increasingly critical of an override, some people in the hearing room broke into tears. Then he declared his vote: "I will not be supporting the override."
Audience members gasped and began to rise from their seats. Four police officers sprang to their feet. Councilman Jay Furfaro rose to call for order.
Some of those who had hoped to see the veto overturned stormed out of the room.
But the next stage was already unfolding around the council table. Hooser asked that the official vote be postponed.
Bynum concurred, even if he acknowledged that, "This is a desperation move."
"That's the democratic process, Mr. Chair," Rapozo protested. "I don't want to see this community strung out any longer."
Chair Furfaro, along with county attorneys, quickly shuffled out of the room to confer in private.
Ten minutes later, the hearing reconvened. Furfaro, the last undeclared council member, expressed his support for the override. "This bill is about modest protection and disclosure and reasonable care," he said.
He explained that the hearing could go into recess until Saturday if four members voted in favor of doing so. Council members are scheduled to choose a new colleague on Friday to replace the already-departed Nakamura.
In a more decisive democratic exercise than the veto vote, councilmembers voted by the same 4-to-2 to go into recess until Saturday. Not surprisingly, Rapozo and Kagawa dissented.
The council has until the end of November to override the mayor's veto.
"Perhaps I was naive," said Furfaro in response to criticism from Rapozo. "But I didn't think we wouldn't pass this today."
Members of the council agreed earlier this month to vote on the override before selecting a replacement member so that the bill didn't become a litmus test for choosing a new colleague.
But, after a majority decided that it didn't like the direction that the vote was heading on Thursday night, a litmus test may loom.
Still, Yukimura insisted that the council could still choose the new council member without asking whether or not the candidate would vote for or against the bill.
After that selection is made, she said, the council should formally vote on the veto. "I would like a second chance."
Before You Go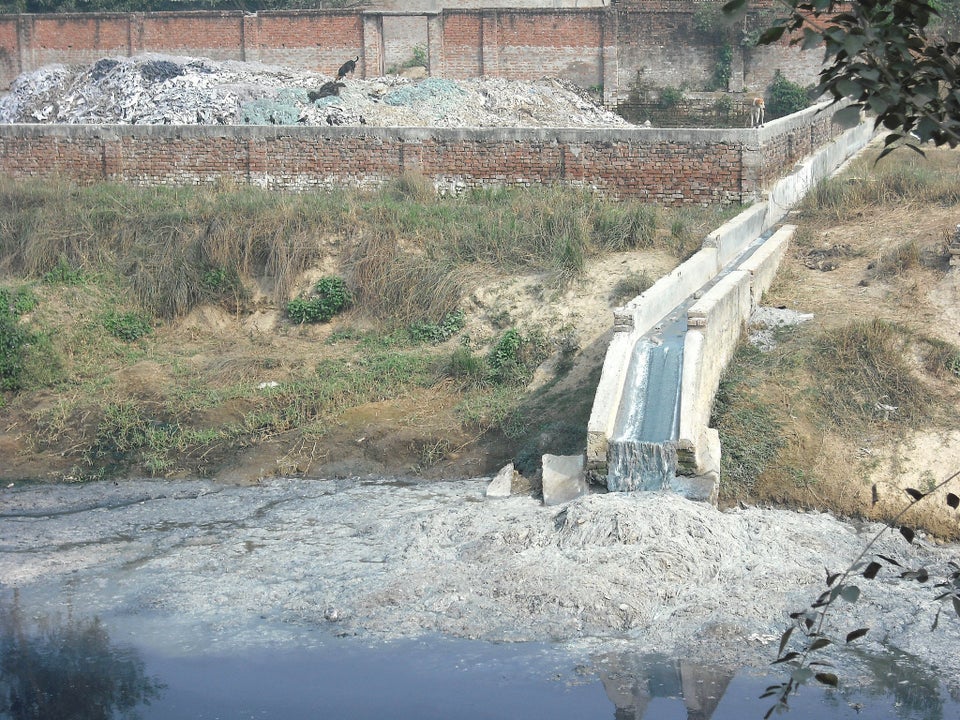 Top 10 Toxic Industries