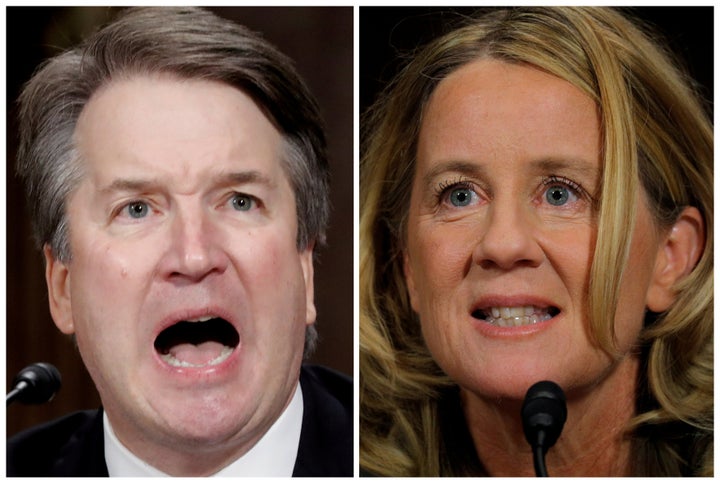 Americans are modestly less likely to believe Supreme Court nominee Brett Kavanaugh's testimony than they are to believe his accuser, Christine Blasey Ford, a new YouGov survey finds.
But Thursday's Senate hearings, during which Blasey alleged Kavanaugh sexually assaulted her in high school and Kavanaugh denied the accusation, did little to shift overall opinions about the judge's nomination, the survey ― among the first published in the wake of the testimony ― suggests.
"We found a country deeply divided in their reactions to the hearings." YouGov's Douglas Rivers and Joe Williams wrote Saturday. "The largest group believed Ford was telling the truth and Kavanaugh was not. A smaller, but still substantial group, believed the opposite. Hardly anyone believed both were telling the truth. Where you came out depended mostly on where you came in."
Americans said, 41 to 30 percent, that they believed Ford was telling the truth; they were split, 35 percent to 38 percent on whether Kavanaugh was similarly honest. (Those who reported having personally watched at least some of the hearings ― a majority of the country ― said, 52 to 36, that they believed Blasey. They were split 44 to 46 on whether they believed Kavanaugh.)
Results were deeply divided along partisan lines: Seventy-three percent of Democrats, and just 14 percent of Republicans, believed Blasey was telling the truth; 74 percent of Republicans, and just 11 percent of Democrats, believed Kavanaugh. Even controlling for partisanship, there were some modest differences between men and women's reactions ― 69 percent of Republican men said they felt Blasey was not telling the truth, compared to 59 percent of Republican women who said the same.
Because YouGov's surveys are conducted using an online panel, the pollsters were able to compare respondents' latest opinions against what they'd actually said prior to the hearings. More than 1,000 of those surveyed in the most recent poll were also interviewed for an earlier Economist poll taken after the allegations broke. Of those, 80 percent hadn't changed their minds on whether or not Kavanaugh should be confirmed. The rest hadn't shifted one particular way, either ― 15 percent of those who'd supported him said they were now opposed or undecided, but 16 percent of those who'd opposed him said they were now unsure or supportive. The formerly undecided who came off the fence also split about evenly, according to YouGov, leading to "almost no net movement in one direction or the other."
The survey's results offer an initial sense of public reaction in the immediate aftermath of the hearings. Sentiments could easily change in the week to come, as the FBI investigation into the allegations against Kavanaugh unfolds, and news coverage of the story continues.
But the results suggest that so far, Kavanaugh's opponents may be especially mobilized by the issue. Sixty-five percent of voters who don't want him confirmed, the survey finds, say the Supreme Court will be very important to deciding their vote in this year's midterms, compared to 50 percent of those who support his confirmation ― a gap that's especially notable because, in the past, Republicans have often been substantially likelier than Democrats to prioritize Supreme Court appointments.
The YouGov poll consisted of 1,000 completed interviews conducted Sept. 27-28 among U.S. adults using a sample selected from YouGov's opt-in online panel to match the demographics and other characteristics of the adult U.S. population.
Most surveys report a margin of error that represents some, but not all, potential survey errors. YouGov's reports include a model-based margin of error, which rests on a specific set of statistical assumptions about the selected sample rather than the standard methodology for random probability sampling. If these assumptions are wrong, the model-based margin of error may also be inaccurate. Click here for a more detailed explanation of the model-based margin of error.
Popular in the Community