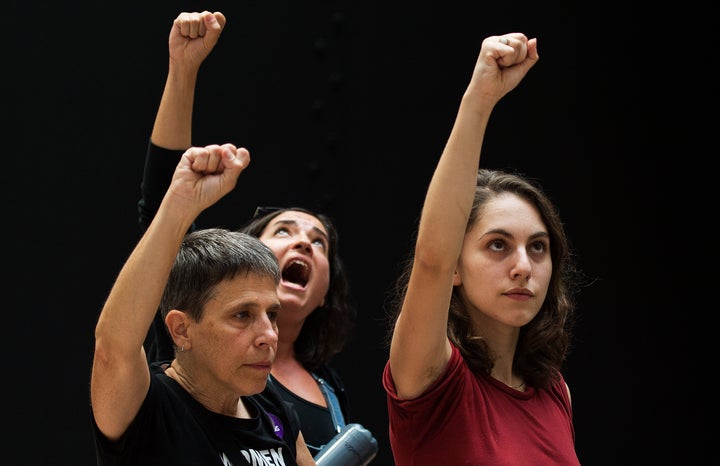 Weeks of protests against Supreme Court nominee Brett Kavanaugh have left sexual assault survivors feeling triggered, frustrated and utterly spent. But it hasn't stopped many from continuing to rail against a government that seems determined to silence them.
"I don't think there's any of us who feel like shutting up at this point, and I don't think any of us plan on shutting up even after his confirmation," rape survivor Robyn Swirling, who publicly confronted Sen. Lindsey Graham (R-S.C.) last week, told HuffPost on Friday.
"The Supreme Court is a real damn important institution in our democracy," she said. "Our voices need to be heard every minute that the legitimacy of that institution is in jeopardy."
Many survivors who spoke to HuffPost voiced similar concerns that the legitimacy of the highest court in the land is at stake. That's why they're refusing to back down.
"We are going to fight until the end ― because we believe we can have an impact on this process and we believe that it's critical that senators understand the trauma and impact of sexual assault," said Jess Davidson, survivor and executive director of the advocacy organization End Rape on Campus.
"We are going to fight until the end."
As of Friday afternoon, Kavanaugh appears to have the votes he needs to secure a confirmation. A final Senate vote is expected on Saturday. But survivors know the movement they've sparked has already spread across the country.
"No matter what happens with the Kavanaugh nomination, we've already won," said Thenmozhi Soundararajan, executive director of the South Asian social justice organization Equality Labs.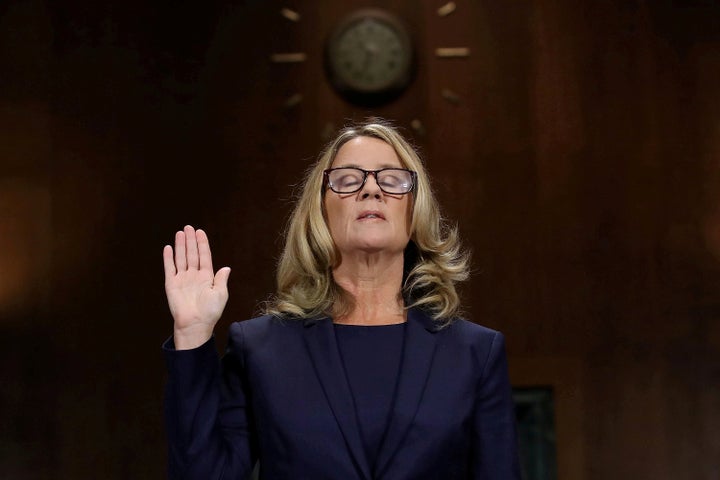 Soundararajan said that the gaslighting of survivors and communities of color by politicians will be remembered. Kavanaugh's supporters may have political power, she said, but "they don't have people power."
"They think that they're winning, but they have basically ignited a movement that's never going to go away," she said. "We will all remember the way that we saw Orrin Hatch telling survivors to grow up. We will all remember Mitch McConnell defending the perpetrator. We will all remember how the Republicans chose to send a prosecutor to interview Ford but the minute that prosecutor tried to bring that same line of questioning to Kavanaugh, they removed her and it became men stumping about how he was such a great guy. There's no greater evidence of the patriarchy than that."
"They think that they're winning, but they have basically ignited a movement that's never going to go away."
Although hopeful for change, survivors are still suffering the inevitable effects of being forced to defend their humanity time and time again. That ache was only heightened when Trump, who has himself been accused of sexual assault by more than 20 women, mocked and smeared victims of sexual assault twice this past week.
"Watching Dr. Ford discredited, mocked and shamed triggers memories for myself, as it does for thousands of people across the country," said Morgan McCaul, a University of Michigan student and survivor of former USA Gymnastics and Michigan State University trainer Larry Nassar. "It isn't easy to see a fellow victim's pain, your pain, deemed to be less worthy than a political appointment."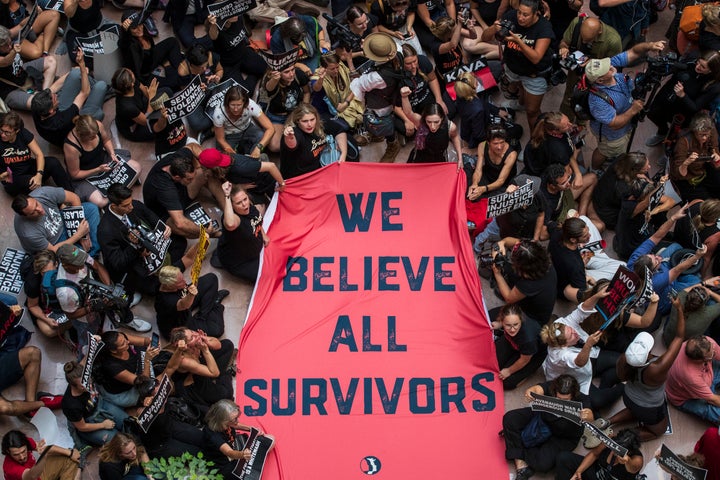 Swirling said she's watched as survivors of all genders, but especially women, have been "actively re-traumatized" by this entire process.
"It is just extremely disheartening and frankly really hard to watch my government be so explicit in how little they care about the experiences of sexual assault survivors," she said.
As a survivor of multiple rapes, Alison Turkos said she's quite literally fighting for her livelihood.
"As a survivor I've had to fight back before. This is not new for me," she said. "I refuse to remain quiet as if my voice doesn't matter."
"Many survivors and allies are possibly feeling discouraged today, but I have seen firsthand what steadfast perseverance in the face of injustice can do," Nguyen, herself a rape survivor, told HuffPost. "We will continue our work so that no one else experiences the same struggle I faced."
Soundararajan told HuffPost that no matter what happens with Kavanaugh, survivors will persist.
"If this is the battle they want to choose," she said, "they're going to lose the war."
Popular in the Community