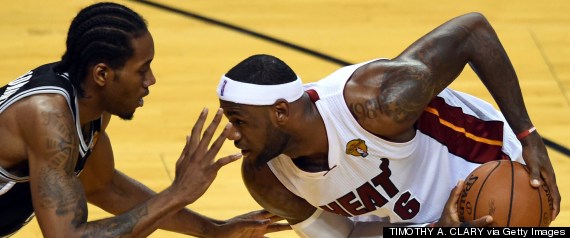 Game 3 of the NBA Finals was a swing game -- when a series is tied 1-1, the winner of the next game goes on to win the Finals more than 80 percent of the time. The San Antonio Spurs and their exceptionally well-run offensive machine took the first punch, the second punch and then withstood a furious Miami run that cut their lead from 25 to single digits. The Spurs ended up beating the Heat, 111-92. But how did they do it?
The one guy who can change this series for the Spurs is Kawhi Leonard -- I've been saying it since draft night. Nobody else on the roster can defend LeBron James as well as he can. But what the 6-foot-7 Leonard did in Game 3 was not only bother James (22 points and seven turnovers) and force him to use screens for offense, but he also completely took over the game offensively. Leonard -- who, ironically, hails from Los Angeles and went unrecruited by the LA schools before going to San Diego State -- scored a career-high 29 points on 10-13 shooting.
"I just was in attack mode," Leonard said after the Spurs' victory. "Trying to be aggressive early. Just knocking down a couple of shots got me going."
The 22-year-old (who had not scored this many points since high school) was a scapegoat of the Spurs' Finals loss last year, when he split two free throws in Game 6, ultimately allowing for Ray Allen's magical shot. Yet Leonard, with his youth and wonderful two-way ability, is undeniably the future face of this franchise. Tim Duncan is 38 years old, Manu Ginobili is 36 and even the baby-faced assassin, Tony Parker, is 32. Very few guys in the league have the potential to be this special on both ends of the floor.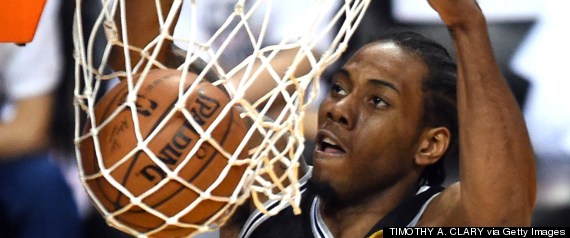 What comes next for Miami has to be a bevy of defensive adjustments from coach Erik Spoelstra. The Heat is a very average defensive unit, with no real rim protector and a surprising lack of 3-point defense. The Game 2 adjustment to put size on Parker in the fourth quarter with both LeBron and Dwyane Wade was superb, but Gregg Popovich countered it in Game 3 by stressing more ball movement and even more drive-and-kick -- hence the Spurs' 59 percent shooting and 9-20 performance from distance.
But that brings us back to the emerging Leonard. In becoming a bona fide scorer, he forces Spoelstra to counter him with a top defender. Realistically, we cannot expect the third-year pro to get 25-plus again, but the mid-teens seems probable. Suddenly, Miami's already-soft defense scrambles, because it can't help too much off drives given San Antonio's proficient 3-point shooting ability.
Email me at jordan.schultz@huffingtonpost.com or ask me questions about anything sports-related at @Schultz_Report and follow me on Instagram @Schultz_Report. Also, be sure and catch my NBC Sports Radio show, Kup and Schultz, which airs Sunday mornings from 9-12 ET, right here.
REAL LIFE. REAL NEWS. REAL VOICES.
Help us tell more of the stories that matter from voices that too often remain unheard.