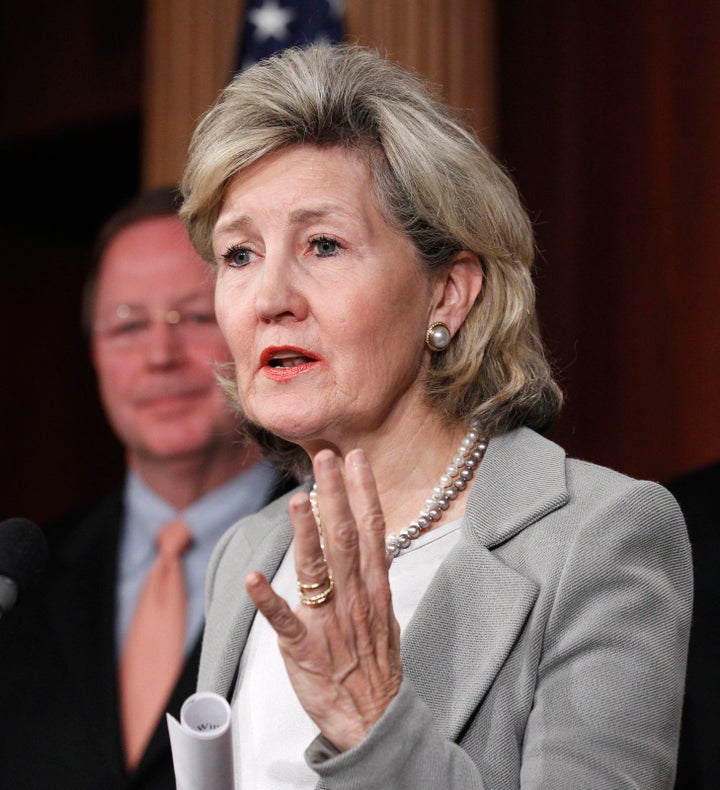 WASHINGTON -- A rough outline for a Dream Act-like bill from Senate Republicans leaked on Thursday is part of a year-long effort by Sens. Kay Bailey Hutchison (R-Texas) and Jon Kyl (R-Ariz.) to find a GOP solution to helping young undocumented immigrants, a Hutchison aide confirmed to HuffPost.
The plan is similar to one being floated this spring by Sen. Marco Rubio (R-Fla.), who has become the face of the Senate GOP's efforts on immigration.
But their quieter effort, beginning a little over a year ago, predates Rubio's, according to the aide, who agreed to speak on condition of anonymity to discuss behind-the-scenes work on the bill. And now, as Hutchison and Kyl prepare to retire in January, their framework -- the ACHIEVE ACT -- is resurfacing as a potential basis for a bipartisan agreement to give legal status to some undocumented young people.
Rubio worked with the two senators on his own legislative effort, but both plans were sidetracked earlier this year when President Barack Obama announced his "deferred action" directive to halt deportation of undocumented young people who fit certain criteria, and offer them work authorization for two years.
Hutchison hopes that renewed interest in immigration reform will allow their framework for undocumented young people to begin moving forward, the aide said.
"She thinks the proposal she and Senator Kyl have been working on is at the very least a strong starting point for an eventual agreement," said the aide. Kyl's office did not immediately respond to a request for comment.
Addressing policy for undocumented young people may be an easier sell than wider immigration reform, which will likely involve a drawn-out legislation battle next year.
Hutchison told PBS earlier this week that she believes immigration reform "is in reach," mentioning that she has worked with Sen. Dick Durbin (D-Ill.) on potential legislation, saying it would be "something that I think would be acceptable to the American people and help these kids who are in this kind of never-never land that we need to get them out of."
Rubio said Thursday that such a bill should be the first priority, followed by comprehensive reform.
"The issue of these kids that are in this country undocumented is not an immigration issue, it's a humanitarian one," he said at The Atlantic's Washington Ideas Forum. "They are more like refugees in that sense than they are like illegal immigration folks, because they're here through no fault of their own, they've been raised their entire life here and they want to go on with their future."
The ACHIEVE Act framework is similar to "a working draft of what Sen. Rubio began working on over the summer," Rubio spokesman Alex Conant said Thursday.
"Senator Rubio has said that his proposal would be permanent and legalize the status of undocumented young people in America without creating a special pathway to citizenship," he said in an email on Thursday. "We are still working on the timing and specifics of our legislation, with the goal of permanently solving the problem with broad, bipartisan support."
The Daily Caller posted some details of Hutchison and Kyl's bill Thursday, which are similar to the more widely-known framework of Rubio's plan.
The ACHIEVE Act would impact only young undocumented immigrants who came to the United States as children and is similar to Dream Act, which was initially bipartisan legislation from Sens. Dick Durbin (D-Ill.) and Orrin Hatch (R-Utah) but has since become largely a Democratic effort.
The Dream Act failed in the Senate in December 2010 with "no" votes from most Republicans -- excepting Sens. Lisa Murkowski (R-Alaska) and Richard Lugar (R-Ind.) and now-retired Sen. Bob Bennett (R-Utah) -- and five Democrats. Kyl and Hutchison voted against the bill; Rubio was not yet in the Senate.
The ACHIEVE Act would allow undocumented immigrants to become legal residents -- citizenship "could follow," according to The Daily Caller -- if they entered the United States before the age of 14, while the Dream Act caps out at 16. Other than in age requirements and questions over citizenship, the bills are fairly similar. Both require an applicant to attend college or join the military, show good moral standing and keep a felony-free criminal record. (National Review Online posted some of the draft text here.)
It's not likely that there will be a vote this year on the framework. Obama, Senate Majority Leader Harry Reid (D-Nev.) and House Speaker John Boehner (R-Ohio) have all called for fast work on comprehensive immigration reform, but not until after the president's inauguration in January.
Calling all HuffPost superfans!
Sign up for membership to become a founding member and help shape HuffPost's next chapter
BEFORE YOU GO
PHOTO GALLERY
Controversial Immigration Laws