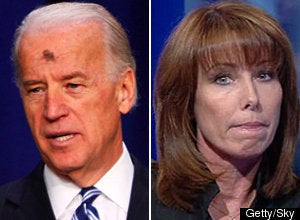 British TV host Kay Burley Wednesday mistook Vice President Joe Biden's Ash Wednesday ashes for a bruise on his forehead.
"What's happened to his head?" Burley asked on Sky News. "I'm sure that's what everyone's asking at home...it looks like he's walked into a door!"
Her co-host speculated that he may have fallen on the ice at the Winter Olympics in Vancouver.
Shortly thereafter, Burley apologized and said she realized it was Ash Wednesday, the first day of Lent and the day when Catholics receive ashes on their foreheads.
"I know that I am a very bad Catholic," Burley said. "I know now that it is Ash Wednesday and I know that those are ashes on his forehead. I hang my head in shame. I'll be back in just a moment."
Related
Popular in the Community