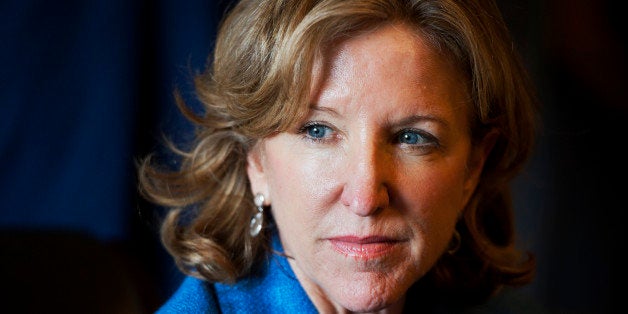 DURHAM, N.C. -- Chris Johnson is a senior at North Carolina Central University, a historically black university in Durham. In November, he's planning to vote for Kay Hagan for Senate. Not that he knows who she is.
"I just vote Democratic," Johnson shrugged.
"Same," said his friend, John Jones, also a senior at NCCU.
Several miles down the road, in Raleigh, Michael H. is working at a shoe store in Crabtree Valley Mall. He knows a little bit about Hagan, namely that she's a Democrat, but it's enough to get his vote.
"Oh, I am going to vote. It's out of sheer fear of being shamed," said Michael, who is also African-American. "We have a lot of pressure from within my home to vote. We are a long line of voters, it comes down through generations and everything. My grandparents, my parents, my sisters; I would just be shamed. Shamed."
It's a razor-thin race between Hagan, a moderate Democrat who has put women's issues and raising the minimum wage at the center of her campaign, and Republican Thom Tillis, the state's House speaker and a driving force behind the legislature's sharp rightward shift.
The outcome of the race -- and, perhaps, control of the Senate -- could come down to voters like Johnson, Jones, and Michael H. In a tight election year, Democrats are banking heavily on turning out the same coalition of voters that helped propel them to big victories in 2008 and 2012. In North Carolina, it looks like their investments may be paying off.
HuffPost last week talked to two dozen randomly selected black voters in the Raleigh-Durham area -- on the streets, in shopping centers, on a college campus -- to see if they plan to vote in November. People were encouraged to be honest if they expected to skip out. Yet the responses were nearly universal: An emphatic yes to voting, even if they don't know much about who's running.
"Yes, I'm voting," said Marilynn T. of Raleigh, who spoke from behind a perfume counter at Macy's. "My schedule doesn't allow me to follow the candidates much. I go by what I hear around. But right now it appears that the Democratic Party is the party I'm going to go with. I'm not for the rich. I'm a working-class person."
"For sure," said B.J. Watson, a senior at NCCU, asked whether he would be voting. He conceded he doesn't know anything about Hagan or Tillis, but said his sister works for a progressive environmental group and keeps him informed on politics. "I go to her and she tells me what to do," he said.
"Oh goodness, yes," added Gerry Fisher, a lifelong resident of Raleigh who works in a department store. "It's not like an odd-numbered year where the dog catcher gets elected or something. It's pretty important."
Many of the people approached by HuffPost said they've been bombarded by campaign ads and mailers about the Hagan-Tillis race. The targeted outreach from both campaigns is working.
"I know enough about each candidate to know I like one and I don't like the other," said Fisher.
The plans of two dozen random voters certainly do not reflect those of the state's entire African-American community. But the palpable enthusiasm HuffPost observed among black voters about the midterm election is precisely what Democrats are counting on. An Elon University poll from last month showed that black voters favored Hagan, while white voters tended to support Tillis. If Hagan can come close to rallying the black community at the levels that President Barack Obama did in previous elections, she is likely to win.
Turnout in the African-American community was crucial to Hagan's victory in 2008, when she shared a ballot with Obama. A record 72 percent of black voters in the state went to the polls, compared to 66 percent of white voters, according to data from the State Board of Elections. In 2012, the numbers shifted slightly, but black voter turnout was still at 70.2 percent, while white voter turnout was at 68.6 percent.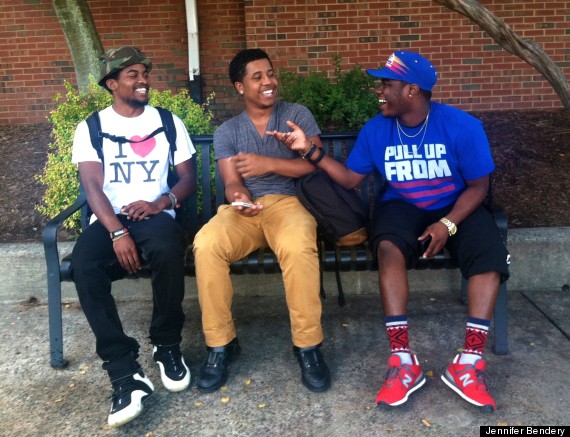 NCCU students Dionne Wright, 19, Adonis Williams, 19, and Lyndon Bass, 19. All three plan to vote for the first time in November.
It's a different, more toxic, landscape in 2014. Obama's popularity is sagging. And the highest-profile Senate races are all in Republican-leaning states. To bolster its candidates, the Democratic Senatorial Campaign Committee has invested in an unprecedented get-out-the-vote operation. In North Carolina alone, it has 10,000 volunteers on the ground and is collaborating with a data analytics firm led by Obama's former campaign team. The hope is that digital content combined with grassroots summits and neighbor-to-neighbor organizing can boost voter turnout to levels on par with a presidential election year.
One of the biggest focuses is on engaging the African-American community. Members of the Congressional Black Caucus, including Reps. Elijah Cummings (D-Md.) and Donna Edwards (D-Md.), were both in the state last month stumping for Hagan and plan to return this month. The DSCC just launched a $1 million radio ad buy targeting black radio stations around the state.
Hagan, meanwhile, has been meeting with faith leaders to ask for their help on the ground. She hosted an African-American summit in Raleigh last month, where more than 200 community leaders heard from Congressional Black Caucus members and others about the stakes of this election for the black community.
"People I talk to say there's two reasons they're moved to vote: one is economic, the second is education," said North Carolina state Rep. Larry Hall, who represents Durham and serves as the House minority leader. Republicans took control of the legislature and the governor's office in 2012, and since then, they have ushered through significant cuts to education, among other things. That has taken a toll on the black community in particular, he said.
"In the African-American community, schools are centers of daily life. Taking away teachers, cutting field trips because we have no money, no books … it's palpable," Hall said. "If there is energy in this election, it will be in the African-American community."
"I have siblings who are teachers. They're not getting raises. They're not getting the supplies they need," said Carrolle Miller of Garner. "That means it's coming out of their pocket."
As for whether she plans to vote this year, she said, "I was raised so that every opportunity you have to vote, you vote."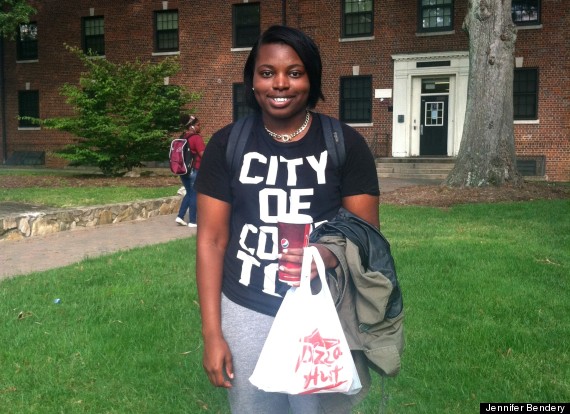 NCCU senior Brittany Hicks is a criminal justice major. She said she's voting in November because "I know my taxpayer dollars go toward what these people do. That's my money they're spending."
The topic most discussed at Hagan's summit, though, was voter suppression, according to a campaign staffer. Many in North Carolina are proud of the prominent role their state played in the 1960s civil rights movement, including sit-ins at a Woolworth's store in Greensboro, which inspired similar protests in other cities in the South. Some consider it disrespectful that the legislature and governor last year passed laws making it harder to vote.
"What I tried to convey was the issue of people taking away people's rights," Cummings said of his speech at the summit. "My mom and dad are from South Carolina. My dad was a sharecropper. People had to go through the poll tax and other hurdles just to be able to vote."
North Carolina's election laws are some of the most restrictive in the nation and have sparked a lawsuit by the U.S. Justice Department. The state has disallowed votes cast out of precinct, eliminated same-day registration, reduced the early voting period from 17 to 10 days, nixed pre-registration for high school students and imposed a strict voter ID law for 2016. Critics have been holding peaceful protests at the state legislature building in Raleigh for months, as part of an effort known as Moral Mondays.
A federal court last week blocked two of the law's provisions -- eliminating same-day registration and disallowing votes cast out of precinct -- but the other provisions remain.
"This city is really one-sided," said Leah Mills of Raleigh. "It favors a certain group of people. The money people. You can see it. I'll just put it like that without being racist."
Mills said she sees laws being passed that disproportionately benefit white and economically well-off people. Given that some feel the system has been skewed against them, she said, African Americans in the state take voting seriously.
"They take pride in voting down here. I know that for a fact. Because it affects them," she said. "They know it affects them."
U.S. Rep. G. K. Butterfield (D-N.C.), whose district includes Durham, said that Republican groups have been misleading voters about which laws are in effect and what the deadlines are for registering to vote. He speculated that anger over disenfranchisement will end up driving more black voters to the polls.
"I have voters tell me often that they're disappointed that they're going to have to produce an ID in this election, which is not true," said Butterfield. "This whole debacle about election law changes, I think it's going to backfire in the African-American community. I think it's going to energize many voters who otherwise would be ambivalent."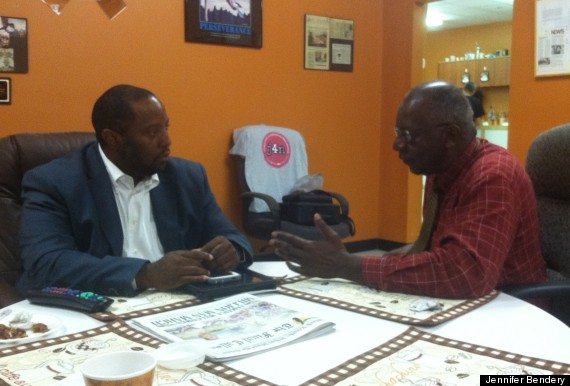 Omar Beasley and Walter Jackson of The Durham Committee on the Affairs of Black People.
One organization trying to make sure people have accurate voting information is The Durham Committee on the Affairs of Black People. The group, which been operational since 1935 and played a role in the sit-in movements of the 1960s, carries significant sway in the community. HuffPost sat down with its leaders at Ideas Coffee House, where the group meets. Framed posters of Obama decorated the walls. A small table offered an array of Ebony magazines, the most prominent of which was a 1980 edition with Bill Cosby on the cover.
"Certainly, there are those who are trying to spread confusion to suppress voter turnout this time," said Walter Jackson, 70, who runs the political arm of the group. "We are doing all we can to get the word out to let them know those changes are not yet in effect."
Jackson's group endorsed Hagan last month and started doing voter outreach well before that.
"We're working hard," said Jackson, who later finagled a ride with HuffPost to the NCCU campus so he could talk to students about voting. He predicted Hagan will win in November, though he wouldn't guess the margin of victory.
"I don't care if it's by one vote," he said. "We just need her to win."
REAL LIFE. REAL NEWS. REAL VOICES.
Help us tell more of the stories that matter from voices that too often remain unheard.
BEFORE YOU GO
PHOTO GALLERY
Obama's Fist Bumps