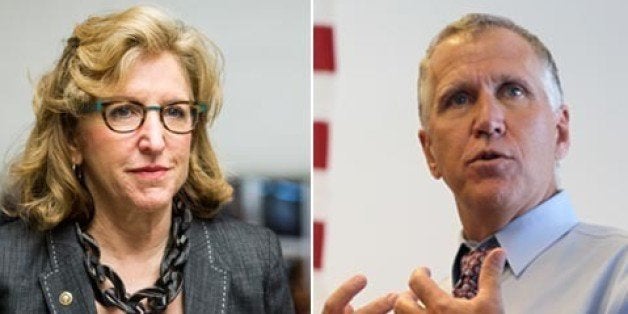 RESEARCH TRIANGLE PARK, N.C. -- Sen. Kay Hagan (D-N.C.) and state House Speaker Thom Tillis (R) met Wednesday for the first debate in a Senate race that could very well determine which party controls the upper chamber in just two months.
It was the first opportunity for voters -- who have thus far been presented with a campaign depicting Hagan as President Barack Obama's right-hand woman and Tillis as the driving force behind the North Carolina state legislature's sharp rightward shift, a campaign that has already cost nearly $30 million all told -- to see the candidates contrast their positions on issues ranging from the Affordable Care Act to the minimum wage. The race has already shattered records as the most expensive in the state's history, even adjusted for inflation.
The debate, moderated by "CBS This Morning" co-anchor Norah O'Donnell, was held in a television studio at North Carolina's Research Triangle Park. Hagan will need heavy turnout in this region to counteract Republican strongholds outside of the Raleigh-Durham-Chapel Hill triangle, Charlotte and Greensboro.
Along the highway leading to the studio, Planned Parenthood's state chapter had dozens of people holding signs in the day's sweltering heat and cheering in support of Hagan, while Women Speak Out, a super PAC affiliated with the anti-abortion rights group Susan B. Anthony List, shouted back.
"Every time Kay Hagan is given the opportunity to vote for abortion, she does," Tami Fitzgerald, the super PAC's state director, told The Huffington Post. "Thom Tillis is very pro-life, and he has a record to prove it."
Those hoping for a clash on issues relating to contraception weren't disappointed. Hagan called Tillis' record on such issues "abysmal," while Tillis said that though he supported the Supreme Court's June decision in the Hobby Lobby case, he believed contraception should be available over the counter and "probably more broadly than it is today."
Indeed, voters could be forgiven for thinking that Tillis was the American College of Obstetrician and Gynecologist's biggest cheerleader -- though Tillis has said he supports personhood legislation, which ACOG says could ban some common forms of birth control.
In a new line of attack, Tillis accused Hagan of opposing over-the-counter birth control access because of donations she's received from the pharmaceutical industry, to which Hagan responded by pointing out that women no longer have to pay out of pocket for contraceptive coverage under the Affordable Care Act.
Before the debate, Hagan supporters had distributed Tillis "Bingo" sheets with squares like "Harry Reid" and "rubber stamp" (both of which Tillis did, in fact, invoke multiple times). Meanwhile, Tillis' campaign sent out "flashback" emails noting arguments Hagan had made during her debate with then-Sen. Elizabeth Dole (R-N.C.) in 2008. The Democratic Senatorial Campaign Committee ran an ad during that campaign saying that Dole voted with then-President George W. Bush 92 percent of the time, which Hagan highlighted during her only debate with Dole. On Wednesday, Tillis flipped Hagan's rhetoric in his opening remarks, accusing Hagan of voting with Obama 95 percent of the time.
Hagan, for her part, said that Tillis has shown he has "the wrong priorities" and "has fought for policies that are taking our state backwards," making an evident effort to link Tillis' Senate candidacy with his record as the leader of a state GOP caucus that has become unpopular with voters after passing laws that restricted voting rights and abortion access, eliminated the earned income tax credit and cut unemployment benefits.
"Please listen to whom we're fighting for," Hagan said. "The economy should work not just for the wealthy, but for everyone."
Some of the testiest exchanges between the candidates concerned the Affordable Care Act, as Tillis claimed Hagan had repeated the line "if you like your plan, you can keep it" 24 times during the months the bill was up for debate.
"Kay Hagan has failed the people of North Carolina by promising the people what she can't deliver," Tillis said. "The best health care the world can deliver -- we already had it."
Hagan replied by noting that Tillis denied expanding Medicaid under the health care law.
"That's 500,000 people that could get coverage," she said.
When asked about whether he believed the $7.25 federal minimum wage was enough, Tillis didn't directly answer the question, instead referring to "the job-killing consequences of these sorts of policies" and accusing Hagan of "settling for an economy that's based on the minimum wage." Tillis has previously said he believes a federal minimum wage is an "artificial threshold" and that raising it is a "dangerous" idea.
While Tillis argued that Hagan has been an ineffective legislator since she hasn't shepherded her bills to Obama's desk, Hagan seemed to imply that Tillis has been too effective at passing legislation out of the state House. In an interview before the debate, Mac McCorkle, a former strategist for Democratic North Carolina Govs. Bev Perdue and Mike Easley who now teaches at Duke University's Sanford School of Public Policy, predicted that each candidate would "paint the other as a bad incumbent."
"Hagan, unlike a lot of the other Southern Democratic senators, has the ability to drive home the point that Tillis is taking North Carolina in the wrong, reactionary direction," McCorkle said. "There is resonance for that. That gives Hagan a weapon that a lot of other Senate Democratic incumbents don't have."
In a state where, according to Gallup, about as many North Carolinians lean or identify Democratic (42 percent) as they do Republican (41 percent), the race's outcome is guaranteed to be a nail-biter. HuffPost Pollster, which combines all publicly available polling data, shows Hagan leading Tillis by just one percentage point. The candidates will meet for two more debates in October.
REAL LIFE. REAL NEWS. REAL VOICES.
Help us tell more of the stories that matter from voices that too often remain unheard.
BEFORE YOU GO
PHOTO GALLERY
Senate Seats Up For Grabs In 2014