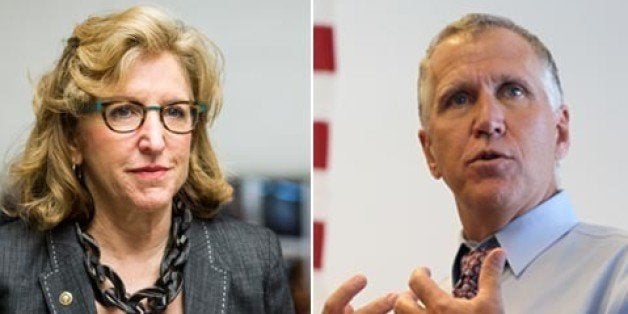 WASHINGTON -- Sen. Kay Hagan (D-N.C.) came out swinging against Republican challenger Thom Tillis in their second debate Tuesday, perhaps encouraged by her small but consistent leads in polls.
During the debate, moderated by ABC News' George Stephanopoulos, Hagan repeatedly pointed out that Tillis, the state House speaker, had dodged questions on the Islamic State, federal education standards and bucking the Republican Party's leadership. Hagan was more assertive about Tillis' answers than during their first debate on Sept. 3.
Tillis, for his part, continued his strategy of tying Hagan to President Barack Obama, using the president's comment from last week that his policies would be on the ballot in November.
Hagan argued that Tillis was evasive when discussing whether he thinks Obama should send ground troops to Iraq and Syria to combat Islamic State militants, whether he supports any federal education standards, why he opposes comprehensive immigration reform and what issues separate him from GOP leadership.
"You want to ask him your question again?" Hagan asked, after Stephanopoulos for a second time asked how Tillis would take on senior Republicans if he were elected.
"At this point it's kinda hard to say," Tillis responded, blaming Senate Majority Leader Harry Reid (D-Nev.) for not allowing amendments to come up on the Senate floor.
Hagan said she had opposed her party on the proposed Keystone XL pipeline, trade deals and budgets, in response to the same question. She did not give a specific example of Obama policies she regretted voting for when Tillis asked her later in the debate.
"Speaker Tillis wants to make this race about the president," Hagan said. "This race is about who is going to represent North Carolina in the U.S. Senate."
The debate's freshest question was about marriage equality. The Democratic state attorney general, Roy Cooper, has directed counties to be prepared to issue marriage certificates to same-sex couples, saying that a federal judge's ruling could come within days following the Supreme Court's decision Monday not to take up appeals from five states.
Tillis, who supported the 2012 referendum that put a constitutional ban on same-sex marriage on the books, didn't characterize marriage equality in the state as inevitable, in contrast to Gov. Pat McCrory (R), who said he would have to accept the court's ruling.
"We're going to continue to take our case," Tillis said. "Ultimately we hope that this does go to the Supreme Court."
Tillis blamed the recent marriage developments on judicial activism, even though at least one Supreme Court justice who chose not to take up the cases would have been appointed by a Republican president.
"We're at a dangerous time where the president has appointed liberal activist judges that are literally trying to legislate from the bench," Tillis said.
Some of the debate's prickliest moments came as each candidate accused the other of shirking legislative responsibilities. After Tillis accused Hagan of missing Senate Armed Services Committee hearings, Hagan flipped the attack back at him and pointed out that the Charlotte Observer, his hometown paper, had called on him to resign his leadership position in the state legislature because of the sessions he missed while fundraising for his Senate bid.
The candidates will meet again on Thursday for their final debate.
Before You Go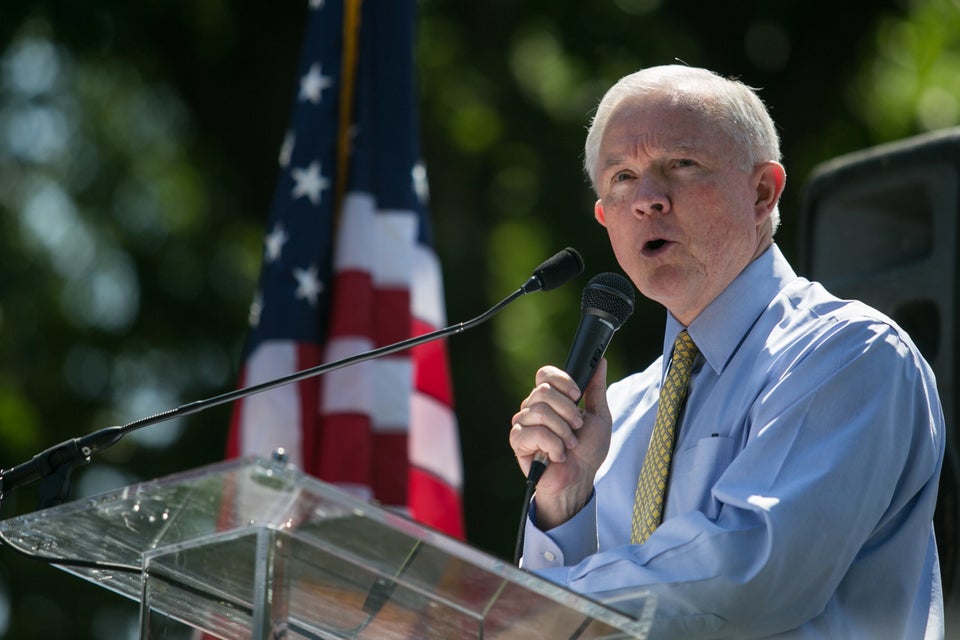 Senate Seats Up For Grabs In 2014
Popular in the Community