While the ad below didn't appear during the Super Bowl and didn't have puppets or puppies in it, it merits diss-cussion -- and is getting it from people in the adoption community.
Epic fail for adoption-themed Kay Jewelers ad.
How many adoption stereotypes and myths can be crammed into one 30-second commercial?
Diss #1: "Just adopt -- it's easy!" Show up at the agency where you've placed your order and have your baby delivered to you, a gorgeous little bundle of certainty! Celebrate your shiny life with shiny things! Because of course after completing your adoption application and homestudy, and after taking on the lifelong responsibility of parenting, you still have money to burn!
Diss #2: "Adoption is shiny -- it's all gain and no loss!" Pay no attention to the trail of devastation left by fertility treatments and the arduous path of an adoption homestudy. Look away from the loss that's just beginning for the woman who just gave birth, her family, the birth father and his family, who are facing immeasurable loss. Let's forever ignore the possibility that the baby herself is experiencing a confusing twist of fate, that everything she's sensed since her brain began developing has just changed, and that the people taking her home mark her experience with their bling.
But don't take just my word for it. On
, on my
and on
, you can read how this ad strikes others. Some gems:
"Kay Jewelers, do you plan to design a smashed heart for the mothers who lost their babies ? This ad is extremely insensitive to all parties involved in an adoption."
"Having relinquished a baby for adoption over 30 years ago, this made me so unbelievably sad. This company did not take into account the feelings of all parties involved."
"I guess they conveniently forgot about the heart break and tragedy of the family losing the child. Yes, money buys both diamonds and babies. This was tasteless."
"Meanwhile, in the other room, a woman is overcome with the grief and sadness that will last the rest of her life. But this one has a shiny new necklace and a shiny new baby."
"If you were trying to materialize and trivialize a very complex process, you succeeded."
"I found this commercial to portray an offensively stereotypical and unrealistic vision of modern adoption... the well-off white married couple sitting in the adoption agency, the healthy white infant, the birth parents comfortably nowhere in sight. This is not the face of adoption today."
"I bet everyone who's paid for an adoption is dying to fork out more money for jewellery, too."
"Way to undermine the whole [adoption] process Kay and make it look like it really is as easy a drive through."
"Who thought THIS was a good idea? And couldn't they have shown this to persons affected by adoption prior to green lighting it?"
"As an adoptee and therapist who specializes in working with the adoption and foster care community, I'm baffled how society continues to perpetuate such an archaic portrayal of adoption."
"I'd love to meet the marketing geniuses who came up with this one."
If you're going to create an ad around adoption, you'd be well-advised to understand adoption from the viewpoints of those who live it. Otherwise?
-- "I will never shop at Kay Jewelers again."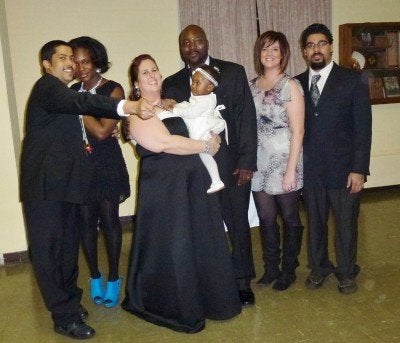 Adoption Portraits
Related