Fliers no longer have to worry about booking at the wrong time, at least if Kayak's new "Price Forecast" tool has anything to say about it.
A new widget on the travel search site purports to predict airfare trends, shedding light on what's often a frustrating part of the booking process.
Kayak is making "a reasonable forecast about the direction of the price, whether they are going up or when they might fall," Chief Scientist Giorgos Zacharia tells HuffPost Travel. "We also tell the user what the accuracy of that prediction might be."
The tool, which has been in development since October, applies an algorithm to the reams of airfare data Kayak has on hand, more than a billion queries on 8,000-plus city pairs a year, according to CMO Robert Birge.
"We've always, and we still do, recommend that people use their judgment first and foremost," Birge says. "This is an additional piece of information we're providing people."
Price Forecast or not, the bottom line isn't the only deciding factor for consumers when it comes to booking a flight, Birge insists.
"I would never say that people are only price-driven when it comes to finding airlines. Brand matters a great deal, time of schedule is very important, the willingness to take a stop is important," Birge says. "This is obviously for people who are going to work really, really hard to get a good deal."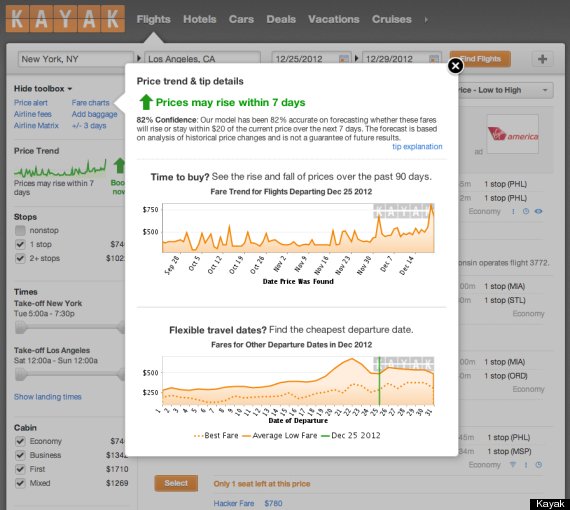 Related