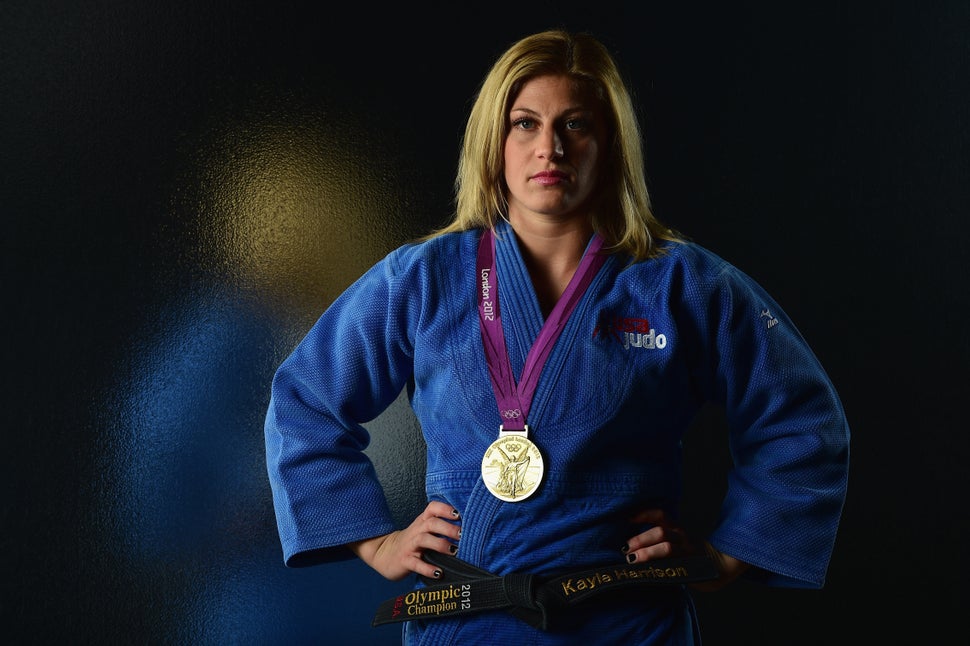 Kayla Harrison looked up at the judge in front of her and told him that she no longer knew how to be a child.
Harrison, then just 17, had sandwiched herself between her mother and grandmother in the Ohio courtroom, refusing to glance in the direction of her former judo coach, Daniel Doyle.
She spoke slowly and surely about the 33-year-old Doyle. She detailed how he had poisoned her passion for the sport. How he had sullied every inch of her life for years. How she had became undeniably suicidal.
When she was done, she turned on her heels and left not only the courthouse, but also the state and the life she knew, saying goodbye to her home, her training gym and Doyle, the coach whom she had trusted unequivocally ― and the man who had spent the past several years sexually abusing her.
Harrison's landing place was Boston, where she began anew. She took up residence with a new coach and commenced a new training program carefully crafted to help her regain her will to live and her sense of self ― and, eventually, her competitive hunger.
Things began to fall into place. Doyle had pleaded guilty in November 2007. By 2008, Harrison had earned a spot as an Olympic training partner. By 2012, she had entirely eschewed that supporting role in favor of being the star of the U.S. judo team at the Summer Games in London.
Harrison's ostensible objective at the London Olympics was clear-cut: to go for the United States' first-ever gold medal in judo. But competing ― and excelling ― on the biggest stage in sports also enabled the then-22-year-old to exorcise some of the deep-seated self-doubt that was borne out of her years of sexual abuse.
Four years later, even while she painstakingly prepares to defend her title in Rio de Janeiro this August, she's cognizant that there's a bigger part for her to play in life besides being a dominant judoka ― a role that's more personally fulfilling and publicly beneficial than an athlete whose center of gravity is the training mat.
This month she'll be headed back to the Summer Games hoping to give a voice to fellow survivors ― hoping to use the horrors of her past to help transform how we think about, discuss and treat sexual abuse.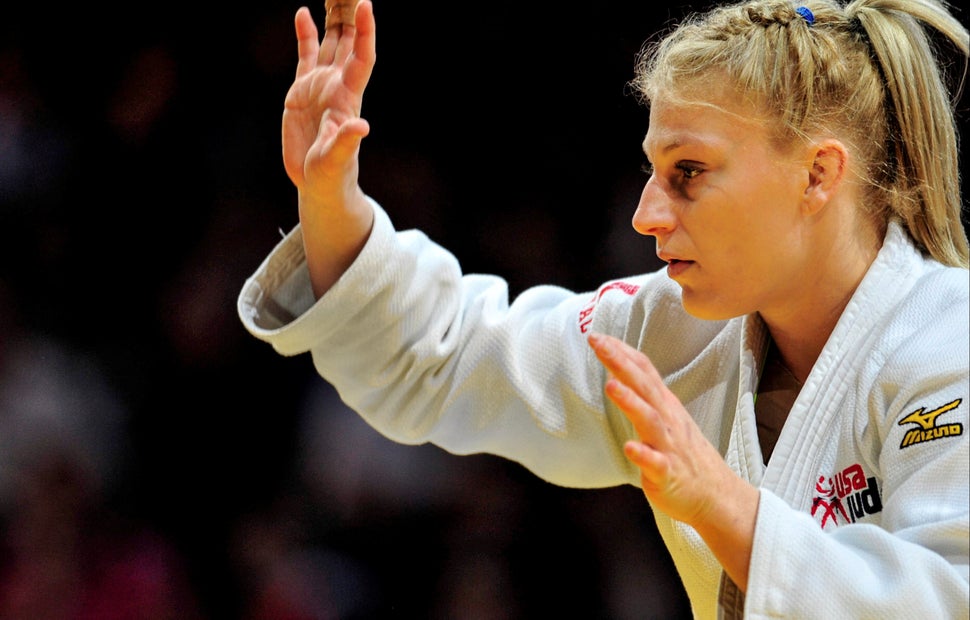 Harrison first took up the sport at the age of 6. Immediately enchanted by and inherently skilled in judo, Harrison says she began going to Doyle's gym a year or two later. Within another year, she was practicing with him daily, and he gradually began to ingratiate himself in her family life. He attended birthday parties and cookouts. He drove with Harrison and her friends on road trips and babysat her and her siblings at their home.  
He also began to sexually abuse her. According to court documents, the abuse started when she was around 13 and he around 29. But Harrison told The Huffington Post that it really started earlier than that ― "probably" when she was around 10 or 11, as she said it lasted five to six years.
In that time, she says, he brainwashed her, telling her repeatedly that both of them would get in trouble if she exposed their secret relationship, and that both were at fault and could be implicated. 
"When I say 'brainwashed,' I mean literally brainwashed," she said. "Slowly but surely, my whole world revolved around Daniel. I wouldn't wear something unless he thought it was OK. I wouldn't do something unless I asked him permission."
By the time she was 12, Harrison knew she wanted to be an Olympian. By the time she hit her early teens, she had made a name for herself on the international stage. But as she grew older, that shadow Doyle cast became increasingly large, dark and, ultimately, suffocating. Her love for the sport faded as fear crept further into her mind.
Harrison had no easy way to escape her situation. She became "afraid" to go to another gym or to compete if Doyle wasn't watching, she says, feeling as if she couldn't be successful without him by her side. 
I felt like there was no way out. I was either going to have to end it and say something or kill myself or run away.
The self-blame, shame, anxiety and dependency Harrison felt were all common side effects for victims of child sex abuse ― but she had no way of knowing that.  
"For a long, long time I was super depressed," she said. "I was extremely suicidal. I felt like there was no way out. I was either going to have to end it and say something or kill myself or run away."
Eventually, at 16, she told a friend about the abuse, and that friend told her mother. From there, things progressed quickly. Authorities got involved and the case went to court, leading up to the sentencing hearing at which Harrison was to face Doyle once more.
By this point, she had connected with a new coach, the Boston-based Jimmy Pedro, who spoke to her over the phone before she was set to walk into the courtroom and speak publicly about the man who had stained her life.
"I just remember being kind of numb ― I was very much in a state of survival, I didn't want to do it," she recalled. "[Pedro] walked me through it like it was a match, almost."
He told her to take deep breaths and to look only at the judge, not to make eye contact with anybody else. He said to speak clearly, speak measuredly, say what she needed to say ― and then be done with it.
So she did. She walked straight up to the front of the room and told the judge that she felt imprisoned. She talked about her spiking anxiety levels and how she felt scared of every single thing every day ― about how she could no longer look at herself in the mirror.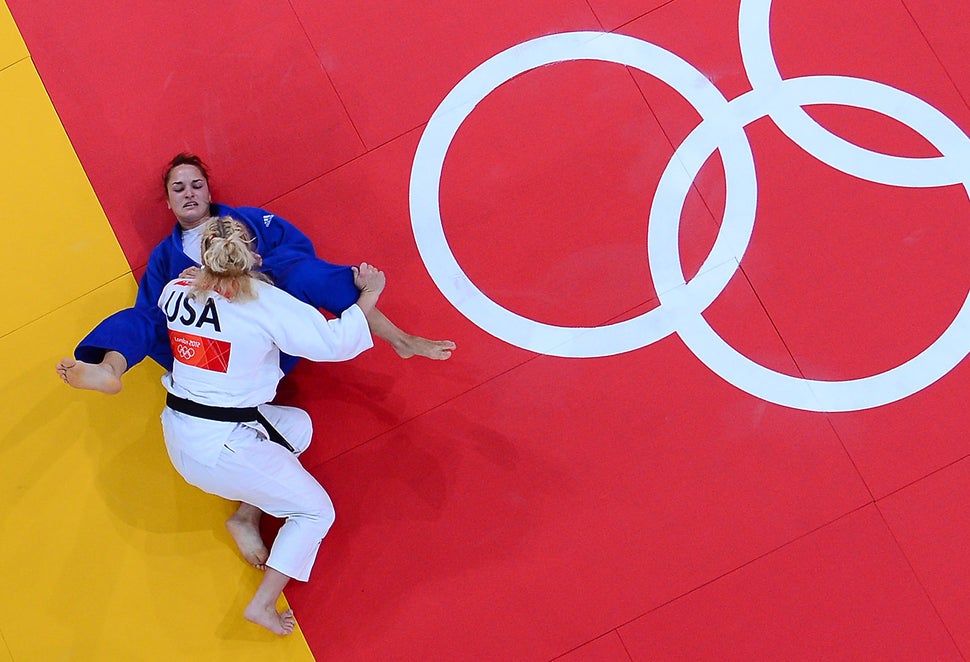 Right now, Harrison is probably training in a gym or running on a track somewhere. 
It's been over eight years since she was in that courtroom. Since then, she has moved from the Midwest and reseeded herself in Massachusetts, where Pedro and his father, Big Jim, took her under their care.
It wasn't easy. Pedro told HuffPost that Harrison lacked self-esteem, confidence and trust in their early months together, and continued to contemplate suicide.
But Pedro and Big Jim helped her develop a new routine: They got her into therapy and into a healthy training rhythm, got her re-enrolled in high school and, perhaps most importantly, got her feeling "normal again." Not all at once, but eventually. 
And that re-emergence of normalcy in her day-to-day life manifested itself in utter excellence on the mat. Harrison's career took off quickly. Then came a spate of international titles, the trip to London and, ultimately, a gold medal at the 2012 Games.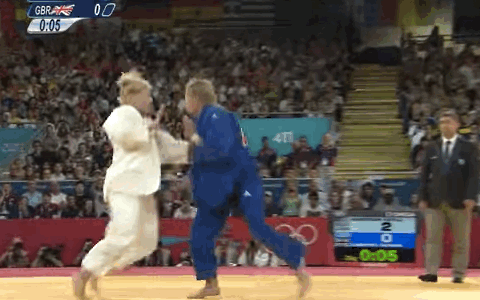 Now, she's going for another.
With Rio just weeks away, Harrison works out two to four times a day, six days a week. She's continually forcing herself to run one more lap, do one more rep, so that in just a few weeks' time she can walk out of that Olympic arena and know she gave it her all. 
And while her goal in August is to climb atop the podium once more, Harrison is entering the 2016 Games knowing that even bigger pursuits will follow. The next chapter of her journey will be off the mat, as she works to erase the stigma of being a sexual abuse survivor, attacking the issue through both public education and the creation of a foundation that connects and empowers fellow survivors.
"[Sexual abuse] is something that people really don't want to talk about and don't want to think about and don't want to hear about, but it's something that happens all the time," Harrison said.
"To me, that's ― that's crazy," she said slowly. "I don't know, I can't imagine that I live in a world where people don't want to change that number. So I want to."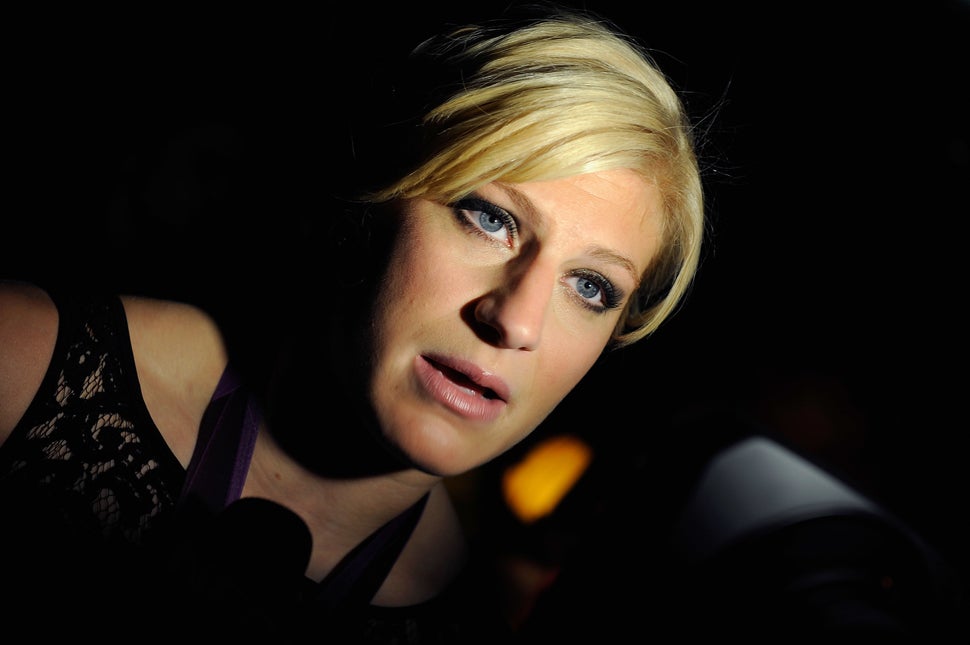 Recognizing that there was no comprehensive organization addressing childhood sexual abuse, Harrison began the Fearless Foundation after the 2012 Games for survivors and their support systems. Since there isn't much educational material available for kids on what sexual abuse is and the forms it can take, Harrison started writing a book with help from a psychologist, using her own story as a blueprint, hoping one day to get it onto the syllabus of every seventh-grade health class in the country.
Soon, she hopes, will come a second phase of her project: a program and network that would enable survivors to have whatever they need to break out of the darkness and find the light post-abuse. She wants to create safe spaces where kids can do things like knit, paint, do judo or practice archery. Places where "they can go and be kids," she says ― something that was torn away from her too early.
Harrison also envisions creating an online resource to give sexual abuse survivors information such as the names and numbers of local prosecutors, the locations of crisis centers, and contact information for therapists ― anything to prevent survivors from feeling as trapped and helpless as she was made to feel a decade ago.
"I want it to be bigger and better than anything I've ever done," she explained.
No matter what I do or how bad a loss is, no matter what happens on the mat or in training, nothing is ever going to be harder than what I've already gone through.
As Harrison speaks about where she's come from and the heights she hopes to reach, the personal belief system begot from her hardships becomes clear. It's one that rewards not just strength, but vulnerability, too. One that equally values powering through and pausing to take a deep breath ― and one in which it's OK to cry and cry, which she freely admits she still does from time to time.
In the last two decades, judo has taken her to umpteen nations, a handful of Olympic Games, and to hell and back. So as Harrison looks ahead to the lighting of another Olympic torch, she's neither whitewashing her history nor dwelling in the darkness.
She's using the struggles she's faced as motivation to make her mark in Rio ― and then as the incentive for a campaign of awareness and advocacy once she returns to Jimmy Pedro's gym in Massachusetts, the place she's called home for nearly a decade.
"My mental preparation and my mental toughness are probably the biggest advantages that I have over opponents," Harrison said. "I know that no matter what I do or how bad a loss is, no matter what happens on the mat or in training, nothing is ever going to be harder than what I've already gone through."
"I've already hit rock bottom, I've already been there," she continued. "Nothing's ever going to be worse than what it was. So I have nothing to lose." 
For more Olympic coverage:
Calling all HuffPost superfans!
Sign up for membership to become a founding member and help shape HuffPost's next chapter
BEFORE YOU GO
PHOTO GALLERY
Images From 'Surviving In Numbers' -- A Project Highlighting Sexual Assault Survivors' Experiences