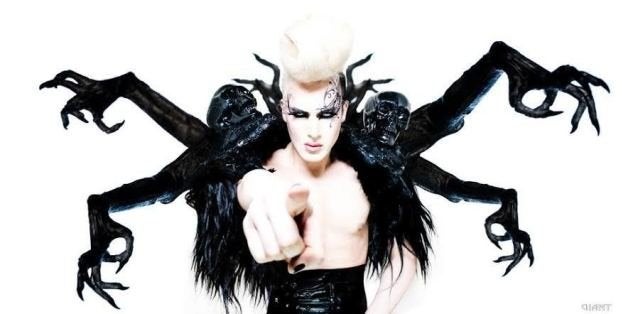 This is the twenty-third installment in HuffPost Gay Voices Associate Editor JamesMichael Nichols' 30-part series "After Dark: NYC Nightlife Today And Days Past" that examines the state of New York nightlife in the modern day, as well as the development and production of nightlife over the past several decades. Each featured individual in this series currently serves as a prominent person in the New York nightlife community or has made important contributions in the past that have sustained long-lasting impacts.
HuffPost Gay Voices believes that it is important and valuable to elevate the work, both today and in the past, of those engaged in the New York nightlife community, especially in an age where queer history seems to be increasingly forgotten. Nightlife not only creates spaces for queers and other marginalized groups to be artistically and authentically celebrated, but the work of those involved in nightlife creates and shapes the future of our culture as a whole. Visit Gay Voices regularly to learn not only about individuals currently making an impact in nightlife, but those whose legacy has previously contributed to the ways we understand queerness, art, identity and human experience today.
The Huffington Post: What did your journey to becoming an integral part of queer nightlife in New York City entail?
Kayvon Zand: Quite a journey it has been. Truthfully, this journey seems like it will be a lifelong one, as nightlife is really more than just a party; it is a community and platform where like-minds can exist on their own terms.
When I first moved to NYC I was working as a male model. I had just come back from working in Europe for a year, mostly London, Milan and Madrid. After having experienced living somewhere else other than North Carolina so young I knew that I had to move to a larger city when I came back to the states -- so New York it was.
When I first started going out I had been kind of brainwashed with the industry's mindset of how a male should present himself. I basically had a major eating disorder, bulimia, didn't wear makeup and was afraid of appearing "too anything." The first party I went out to where I came upon the idea of star quality being other than something what I had known was going to "Happy Valley." It was Kenny Kenny's party and I was horrified and awed at the same time. I kept coming back week after week. I just felt so inspired and saw all of these amazing performers, including Rosewood, and thought to myself, "why am I so afraid when there is this amazing community expressing themselves so fearlessly?" So that was really when the bell started to ring.
As a child pianist and strings player, I always wanted to perform but I didn't really feel that I fit into anything I grew up listening to, such as Manson, Madonna or Elvis. I was none of those people, so being Kayvon just did not seem like a reality as a a performer -- but a fantasy. So these parties became my uni, my place where I could learn to be the creation I always wanted to be. The makeup kept getting better, the outfits more outrageous... next thing you knew I was a nightlife star. It was an amazing feeling for once to feel I fit into something even though everyone was so different and not one person really did fit in -- as we were all individuals.
So with the new earned confidence and "schooling" I started doing my live shows, getting songs together and recorded my first track with Xavier J. From there things really started to get to the next level. During this period I was not making my living from nightlife and performances and my income as a model was non existent, as my bookers didn't like my change in my appearance. I started working in a Mexican restaurant in the West Village. It was there that I met RuPaul, who ordered chicken enchiladas [laughs].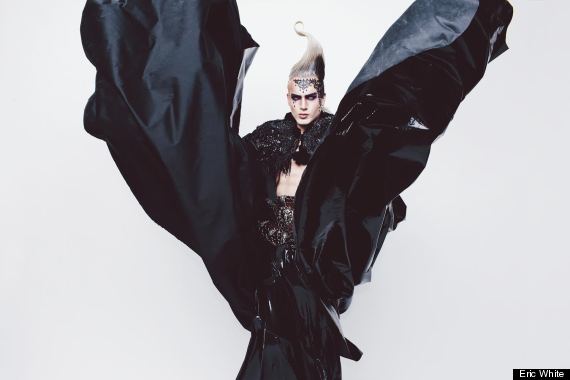 He told me that he bet my mother used to tell me I was beautiful. Ru became not only one of my friends during this time but also a mentor and friend. I felt so lucky to have someone who not only was amazing professionally, but was also genuinely an amazing person. When he moved to California and started "Drag Race" I was sad to have lost our hang outs, but still all of those conversations and his kindness remains with me. It truly was the right time, as everything seemed to be going downhill for me in my life. From there Ru asked me to play in his film "Starbooty" and we did a couple of promotional performances where I sang backup for him. That was my first time standing on stage -- even thought I was lip syncing [laughs]. It felt incredible. From there it hit me -- I belong on stage. This is important to me and I need to pursue my music.
Later, after doing stage shows and starting to get national headlines from my performances, I started working with Susanne Bartsch. That was a fun time, as she definitely opened my mind to nightlife as a business and introduced me to a lot of people. Also during this time I was hired by The Box and fell in love with the amount of love and respect Simon Hammerstein, Randy Weiner and Richard Kimmel were putting into the production. It's been almost five years that I have been hosting CHIC FREAK there on Fridays. I become home and The Box is always a part of my nightlife family.
At the time Susanne Bartsch asked me for the name of this group I was involved with, so I came up with The Zand Collective. From there it became more than just being about me, but about a group of people. Together we had started "On Top," which still runs today although I am no longer involved. I really felt after having worked with Susanne, who is a legend in that scene, that I wanted to start doing my own projects, as I had a lot of influences and musical tastes that I felt were limited. I felt like nightlife was kind of like the performance aspect of these parties -- you could only perform with a TV track. There were no accommodations for live bands and so many rules about what you could or couldn't do. People wanted something that felt real. With my introduction to NY Night Life, the whole dark aesthetic we brought started catching on and everyone was ditching their camp for goth. It was kind of surreal, as I had been told I was "too goth." I started Dorian Gray, a party that I felt gave credit where it was truly due, involving the goth nightlife scene as so many of my influences had sparked there.
Dorian Gray became more than just club kids, but real goths, rockers, drag queens; a mix of what NYC nightlife would have been in the '80s. Underground was taking the underground and it felt damn good! It became a party where the "creative" people were not hired to entertain the basics; it was run by freaks for freaks, a true community.
You operate within a different sector of nightlife that most people featured in "After Dark." How do you view yourself within the context of NYC nightlife?
Well, I am definitely a graduate of the nightlife that has been featured in the series. But I feel I represent a more blurred line of nightlife -- a place with more mix and people of different lifestyles, really all alternative lifestyles. I feel like the club kid scene I was involved with kind of became overrun by gay nightlife and not queer nightlife. Let me elaborate; when I first started going out it was about all freaks and creatives, and the gays at those parties seemed to be more creative. I feel the evolution of those parties now has become a lot of Chelsea dressed gays in t-shirts, jeans or just shirtless. To me that is just as boring as a regular straight club; basic is basic, doesn't matter whom you're sleeping with.
It's really more than a nightlife thing, though. The problem is that as the city has become so gentrified the cool and creative people, who would dress and express themselves so magically, now can't afford to live in the city -- or even sometimes commute. That's why you have this boom of Brooklyn nightlife, and other alternative parties like Dorian Gray blossoming. It's because true artists and club kids want to be with likeminds, not clowning or entertaining the norms. I mean if it's a job and there is coin involved, that's a different story. But as a patron it totally makes sense.
James St. James said in his feature, "As the '80s segued into the '90s and we migrated from the Tunnel to Red Zone to Mars, everything got sleeker, harder and shinier. The innovations were self-referencing, and the looks built on themselves rather than culling from past scenes. That's what I see now: the realization of what we were trying to do. When I look at kids like Ryan Burke or MILK or Kayvon Zand, I see the apex of Club Kid evolution." -- How do you respond to this? What do you think James means by this?
James is a very smart man and extremely perceptive. Even though we have not met in person, just the small exchanges we've had online or his comments really are demonstrative of how brilliant he really is. First off, that is a huge compliment coming from someone whom I respect so much. I feel what James is saying in this comment is he feels we are creating with inspiration from the present and not trying to follow someone else's formula. I do want to expand on how important the past is though. If it wasn't for previous kids, icons like James, RuPaul, John Sex, Klaus Nomi, Joey Arias and so many others there would not be a Milk, Ryan Burke or Kayvon Zand. While we may not try to imitate their exact style, I feel we are forever inspired by the spirit their existence brought and, with that said, we are totally an evolution of those things -- and more.
PHOTO GALLERY
Kayvon Zand
gage of the boone said in his feature, "Queerness is not just about gender or sexuality -- it's about an awareness of infinite possibilities of lives that can transcend gender norms, spiritual and religious understandings, social class limitations, political understandings. To be queer has always meant that the individual is constantly deconstructing whatever barrier, limitation or label confines them, in order to be open to the moment. It's extremely important." How do you explore elements of queerness and identity through your work?
This really resonates with my personal life more than anything, which is definitely in all my work. I feel one of the obstacles I've had to face in my queerness is having had romantic relationships with both genders. I try not to use the words bi, straight, or gay, because I hate the whole organized category thing. I want to be labeled a human being and hope for a time where your orientation is like your hair color -- it's a part of you rather than not all of you, and if you want to ever try different hair colors you can. Sometimes I feel judged because I'm not gay enough because I have been in a committed relationship with a female for five years, or not straight enough because I wear makeup and have been very open about my romantic relationships in the past with men. My very first relationship/anything was with a male, but I feel because today I am with a woman that all that is thrown away and does not count. But this isn't all people today. I feel we are evolving as a society and rights for different groups amongst the queer community are being voiced.
I will always fight for the kids at lunch who don't really fit into any of the tables.
What are your current gigs and projects you're working on?
Dorian Gray Resurrection will be Devil's Night, October 30th, at the Bowery Electric. Sex on Fifth Avenue is my new weekly on Saturdays beginning November 1st at the Museum of Sex.
And my new music video, "Home", which is sponsored by the Slyde app, will be out in November.
What do you see as the future of nightlife in NYC?
The Future of Nightlife is Now. We are the future!
For more from Kayvon Zand head here to check out the artist's Instagram. Missed the previous installments in this series? Check out the slideshow below.
Calling all HuffPost superfans!
Sign up for membership to become a founding member and help shape HuffPost's next chapter