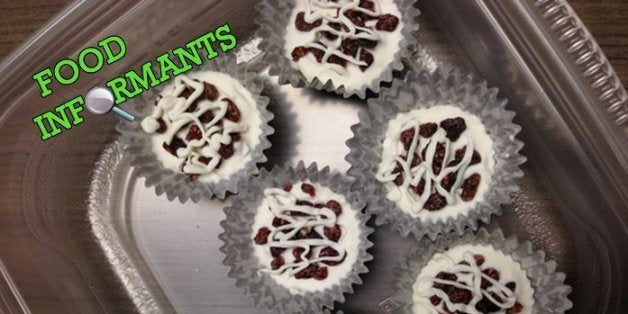 Food Informants is a week-in-the-life series profiling fascinating people in the food world. We hope it will give you a first-hand look at the many different corners of the food industry. Know someone who would make a great Food Informant? Tell us why.
Kazia Jankowski began her career in San Sebastian, Spain, where she attended culinary school and worked at several top-tier hotels and bakeries. She continued her passion for cultural and culinary exploration by launching Pica Peru Culinary Vacations, a travel company that allowed tourists to experience Peru's food culture. Jankowski built the brand from scratch to cater to people who wanted to experience culture through indigenous cuisine.
Jankowski went on to research and report on recipes and food trends as part of the Cook's Illustrated team and then as a restaurant critic for 5280 Magazine in Denver, CO. Jankowski joined Sterling-Rice Group in 2009. As Associate Culinary Director, she researches the leading trends that are shaping the food world so that she can help some of the nation's largest food companies define their food strategies, create new product concepts and more.
Jankowski has been a featured speaker at leading food conferences, like Expo East, and has authored food-trend reports that identify annual culinary trends that shape the future of food.
Read more about how Kazia formulates innovative ideas for major food companies.
5:30am: iPhone's melodic alarm shakes me awake. It's going to be a full week, with lots of 5:30 alarms.
7:30am: Sterling-Rice Group Culinary Council chefs begin to arrive at the new Culinary Center (open just one week), where for the next three days we'll be helping Frito-Lay develop new product ideas.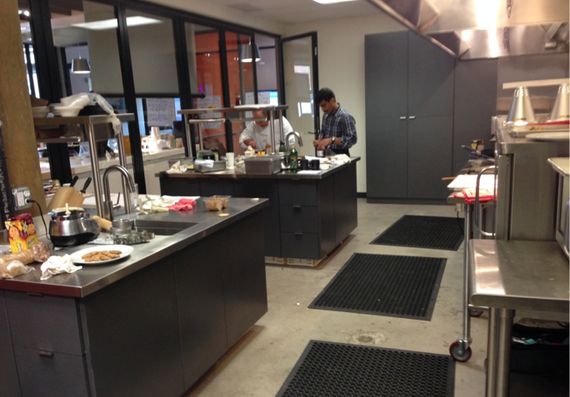 10am: The chefs kick us off our multi-day workshop with edible samples to inspire brainstorming. Crackers with ginger jam. Warm peanut butter chocolate pretzels.
11am: We breakout into small groups to brainstorm new Frito products.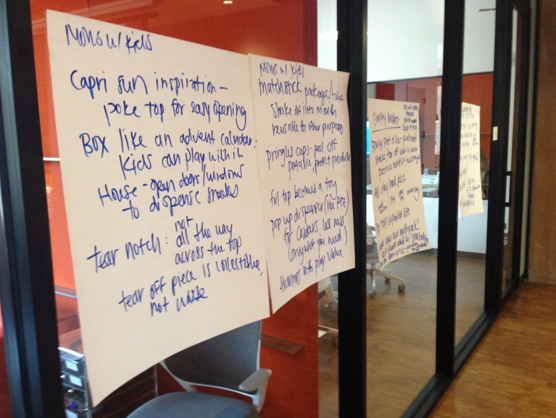 12:30pm: Our super inventive Culinary Council chef Daniel Cofrades unveils lunch. Sandwiches with mozzarella, prosciutto, and basil. A leafy green salad. Fudgy, flourless brownies.
2pm: With more than 100 new product ideas recorded and illustrated, we wrap the first day of the workshop.
5pm: I pack the latest issue of Bon Appetit for the bus ride home. The magazine fuels my personal cooking and my constant trend-watching for SRG's innovation work.

Tuesday, November 5

8am: The New York Times is calling. Time to take one of their lead food business writers through SRG's 2014 Dining Trends—our list of 10 flavors, ingredients and dining habits that will go big next year.
9am: The call ran long, so I sneak into the Frito-Lay distillation room as the meeting starts. Today, our job is to narrow from 100+ new product ideas to 10 or 12.
11:30am: We've narrowed to about 30 ideas.
12:00pm: We're at 20 ideas. We officially declare a lunch work session.
12:30pm: Chef Cofrades is waiting for us. He's saved a special plate of today's sandwich made with Johnnycakes (think savory corn pancakes). Chef knows I eat gluten-free when I'm off the official tasting clock.
1pm: Finally, we've narrowed to 12 ideas! Tomorrow, our chefs will return to make these ideas and give us a concrete representation of the new product.
1:30pm: Four Frito-Lay Research & Development scientists, and I sit down. When the chefs make the initial products, the products will to need to look something like what Frito can produce. R&D is here to tell us what's in bounds.
3pm: Furiously, I'm scrambling together a shopping list for tomorrow's cook session. We'll need to buy everything from pretzels to Crisco to peanut butter cookies to create the winning ideas.
5pm: Conference call with the chefs to take them through the top ideas and let them know which of these ideas they will be working on tomorrow. They remind me of more groceries we'll need.
5:40pm: Calling our Culinary intern. Fingers crossed she's still at King Soopers or Whole Foods so she can pick up the last groceries.
7am: I meet the chefs in our test kitchen, show them their cook stations, the ingredients and then look for coffee.
8:30am: The Frito-Lay team arrives to the chefs baking, frying, stirring and cutting in the kitchen. One chef has brought a drill to execute his winning idea. The Frito R&D team laughs.
9am: We start today's session with an hour-and-a-half to brainstorm on packaging. What packs should our new products come in? I'm tasked with packages for kids. My big idea -- canisters with foil tops (like Pringles) that can be folded into origami.
10:30am: The heat gets cranking in the kitchen, with the drill whirring, the oven turning out cookies, and the chefs presenting their ideas to small breakout groups for evaluation.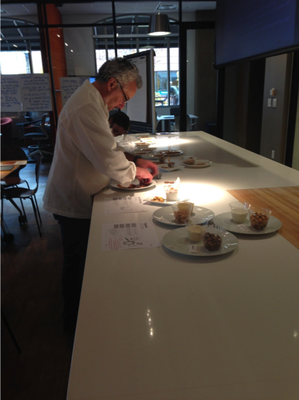 2pm: All 12 finished, new product ideas sit on SRG's bright new white countertop. Each one has gotten the Frito thumbs up, and now they await the SRG photographer. She'll snap their pictures and give them a bit of photoshop love, before the SRG design team drops them onto mock packaging next week.
9am: Today starts with an unbelievable breakfast -- candy samples. These white chocolate, caramel and fruity sweets are the work of a several-month project with Hershey, and in a couple of weeks, they'll be shared with Hershey executives. Our job is to make sure they're inspiring and delicious.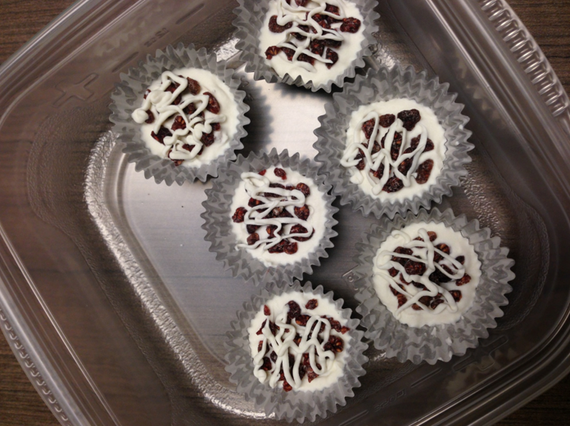 10am: At Ozo Coffee, amid busy Boulder entrepreneurs, SRG's new business director and I drink rosy hibiscus tea and talk PR strategies for 2014.
11am: New email: "We've lost one of the Frito samples. We need to re-shoot by tomorrow 9 a.m." Shit. No. I search the trash. I search the other samples. Nothing. I hit reply, "I can make replacements," regretting that this will mean another early morning.
12:30am: Creamy polenta, beefy meatballs, and a whispy mountain of finely grated Parmesan comfort the Frito snafu. I'm at Oak, an SRG favorite for its sunlit dining room, wood-fried oven, sharp cocktails and elegant food.

2pm: Butter. Flour. Sugar. Cranberries. Check. I'm at Safeway, buying supplies for the new Frito sample.
4pm: Creaming butter and sugar. Adding flour and kneading. I'll leave the dough tonight and come back in the morning to make the samples.
5pm: We're almost through a long week, so raising drinks with colleagues at Shine, the kind of Boulder venue where you can get a fresh OJ-and-lemon-juice martini (my choice) or a spiritual herbal elixir.

Friday, November 8
7:30am: The oven's preheated. I'm rolling out dough. By the time the rest of the office arrives, there will be the warm aromas of baked goods to greet them.
9am: Finally, a chance to unpack. SRG built a new, stylish Innovation and Culinary Center. We moved in two weeks ago, and only now do I have a moment to pull the files out of their boxes.

12pm: For the last 30 years, SRG has hosted a once a month lunch for all its employees. Today, we're more than 100 people gathering for tacos and chicken mole. This is our chance to announce promotions, hires and read and write high-fives.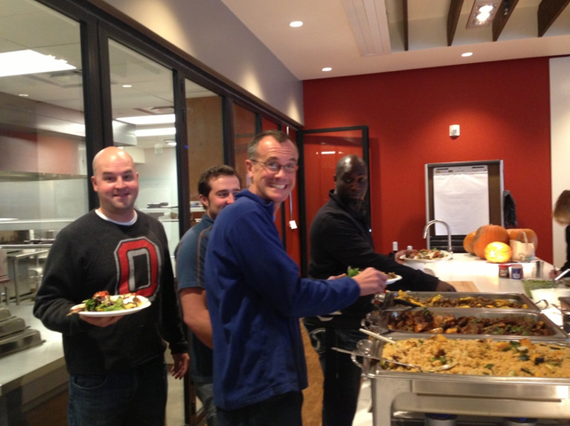 3pm: Just remembered that we're out of coffee at home, and the warm sunshine is inviting me outside. I walk, crossing the Boulder Creek, to our local natural grocer, Alfalfa's, for the mild Mexican beans of Conscious Coffee, a Boulder micro-roastery.

See more Food Informants below: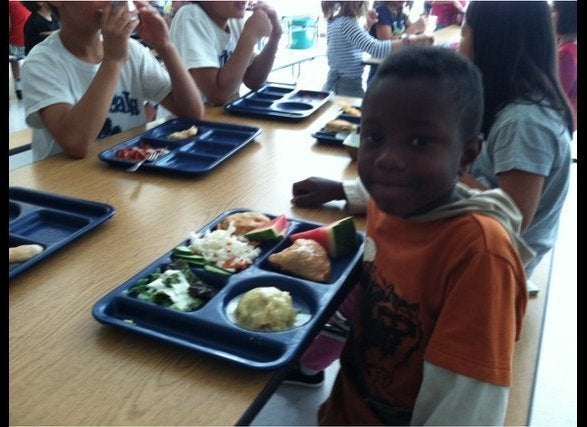 Food Informants
Related